Here how to download free music on android or iphone. A guide of 20 apps to improve your playlist and download new MP3 songs directly from your smartphone.
Do you want to download free Android music or download free iPhone music? If you love music and don't have much time to spend on your PC, here are some great solutions to download and listen to music on your smartphone for free. You can find thousands of songs from your smartphone and download MP3s with a simple click. Do not you believe it? Read on and make yourself comfortable, because at the end of reading you will have discovered the 20 apps that allow you to download music without paying and many others such as streaming services (Spotify, Google Play Music) that provide subscriptions with small payments.
I hope you can choose one of the 20 apps to download free music best suited to your needs. Alternatively, you can leave a comment on which music app you use to listen and download music to your phone.
20 free music download apps for Android and iOS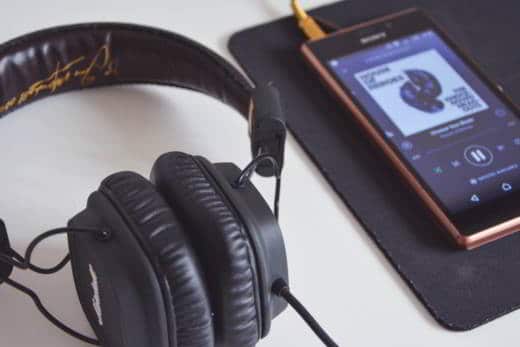 Please note that some of the apps, in order to have free songs to download, are no longer available on Google Play and to install them, on an Android smartphone or tablet, you will need to download the apk package of the app from the official website, and enable on the mobile device (valid for all Android phones such as Huawei, Samsung, etc.) support for apps downloaded from Origini unknown, which you will find on Settings> Security.
Read also: How to activate unknown sources Android
1. Simple MP3 Downloader (Android)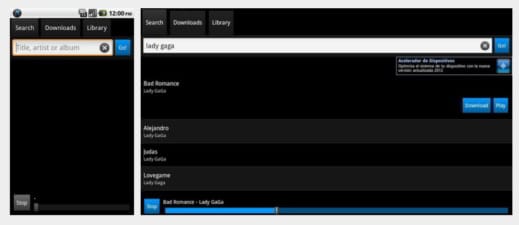 Simple MP3 Donwloader free is an app to download MP3 Android with a lot of ease. To find the songs you will have to type, in the box Search, the name of the song or artist and start the download. The found song will be displayed in the section Downloads and you can download it directly into the memory of your mobile device or listen to it in streaming by pressing the button Play. You will have a wide selection of songs at your disposal, including the most famous classics without forgetting the most modern songs.
2. Mp3 Music Download (Android)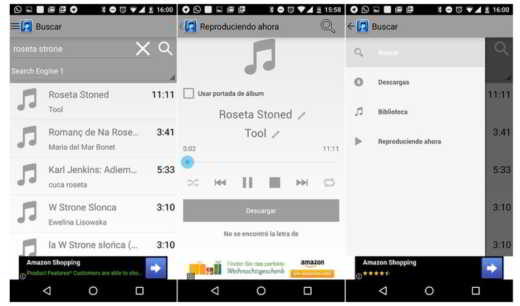 Simple and intuitive, too MP3 Music Download is one of the best apps to get free music to download. It offers searching, downloading and listening of MP3 songs. The only drawback: to put up with the presence of numerous advertising banners. Use a powerful search engine by downloading files at the same time and also viewing the lyrics of your favorite songs. Mp3 Music Download free is licensed to use Jamendo API and music is available under CC license. Works on mobile devices with Android.
3. MP3 Downloader CopyLeft (Android)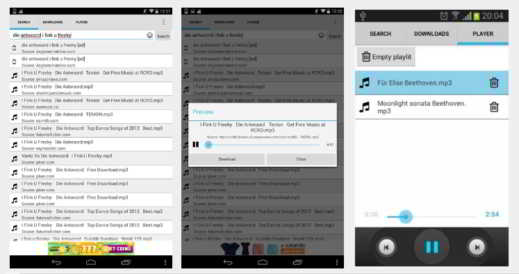 MP3 Downloader CopyLeft is an app that downloads free music for Android and offers the possibility to listen to MP3 downloads. To use it you need an Internet connection. Through the search function of the app you can listen and download songs available under the Copyleft Creative Commons License but also find different types of songs, artists and albums. You can also store all the music you download on your device.
4. TubeMate YouTube Downloader (Android)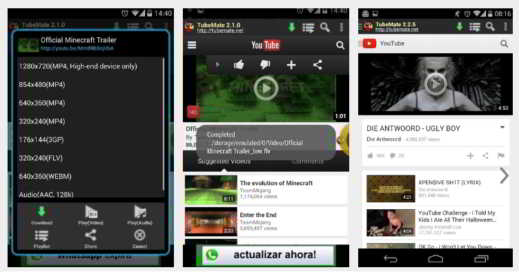 TubeMate YouTube Downloader is an app to download music from Youtube for free and have Youtube videos on your mobile. You will be able to watch your favorite videos offline on the device or directly on the SD card. Its use is very simple: access the video you are interested in from the browser integrated in the app and tap the green arrows at the bottom of the screen. Select the quality of the video to download and choose the resolution compatible with your Android mobile device. The downloaded videos will be stored on the SD card by default, you can decide to change the destination by acting on the app settings.
5. TinyTunes (Android)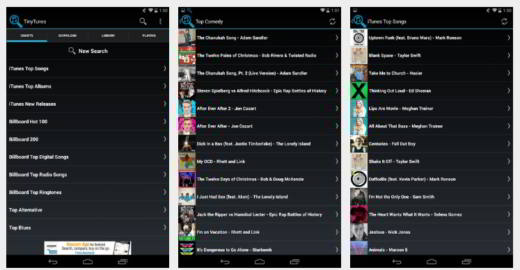 TinyTunes can be considered the best app to download android music to your smartphone. To search for music, start the app and click on the magnifying glass icon, at the top right, and start looking for the songs that interest you most. Check the songs found and that you want to download and press the arrow icon, at the top right, to start the download. When finished, the downloaded songs are stored in the folder /tinytunes/song and you can listen to them offline through the tab library.
6. Jamendo (Android, iOS)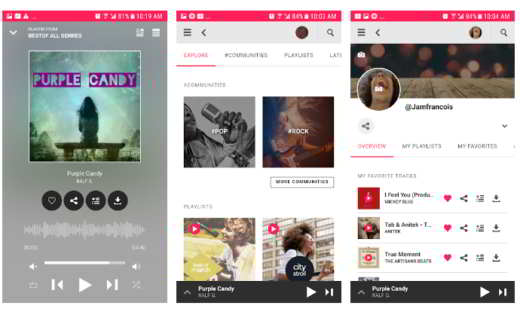 Jamendo Music is an online music platform where young independent emerging musicians can share their compositions. Available for Android and iOS, Jamendo's songs are distributed under a Creative Commons license and can be reused in personal projects for free. To download a song with the Jamendo app, one of the many apps for downloading music to iPhone, start it and then press the magnifying glass icon, top right, and choose a genre of music or search for a song or artist . Once found, start streaming playback by pressing on its title or download it by pressing the symbol [...] and then Download.
7. Zedge (Android, iOS, Windows 10 Mobile)
Zedge is an app available for Android, Windows 10 Mobile, and iPhone. Allows you to download free ringtones to use on your mobile. Press the icon of the three horizontal lines, top left, and choose the item Ringtones, in the side menu. Then press the magnifying glass icon to locate the song you are interested in or browse the available ringtones using the tabs at the top. You can choose based on the genre of membership with the voice Categories or according to the degree of popularity with the voice Popular, or based on the date by pressing on Recent. You can download the ringtone by pressing on Download or listen to it by pressing the button Play. To set the song on your mobile press the button Set, bottom left, and select the item Standard ringtone.
8. Freegal Music (iOS)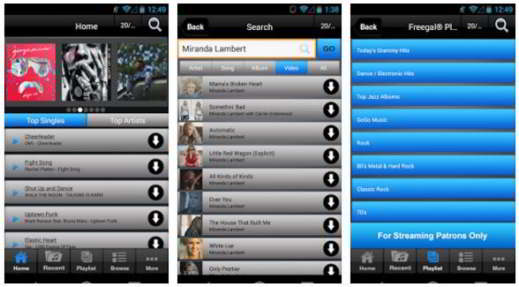 Freegal Music is a service that allows you to download free music on iPhone. In the vast collection of the app, you will find over 15 million songs from over 200 genres. But how to download free music on iPhone? Once you have downloaded the songs, by clicking on the download button, you can listen to them both online and offline directly from your library as many times as you want.
9. MyMP3 – Convert videos to mp3 and best music player (iOS)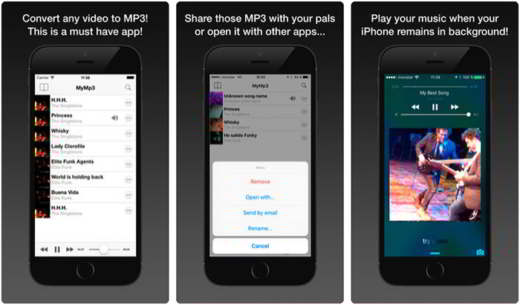 MyMP3 – Convert videos to mp3 and best music player is one of the best free music download apps for iPhone. Convert any video you are watching on your iOS mobile device to MP3. Once the conversion is complete, you can share it in MP3 with any social network, messaging app or email and edit its metadata.
Read also: Programs to download free music quickly
10. RockMyRun (Android, iOS)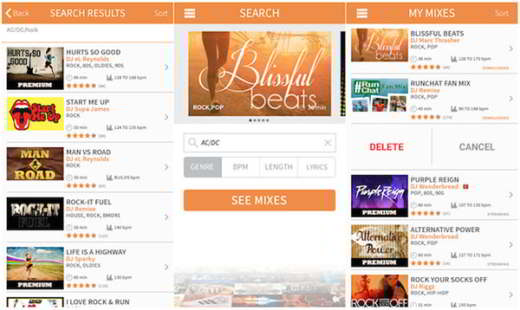 RockMyRun is an app for Android and iOS that offers music mixes created to help you in workouts, such as running. The genres are truly diverse: from 90s classics to dubstep, from hip-hop to rock to classical music. The MyBeat function perfectly adapts the rhythm of the music to your movement, heart rate or manually chosen preferences. RockMyRun integrates seamlessly with apps like Runkeeper and is available in both free and premium versions. The latter allows you to eliminate advertising and the listening limit of 45 minutes present in the Free version.
11. Audiko (Android, iOS)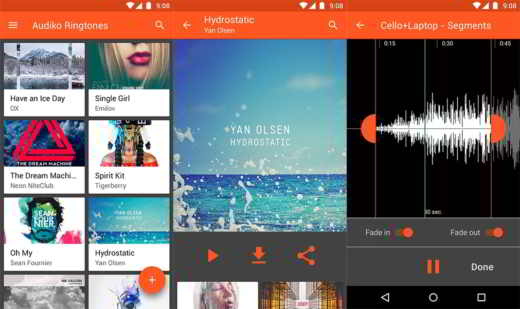 Audiko is a free app compatible with Android and iPhone where you can customize any favorite song as a ringtone, message tone or notification tone. It has thousands of different tones created by millions of Audiko users who have created their own versions of the most famous songs. With Audiko you can create new tones yourself and share them with users or select your favorite melody from international or national hits.
12. Fildo (Android)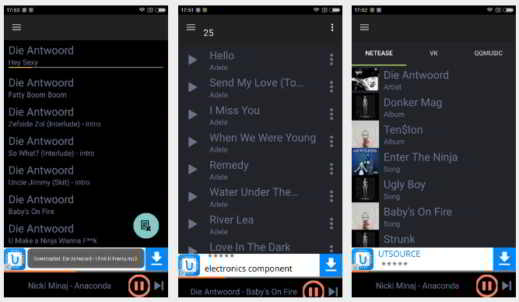 Fildo is an app that offers the ability to download and stream music on Android mobile devices. You can download not only singles but also entire albums and access the complete discography of your favorite artist. Fildo does not store files but only acts as a link between users and other services from which to download songs (such as NetEase). To listen to your favorite music you have to write the name of the artist you are looking for and save it in the folder you specified in the settings.
13. Advanced Download Manager (Android)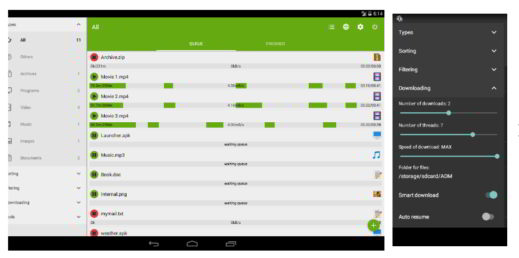 Advanced Download Manager is a free music download app and is compatible with all Android mobile devices. It offers the customization of file download, including MP3 and MP4, by specifying the number of simultaneous downloads and the download speed. Once you start browsing through the program interface you will be surprised by the potential of the app and you will easily find the song you are looking for.
14. ShazaMusic Downloader (Android)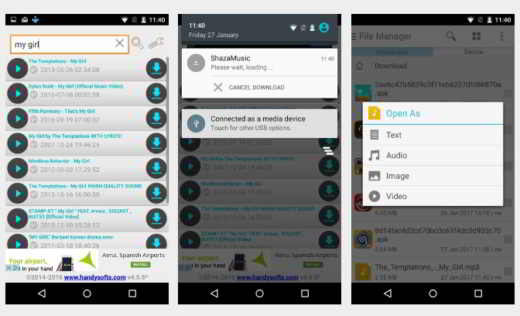 ShazaMusicDownloader allows you to download free MP3s directly from the famous Shazam app. The steps to follow to use this app are to open Shazam, find the song you are interested in and click on Share. Select Download MP3 via Shazam and wait for the download app to open. Click Download and wait 50 seconds for the download to start. Upon completion of the operation, the MP3 file will be saved in / SdCard / viaShazam /. This way you can download a real playlist of songs and musical hits. Attention it is not possible to download songs longer than 10 minutes.
15. SuperCloud Song MP3 Downloader (Android)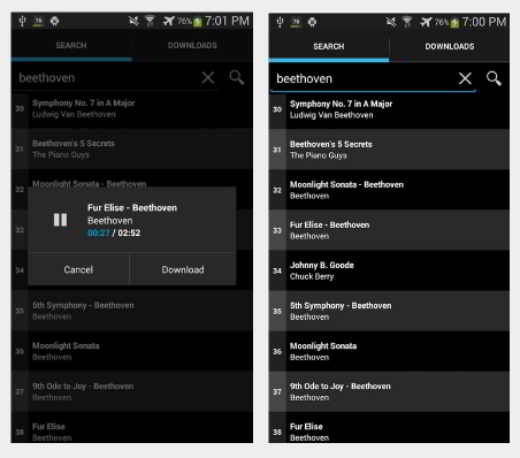 SuperCloud Song MP3 Downloader download mp3 music having thousands of songs to consult. The search is performed by entering the name of the artist, album or song you are looking for in the search bar. In no time the app will offer a list of results that you can start streaming or download. You will be able to view the album cover corresponding to the song you are listening to and enjoy all the music you want to hear.
Read also: Where to download music
16. Amazon Music (Android, iOS)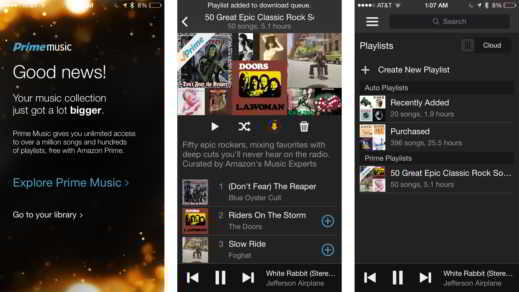 Amazon Music is a music streaming app compatible with Android and iOS and allows you to listen and download songs of all types and eras. If you have an Amazon Prime subscription you can access and listen to two million songs without commercial interruptions and download them offline, avoiding to exceed 40 hours of monthly listening. If you want to access 50 million songs without listening limits, you can subscribe Amazon Music Unlimited for 9,99 euros per month or 99 euros per year. To download a song, album or playlist on Amazon Music, after locating it, press the icon with the three vertical dots and select Download / Download from the menu that appears. You can listen to the songs already downloaded even offline by selecting the tab Recent and then Downloads.
17. Google Play Music (Android, iOS)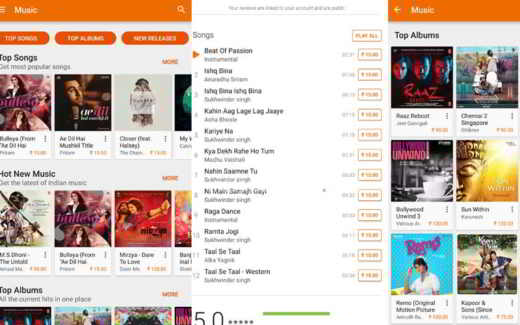 Google Play Music is a legal streaming music service, valid alternative to Apple Music and Spotify. You can access it via browser or from apps for Android and iOS. You can enjoy Google Play Music for free for 30 days or more through an initial trial. Alternatively, there is a subscription plan for 9,99 euros per month for the single plan or the family plan for 6 people for 14,99 euros per month. To download songs, albums or playlists you have to press on the identified file and then on the arrow icon next to the title. To download offline the collection of songs already added to your personal library, you need to go to the section Collection of music and select the last ones entered and then press the icon arrow.
18. Spotify (Android, iOS)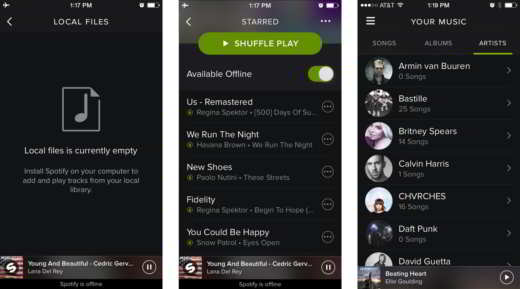 Spotify is a legal streaming music service available on many platforms including: Android, iOS and Windows 10 Mobile. It features a huge catalog and the ability to find and follow playlists created by other users. In addition to the free service where listening is limited by the songs chosen randomly by the app, you cannot download the contents offline and listening is disturbed by commercials, there is a monthly fee of 9,99 euros per month or 99 euros each. year. Spotify also offers the possibility to try Spotify Premium for free for 1 month or the service for 3 months by paying 99 cents. You don't have to renew and you can cancel your subscription whenever and however you want. To download songs move to ON the function Download, if you need to download songs added to the collection, go to La your library and select Tracks then activate the lever Download.
Read also: How to download Spotify Premium for free
19. Apple music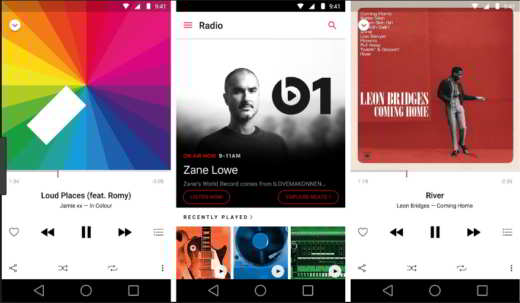 Apple Music is app preinstalled on all iOS devices (app Music) and also available on Android. It works a bit like Spotify, it allows you to stream music and download songs, albums and playlists offline to listen to comfortably whenever you want. It does not have a free plan and to use it you need to sign up for a subscription of 9,99 euros per month after a free 3-month trial (without renewal obligation). Other plans are: 99 euros per year or 14,99 euros per month for a family plan for 6 months. To download offline music from Apple Music, you need to add it to your personal library via the button Add and then on the icon of nuvola next to the song title.
20. Deeezer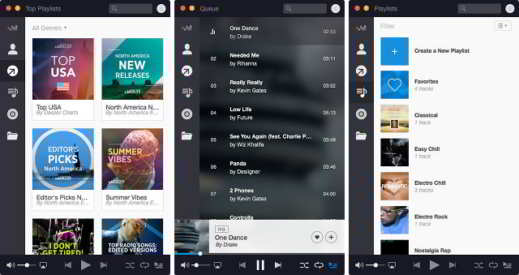 Deezer Music is a music finder app that allows you to listen to the most popular MP3 songs in streaming legally and for free and is compatible with iOS and Android devices. To use it you must first register. You will notice after the account creation process, that the use of Deezer is free but is undermined by ad breaks, banners and limitations. To overcome all this you can subscribe to Deezer + gaining unlimited use of the app and its features, such as offline listening and downloading MP3 files.
You can also decide to continue using Deezer for free by clicking on the button Use Deezer for free with ads. With the magnifying glass symbol you can search for albums and songs by typing the title or the name of the artist. To listen to an album, just tap on the button Play in shuffle mode, the only way to use the service if in the free version. There is a called mode Process from application to course commencement which allows you to listen to songs in shuffle mode but according to your musical preferences. If you find a song you like, you can press the icon of heart while if you don't like it, press the button X. By doing so, the Flow mode will update immediately according to your musical tastes.
Read also: How to download Deezer Premium for free
Other useful articles
Free music program
Download music online
Download Play Store for free for mobile