We see what is Dropshipping and how it works, the online shop without shipping costs and without warehouse. Is it the future of e-commerce? Let's see it together.
If you want to make money online, a good method is to agree with a supplier to sell their merchandise on the Internet for a percentage and create what is commonly called dropshipping.
What is Dropshipping
Dropshipping is a type of e-commerce born in the United States about 15 years ago. Its meaning is drop shipping; to indicate a system in which you sell something you don't actually own. To do this you have to make arrangements with a dropshipper (supplier) by entering into a contract where you undertake to sell the products online in exchange for a commission.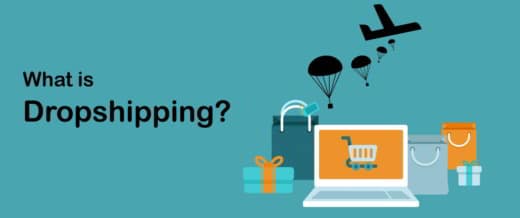 You can open an online store, for example on ebay, or open an e-commerce site. Therefore, you will not have to invest money to buy products before selling them or to rent a warehouse. The supplier will take care of all this.
How Dropshipping Works
This doesn't mean making easy money. Before starting dropshipping, it is always good to identify the market niche you want to cover. Search online and identify the product category that is not easy to buy on the web. Consider, for inspiration, both Spanish and foreign shops.
In dropshipping you will have to contend with unorganized and unfair suppliers, fierce competition and difficulties in making your store known.

You will need to find a reputable supplier, also because you will have to try to get yourself a good commission on sales. The average commission must be equal to 15/20% of the initial price of each product.
The types of supplier
Suppliers are divided into three types: Intermediaries, stockists e wholesalers.
- intermediaries have the task of helping you select the suppliers that best suit your needs. They usually put you directly in contact with wholesalers willing to do business by taking advantage of dropshopping and providing you with a list of products to upload to your site.
- stockists they are those who buy wholesale goods from multiple manufacturers to sell them to retailers. They too, like intermediaries, apply a surcharge to the goods compared to their initial cost, but do not ask to incur any fees related to the service. They also take care of shipping the product. By relying on more stockists you can have a large catalog even if you risk proposing identical items to thousands of sites.
I wholesalers o producers they are the ones you can contact by phone and make an appointment to get by on your own. Each manufacturer will have to provide you with a few selected products to offer them at competitive prices, also because there will be no service fees to be considered as happens with stockists and intermediaries. Also consider contacting stores that want to get rid of inventory to make room for new products. You will be able to sell at really rock bottom prices.
If you don't want to invest money in setting up an e-commerce, like Shopify, you can always sell through Marketplace by placing products on the windows of sites such as eBay and Amazon. On the latter sites you just need to register as a seller and open a shop by paying a little a month. Listing fees will apply to each item you sell, and when you sell you will need to pay eBay or Amazon a commission on the final price.
What the taxman says
Dropshipping is part of the e-commerce business. For the taxman there are no differences between an online shopkeeper who operates in dropshipping and one who purchases the goods from the supplier by managing the warehouse and shipments.
Of course with dropshipping you will have to open a VAT number and be enrolled in the business Register to sell in compliance with the law. Then you have to register with the INPS Commercianti management (minimum annual expenditure of 4 thousand euros, which increases based on the annual income of the activity). Finally, it is necessary to present the certification of the start of business or SHAH at the counter of the municipality BRIBE where your company has its registered office.
For more information, my advice is to contact an accountant expert in the tax regimes applied to those who trade online.
As for billing, the same rules apply as for e-commerce stores. The dropshipper's invoices are recorded among purchases, while each successful order corresponds to a sales invoice or a receipt. The matter becomes complicated for purchases from foreign suppliers. In this case, customs duties also come into play, for goods with a value greater than 22 euros.
Try to choose dropshippers that operate in Spain and you will see that you will not have any surprises.