Do you manage your Gmail mail on your PC through Outlook and are having trouble syncing your contacts? You managed to sync contacts on Android or iOS with Gmail but you can't synchronize Gmail contacts with Outlook contacts? Don't worry, in this article I will explain how to do it.
Read on to find out how to sync gmail contacts with outlook contacts in a few simple steps.
The first thing to do is to use a add-on per Outlook like Outlook4Gmail. Outlook4Gmail allows you to synchronize the Gmail address book with the Outlook address book in a simple and fast way.

After installing it start Outlook. From the menu Fillet, select the voice options. Move to Additional components and select Outlook4Gmail.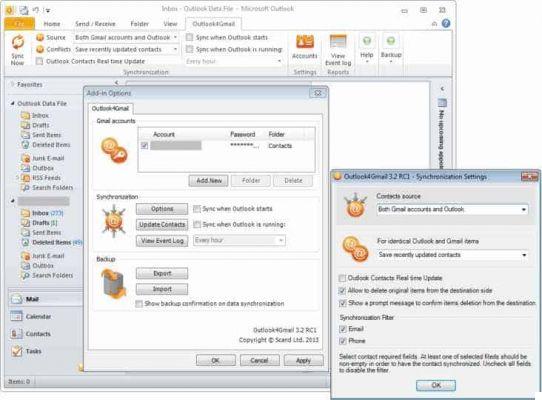 Click on options components additional. Push the button Add new and set the login credentials to your Gmail account.
Then click on Options and set the sync options. The latter can be unilateral or bidirectional.
By checking the option Real Time Items Update updates will be performed in real time.
All you have to do is click on Apply per confermare I modified it.
Clicking on Update Contacts you can immediately synchronize Gmail contacts with Outlook contacts.
Outlook4Gmail it also adds a new tab to the Microsoft mail client that allows you to quickly manage synchronization.