Does it pay to send money with PayPal? If we are talking about sending money to pay for goods and services, then the answer is yes, PayPal requires a commission of 3,4% + 0,35 euros for payment received. If, on the other hand, the receipt of money is with the friend mode e family members sending money via bank account or Paypal balance is free.

By opening a PayPal account it is in fact possible to transfer or exchange money with your friends or relatives for free, in this guide we will see the steps on how to send money to friends and family with PayPal.
If your friend has booked their vacation or rented an apartment and you need to pay them back for free, then you are in the right place at the right time. With PayPal you can split a dinner bill or participate in a group gift by sending money with a simple click.
Sending money in euros with PayPal is free within the European Union. To receive money, the recipient must have a PayPal account which can be opened by simply creating a PayPal account from the official page of the service and clicking on Sign Up e Continue and then enter the following data: Your name, Last name, Address emails e Password. On the new page you will have to specify the fields: Address, POSTAL CODE, City, Province, Birthday e Cellphone and press the button: Accept and create tale.
Read also: How to report an unauthorized payment on PayPal
After logging into PayPal with your credentials, go to Home click on the icon Send Money inside the box Connections rapid.
On smartphones and tablets, the shortcut buttons (Send e Request) are at the bottom.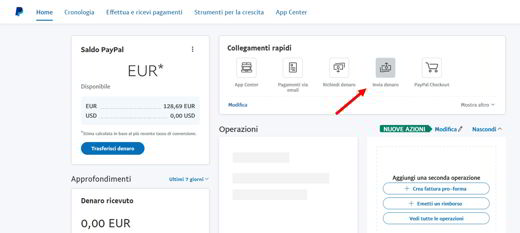 On the screen of Send, specify in the field Send money the recipient's email address and then press the button NEXT.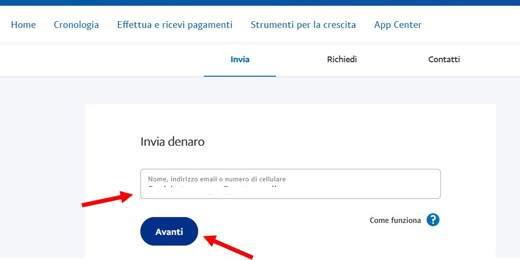 Specify theamount and currency you intend to send and write a short description, immediately below the amount, in order to indicate the reason for the payment. Then press the button Continue.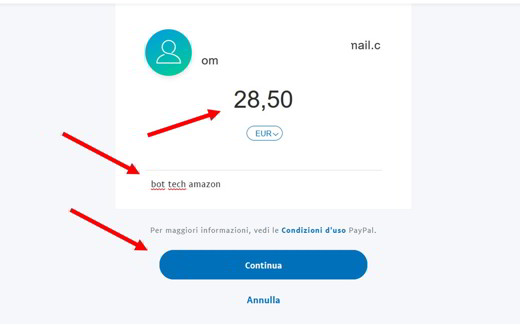 On the following page: Reason for paymentpiggy back his Sending money to a friend. Choosing this option anticipates that no fee is required if you use your bank account and balance to send money to friends and family within the European Union.
If you are transferring money overseas, a currency conversion fee may apply, as well as a fee from your bank.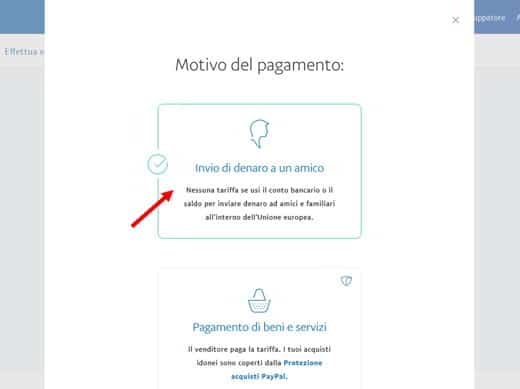 Select in How do you want to pay? the payment method and click on NEXT.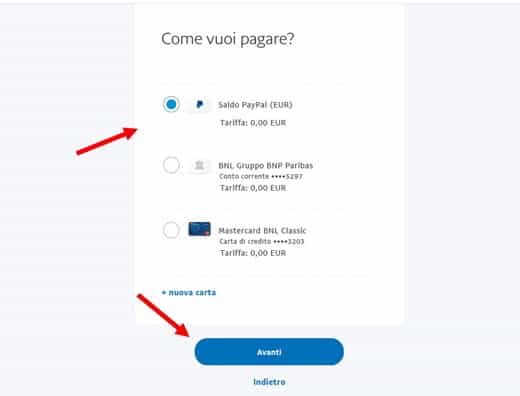 Press the button Send money now and wait for the outcome of the operation.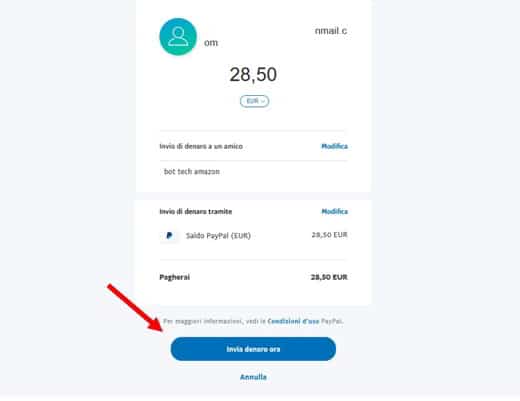 A final message will warn you of the outcome of the operation.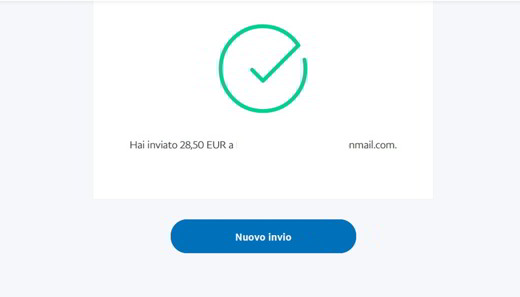 How to receive money from friends via PayPal
In addition to sending money with PayPal, it is also possible to receive money from friends or relatives. In that case all you have to do is provide them with your email address associated with PayPal and specify to choose the option described in the previous paragraph: Send money.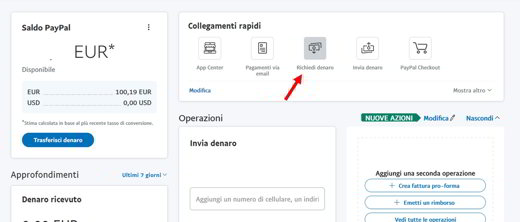 If you intend to send a reminder to all your friends involved in the collection, select the option Request moneyin Connections rapid area of Home, and enter the email address or email addresses (maximum 20) of the recipients and then press the button NEXT.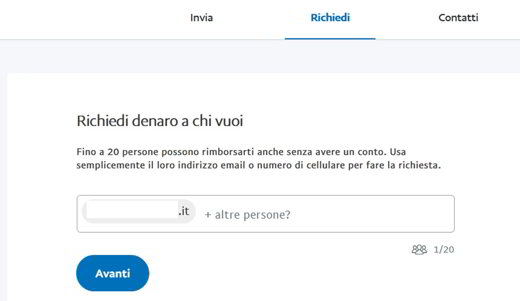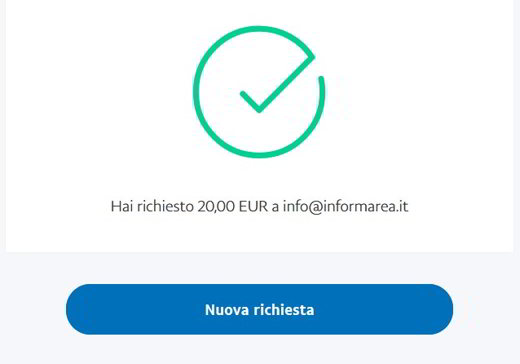 On the next page, specify the amount you are collecting for each recipient individually and enter the reason for the request. Eg "Gift for Francesca", etc.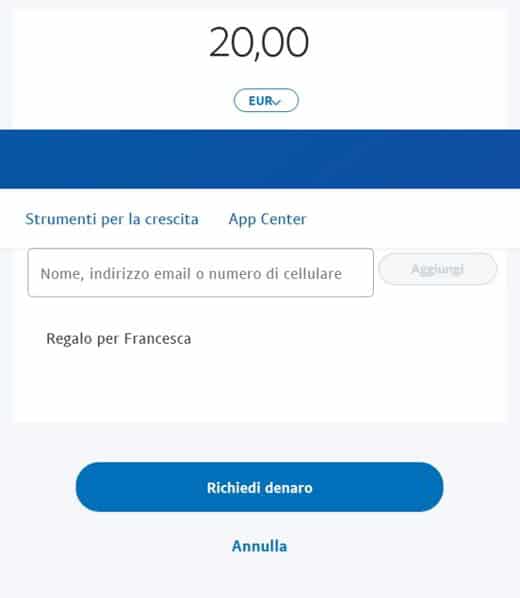 Press the button Request money to complete the transaction.
The recipients involved will receive an email with all the information to send you the money.
How to receive money from friends via PayPal. Me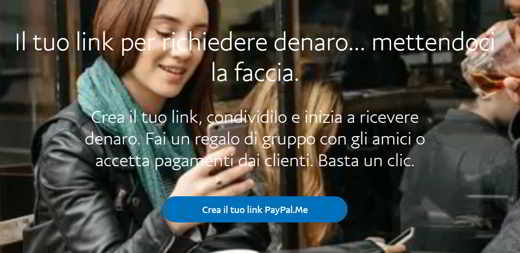 Another good way to get money is PayPal.me. This is a personalized link that you can share with whoever you want, via email, instant messaging, and more. Those who access this link will be able to send you money with a simple click.
It is another convenient way to collect money quickly that you can generate by going to the PayPal.me site and then clicking on the button Create your PayPal.me link. A new window will open where you can create a profile and customize your link by specifying why you will use it.
Press on It begins now, upload a photo by clicking on Add photo, and create an easy-to-remember link to share and get paid.
With PayPal.me all transactions with friends and relatives will be free with the exception of payments received for online sales of goods.
Other useful articles
Best apps to pay with your smartphone
Best online money collection app for collections and gifts