Here's how to see who spies on you on Facebook. Who looks at my facebook profile? A quick and easy guide that will help you identify who visits your Facebook profile.
Would you like to know who reads your posts and accesses your Facebook wall? Unfortunately Facebook, unlike Linkedin or other social networks, does not provide any indication of who actually visits your Facebook page, which is why with two simple tricks I want to help you understand how to see who spies on you on Facebook
How to see who spies on you on Facebook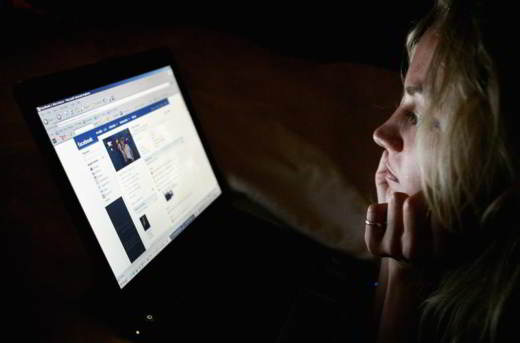 The first mode for find out who spies on Facebook, by hanging yourself on your posts, videos, photos or whatever, is through the function Stories.
1 Method: Facebook Stories

Le Stories, which allow you to save videos and images in a daily story to make it visible to your friends, are visible in a bar at the top and are highlighted in a blue circle.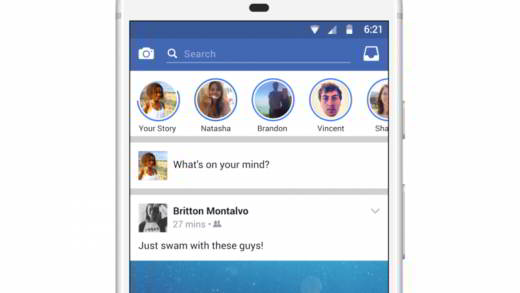 In addition to being visible for 24 hours, the Facebook Stories let you know by whom they were viewed, thanks to the blue dot next to the number of views and the name of the person who intrigued saw it.
The other mode for see who spies on you on Facebook requires the view the source of your Facebook page.
2 Method: Using InitialChatFriendsList
Press the right mouse button on a point where there is no content on your Facebook page and press, in the pop-up menu, on Show source page.

Activate the search tool by simultaneously pressing the keys CTRL + F and in the field type InitialChatFriendsList I awarded Submit.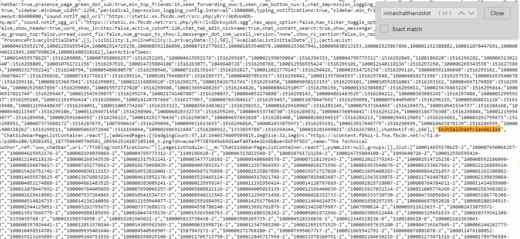 The Numeric IDs who follows you or who has followed you, in descending order by number of visits.
All you have to do is select the first of these numbers (starting from after the double quotes up to the dash), copy and paste it after the URL www.facebook.com/, directly in the address bar of the browser.
Awards Submit and as if by magic you will see the page of the user who spies on you on Facebook.
By applying this rule on a daily basis, you can determine who views your Facebook profile every day.
3 Method: Using a Chrome Extension
Another method you can try is through the Social Profile View Notification extension working on your browser Google Chrome. Start Chrome and look for the extension Social Profile View Notification. Press the blue button Add and then Add extension to add it to the Google browser.
Now connect to Facebook and log in to access your profile. You will notice that in the top bar of Facebook, next to your name, the entry has been added visitors.

Every time someone visits your Facebook profile, you will get a notification and immediately after that you will be able to see the name of the "spy".
A valid alternative to Social Profile View Notification is Great viewer for Facebook, another extension that will show you who is spying on your Facebook profile with all possible details.
4 Method: Using an iPhone app

By downloading the Social Fans app for iOS mobile devices like iPhone and iPad, you can see who visits your Facebook profile in seconds.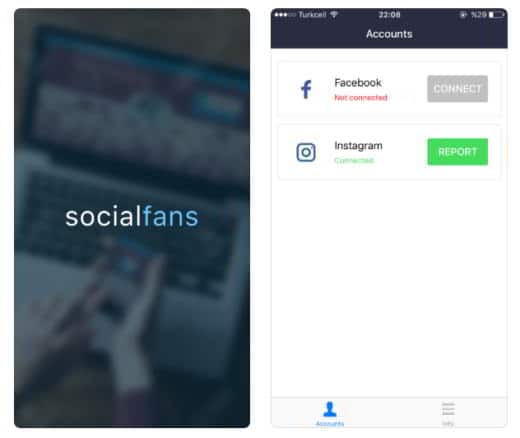 After downloading the app from the App Store, launch it and connect to Facebook. Grant permissions to the app and choose a paid subscription and start tracking who visits your Facebook profile.
How to block a person on Facebook
After identifying the spy, you can block him by accessing his Facebook profile page and clicking on button with the three horizontal dots, next to the button Message.
In the pop-up menu, press Block. A message will appear in which Facebook will explain that the blocked person will no longer be able to see what you post in your diary, tag you, invite you to groups or events, start a conversation with you, add you to friends.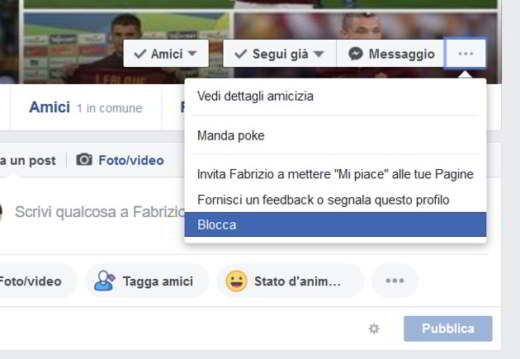 Remember that blocking it will also remove it from friends. If you are more than sure, press on Confirmation and soon after on OK and the game is done.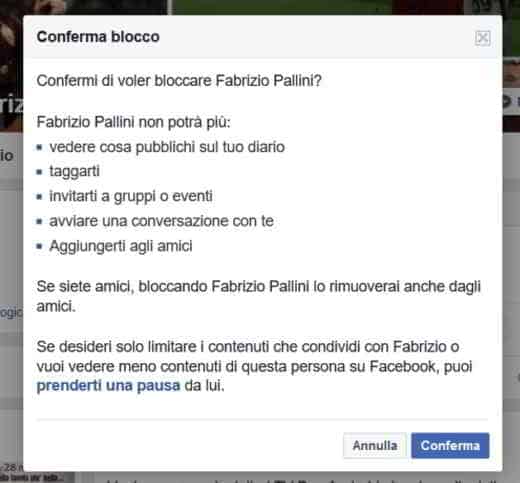 If you have to think again, you can still go to the Facebook menu of your page and go to Settings> Lock and in the section Block identification, click on the link Unlock, for the user you want to unblock.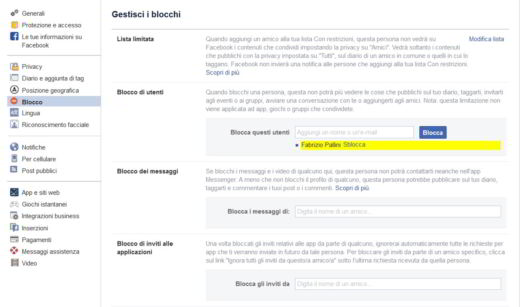 A confirmation message will appear to indicate that the person you unblock will be able to return to view your content.
How to create a blacklist
To protect yourself, alternatively, you can still hide private posts through the function Shortlist also known as List black.
In this list you can enter the friends whose you want to prevent from seeing your private updates (shares, photos, posts with Friends Only privacy), allowing them to follow and see only public content.
The difference with the block is that the blocked user will no longer see anything about who blocked him, not even the public updates or the diary, moreover the friendship will be revoked.
In each Facebook account there is a predefined shortlist; to add a person you have to go to yours Friends list e pigiare sul pulsating Friends and select in the menu that appears Add to another list. Choose then With Restrictions to enter your friend. The category will be marked with a check and the friend will now be part of it.
To remove it from the list With Restrictions, do the same procedure and in the list that appears remove the tick at the entry With Restrictions.