There are several programs to record the PC screen that are useful for making video guides. However, most of these programs are paid and are often complex to use. Therefore? Quiet, in this guide I want to point out a free alternative that will allow you to discover how to register Desktop with VLC.
Are you wondering what is VLC? Well, if you don't know VLC Media Player is a formidable multimedia player capable of playing a lot of multimedia files and working on all platforms. VLC or Videolan can be downloaded from the official website for free.
How to Register Desktop with VLC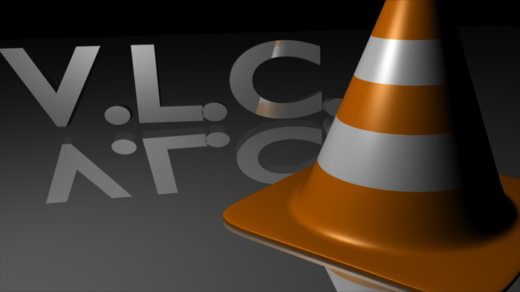 Simple, fast and powerful VLC in addition to being one of the best video players, also integrates the screen recorder function that allows you to register the Desktop with VLC at any time.

After downloading it, launch VLC and from the menu Media click on Convert / Save. Then move to Device acquisition and from the drop-down menu, choose modality acquisition / Desktop.
In options set the frame rate for capture (for example 10 fps). Then click on Convert / Save.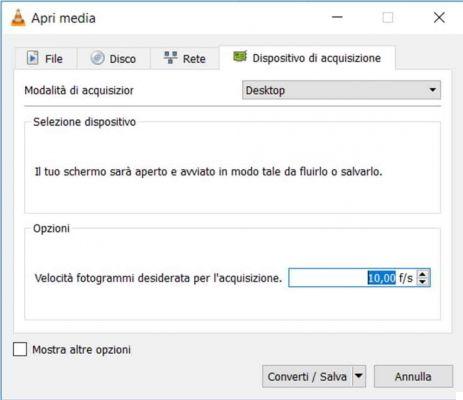 In the next window, in Profile, select the video format for capture (for example H.264 Video). In Destination file select the folder where you want to save the video and that's it.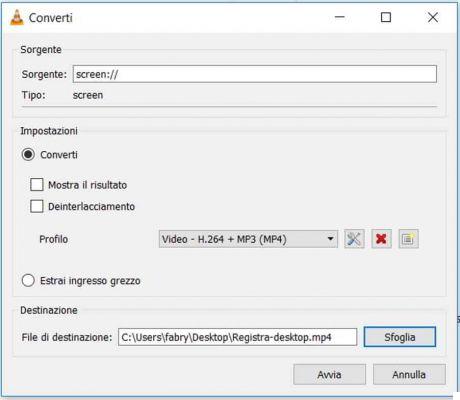 All you have to do is click on starts to register the Desktop with VLC.
At the end, press the Stop button and open the saved video file to view the recording made.
If you have any problems with crash con VLC take a look at this video, it will help you configure the program in the best possible way.
For further information take a look also at:
How to record PC screen with Windows 10
How to film desktop on Windows