Do you want edit PDF files online for free and are you looking for a valid alternative to Small Pdf, whose limit is that of being able to apply changes to only one PDF file per day? Then you absolutely must know PDF Bob di Icecream Apps.
If you are tired of installing software on your computer and you are looking for a web service that allows you to edit PDF online for free adding texts, sticky notes, images, shapes, signatures and much more, PDF Bob and the best free online PDF editor which allows you to edit a PDF file online quickly and with highly professional tools.

Index
The features of PDF Bob
How to edit PDF online for free with PDF Bob

Annotations
Modification
Manage Pages
Export
Log in

Conclusions
The features of PDF Bob

The PDF format is convenient, compressed, secure and is able to create documents that can include images, text, tables and much more.
There are many applications dedicated to creating and editing such files, but if you don't want to install anything on your PC and even more you want to avoid spending money, PDF Bob offers advanced features on the editing a PDF file, simple and fast, and to run through your browser and an Internet connection.
With PDF Bob you can not only add comments or text to PDFs but you can also create, edit, rearrange, manage, merge PDF files, export them from PDF to Word, JPG, PNG and much more.

Before explaining the operation on how to edit a PDF, here is the list of features of this splendid online service:
Text tool: Add comments in the document.
Post it: leave notes on each page.
Highlighter tool: Underlines or slashes the text on the page.
Shapes tool: insert rectangles, circles, lines and arrows wherever you want.
Pencil tool: Add freehand annotations with the mouse.
Add image- Insert JPG, PNG, SVG and other formats into your PDF documents.
Rearrange PDF pages: change the order of the pages.
Add new pages: Add blank pages to the document.
Merge PDF files- Merge multiple PDF files into one document.
Store and share files: Store files on Bob's PDF server or on Dropbox and Google Drive.
Soon PDF Bob will be releasing interesting new options which are:
PDF signature: create a signature to add it to your PDF documents.
Insert hyperlinks: to insert outgoing links.
Censorship tool: to remove parts of text.
Protect PDF files: to set a password to protect your file.
Convert PDF documents to Word: to convert the PDF file to DOC or DOCX.
How to edit PDF online for free with PDF Bob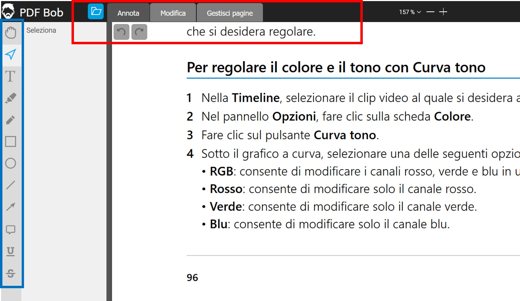 Now that you understand the features of the PDF editor PDF Bob let's get into the service and see how online PDF editing works, uploading it to the platform from your PC or from mass storage media (HD, SSD, pendrive, etc.).
Connect to the official page of PDF Bob and press pulsating Start editing PDF.
In the following screen, drag the PDF file to the new page displayed, corresponding to the wording Drag and drop it or, alternatively, click on Upload file to manually select the single PDF file to upload. Once the operation is complete, wait for the upload.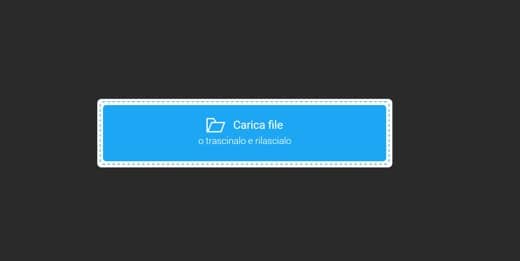 In the left column you will find the toolbar containing useful options for the commands at the top Write down, Modification e Manage pages. Top right: Export, Log in and a Menu to return to the Home, change language, report bugs and so on.
If you got something wrong, you can always use the arrows left and right to cancel the action.
Annotations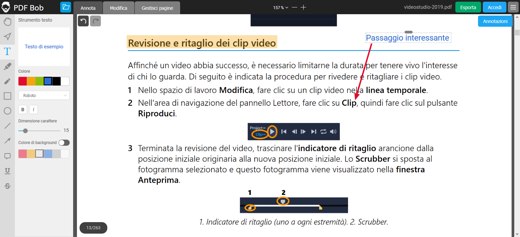 To enter a comment or select a text or post-it, press the button at the top Write down and choose one of the tools in the left column, to highlight the text in the center of the page.
Consider that if you have a PDF document with many pages, inserting text in any format, underlining, highlighting or crossing out or inserting sticky notes, can be really important to keep track of the topics that you consider useful. Top right, by pressing the button Annotation, you will be able to see all the evidences set and to which you can assign a title.
Modification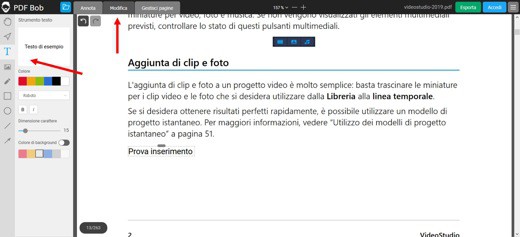 With the command at the top Modification you can access functions that will allow you to add text, free design, lines and arrows. Unlike the Annotations, in this bar there is also the possibility to add images.
Please note:: Using this mode, the Annotate options will no longer be available.
Manage Pages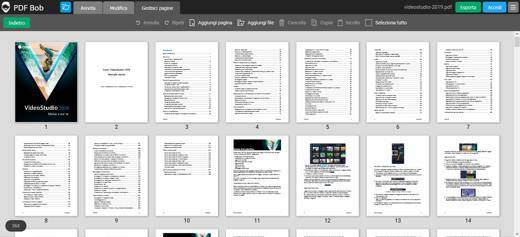 Pressing the command Manage pages you will be able to add and delete pages or add new PDF files.
This can be useful when you need to review an existing PDF file.
Export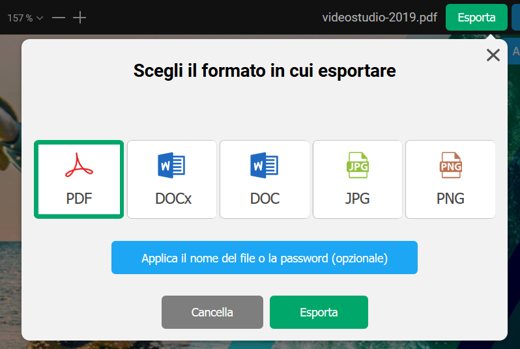 Complete all changes by clicking on the button Export a window will open where you can choose the output format among: PDF, DOC, DOCX, JPG and PNG.
You can also password protect this exported file or rename it by clicking Apply file name or password (optional).
Once the changes have been processed, the exported file will be made available for download.
Log in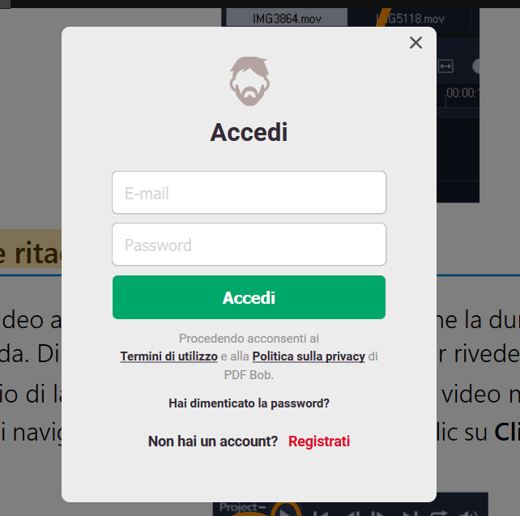 Clicking on Log in, PDF Bob also allows you to register on his platform to continue editing your PDFs. This way you can work on different PCs and access your repository how and where you want. PDFs will be stored on servers for up to 7 days.
Conclusions
As you could see from this guide, PDF Bob It is one of best free online editor which allows you to edit a PDF file without necessarily being an expert user and without the obligation to use a program such as Adobe Acrobat Reader.