Do you need to edit the content of a PDF file on Mac? Do you need to merge multiple PDF files with Mac? Do you need to convert PDF files to other formats on Mac? If your answer is yes then you can rest assured because there is nothing to worry about, by reading the following lines I am sure you will find the solution to what you are trying to do.
There are many programs that allow you to easily manage PDF files, but if you are looking for the best program to create, edit and convert PDF Macthen PDFelement 6 area of Wondershare he is definitely one of the most professional.

In the rankings of best programs to create, edit and convert PDF, PDFelement 6 occupies one of the top positions. Not only does it create high-quality, professional-looking forms and PDF documents using editing, protection, conversion and review tools, it digitizes paper files easily and securely.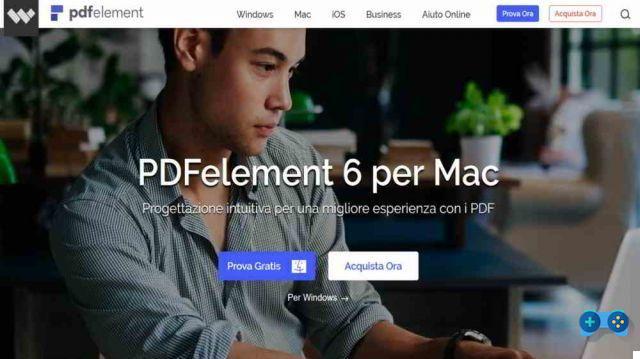 PDFelement 6
is a very powerful tool that offers:
Various ways of opening PDFs
Viewing and Browsing PDFs
PDF creation
Editing PDFs
PDF OCR
Organization of Pages
Annotation of PDFs
PDF forms
Converting PDFs
PDF protection
Optimization of PDFs
Print PDFs
Sharing PDFs
The new version, recently released for Windows and Mac, integrates professional tools with ainterface user, very similar to Office products, completely revised and easy to use. The other main innovations are:
Improved PDF forms which allows any PDF document created with Word or Excel to be edited without having to be converted, thanks to Automatic Form Recognition.

Export of data in paper and digital forms within CSV spreadsheets
Editing improved to allow editing of files while retaining the font and formatting of the scanned PDF files.
Converting PDF files in PDF / A format, for long-term archiving
OCR performance need it and quickly to convert a printed and scanned document into an editable PDF document.
HOW PDFELEMENT 6 FOR MAC WORKS
After downloading the trial version of PDFelement 6 from the official page of the Wondershare site you have to double click on the file .dmg saved in the folder Download and start the product installation process that will be sent to the folder Applications.
The trial version made available has some limitations and does not have the OCR function. Furthermore, at each saving PDFelement 6 applies a watermark to the document that you can only remove by purchasing the product and using the registration code to be activated at the cost of $ 59.95 for a single Mac, the 99.95 $ still for a single Mac but designed for professionals and 187,91$ per 2 Mac. In addition, you can take advantage of free Customer Support, a 30-day warranty and annual updates. Attention for users registered to PDFelement 5 or earlier versions, there is even an exclusive discount.

When you start PDFelement 6 it already comes with predefined sections: Edit PDF, Combine PDF, Convert PDF, Create PDF, Merge PDF, Process in Bulk, PDF templates.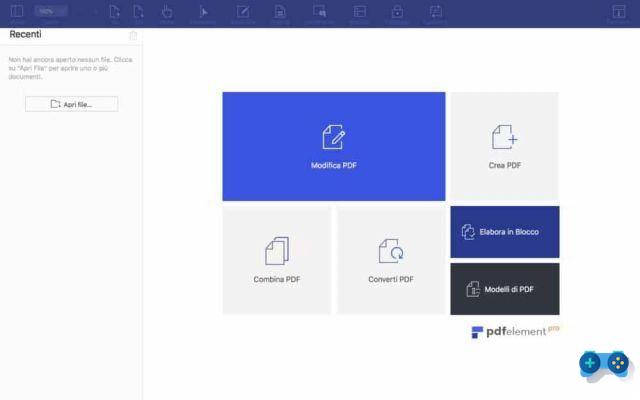 To open a PDF file you can easily drag the PDF document into the program window, click on Open File and select the document on your PC, or choose a file from the list of Recent. For password-protected PDFs, just type the correct password to view the contents.
Once the PDF document is open, a series of sections will appear in the top menu to help you manage the document. In addition to Vista which will give you the possibility to view on the left all the sheets of the file in miniature, with comments, bookmarks and more, you can enlarge or reduce the document, scroll the pages, and click on Select, Edit, Page (to delete, extract, replace, rotate or split pages), Comment, Form (to apply digital signature, buttons, text field, etc.), Protect (to draft or apply passwords to the document) e Converted to take advantage of the tools in each section.

But let's see what the main features of PDFelement 6 are for.
Edit PDF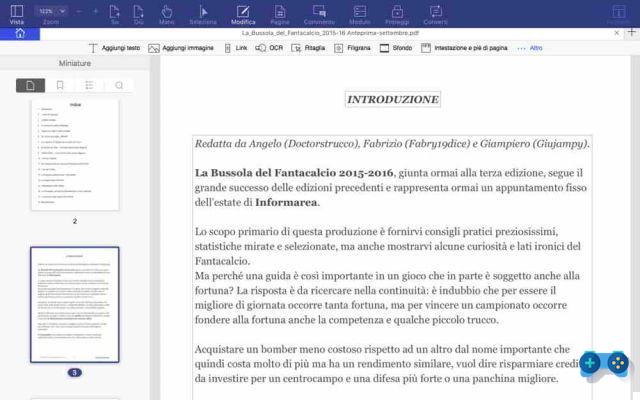 Modification PDF allows you to add, delete, cut, copy, paste and modify text, images and other objects contained in the file itself. By clicking on the Edit PDF box, you can import a PDF file by choosing it from your PC and using one of the tools made available by this section which are: Add Text, Add Image, Link, OCR, Crop, Watermark, Background, Header and Footer, Other.
Combine PDF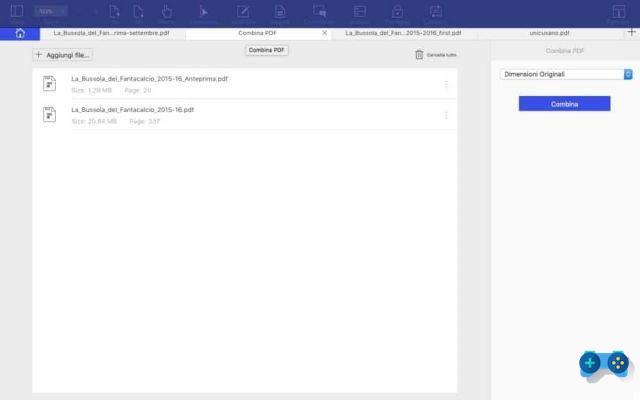 Combines PDF allows you to generate a single PDF by combining multiple files of different formats. By clicking on the box Combines PDF, you have the option of importing files by dragging them or clicking on the button Add Fillet. Once the files have been imported, you can decide their order as you like and delete them by pressing the button Clear all. When finished, press the button Combines and after giving a name to the new file, click on Save.

Convert PDF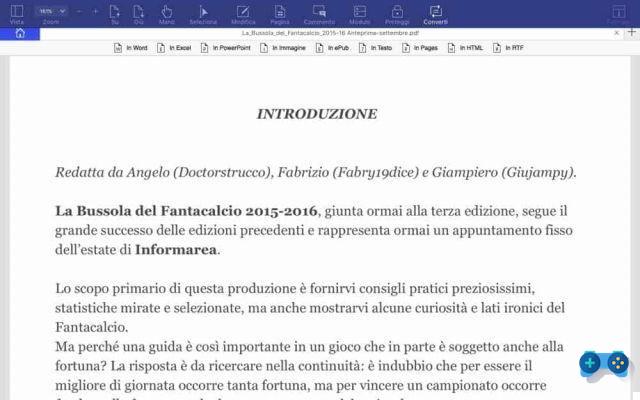 Converted PDF allows you to convert PDFs into editable formats, such as Word, Excel, PowerPoint and so on. By clicking on the box Converted PDF, you can import the PDF file by selecting it from your computer and using one of the tools made available by the program for this section, which are: In Word, in Excel, In PowerPoint, in Image, in ePub, in Text, in Pages, in HTML, in RTF. For example, pressing on In Word, the options for the best conversion will appear on the right of the screen. You can perform the OCR function or disable it and decide whether to convert all pages or only some of them. Once the configuration phase is complete, just press the button Converted and choose where to save the converted document.
Create PDF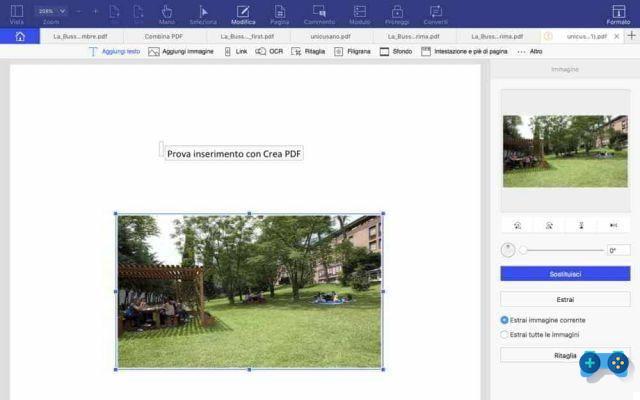 Crea PDF creates a PDF from images, HTML and other format files. By clicking on the box Crea PDF, you can import from your PC a file in the required format (for example an image) and after pressing on apri, start creating your PDF document using one of the many tools offered by the program: Add Text, Add Image, Link, OCR, Crop, Watermark, Background, Header and Footer, Other.
Process in Bulk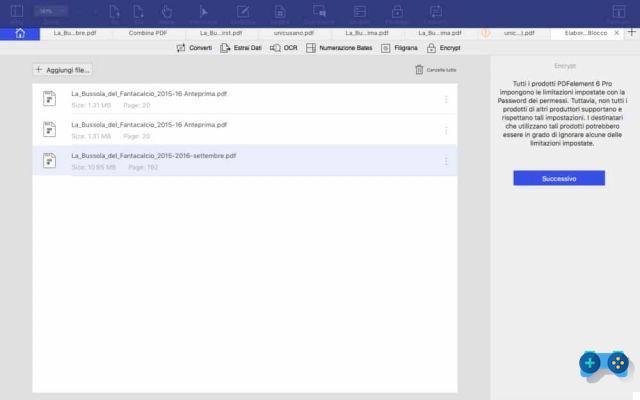 Process in Bulk performs conversion, data extraction of forms on multiple PDF documents at the same time. By clicking on the box Process in Bulk, you have the option of importing files by dragging them or clicking on the button Add Fillet. Once the files have been imported, you can delete them by pressing the button Clear all or choose one of the many tools made available by the section, which are: Convert, Extract Data, OCR, Bates Numbering, Watermark, Encrypt.
PDF templates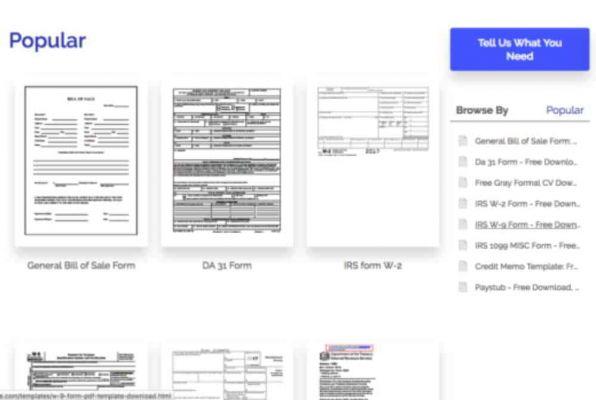 PDF templates offers the ability to find and download hundreds of ready-made PDF forms and templates from Wondershare's built-in PDFelement 6 PDF library.
In conclusion, as you can see, the user of PDFelement 6 it can have a multitude of basic functions, but also more sophisticated features, such as encryption, digital signature, creation of watermarks to protect pages, indexing via Bates numbering and so on.
And if you are not an expert you can still learn more about the features of PDFelement 6 by taking a look at the Wondershare PDFelement 6 official YouTube channel, especially the Playlist: PDFelement 6 (For Mac Users), in addition to the many support forums and the multitude of complete guides that you will find on the official website of the program.