In this article I will reveal to you 5 ways to make money on the Internet. Leveraging business on the web is possible, but be wary of sites, emails, and advertising campaigns that promise easy money and immediate earnings. The many foolproof techniques proposed on the web to get rich in a few months are all scams. In this regard, read also: How to protect yourself from Internet scams.

The Internet offers many resources to earn and supplement your monthly income, both for those who have their own businesses and for those who want to invest their free time in new adventures.
How to make money on the Internet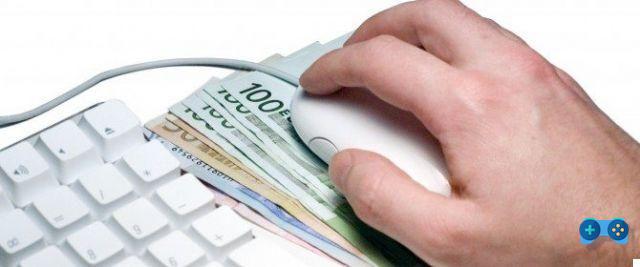 Making money with the Internet you have to work hard to study a system that allows you to make money by considering small investments such as opening a blog or a shop on eBay.
How to make money with Etsy

Among the 5 ways to make money on the Internet must be mentioned Etsy. If you are a small artisan and have the hobby and the ability to create crafts, then now is the time to make some money.

With Etsy, you can open a small online shop where you can sell your products. The important thing is that they are strictly handmade. Alternatively, you can also sell vintage items on Etsy, but they must be at least 20 years old, or DIY materials. The advertisement remains active for 4 months or until the object is sold.

Etsy is a platform born in 2005 in the United States and today boasts 24 million buyers around the world.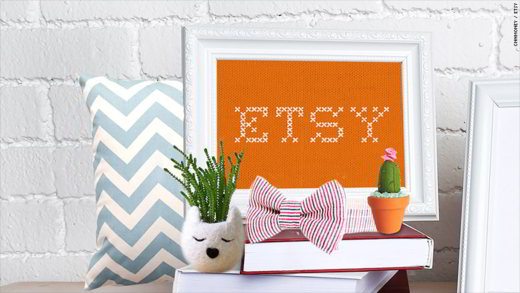 But how does Etsy work? Each listing uploaded to Etsy costs around 16 euro cents, plus a commission equal to 3,5% of the sale price of each item. Shipping costs are to be paid by the buyer. To the listed costs, another 4% plus 30 cents must be added for the management of the payment.

Etsy guarantees secure transactions with encryption and anti-fraud coverage.
How much do you earn on Etsy? Etsy does not allow great earnings, you can certainly recover the cost of the materials used for craft items and that for the management of the shop, but you could hardly reach 1.000 euros net per month. There are isolated cases of small artisans who manage to earn between 6.000 and 7.000 euros gross per month. These are artisans who offer products that are difficult to find, such as artistic lamps, screen prints and so on.
How to make money with eBay

Do you have some items that you no longer use? Then you can get rid of it with eBay. It is one of the most popular trading sites in the world and will allow you to make money on the Internet by connecting with millions of interested buyers.
To make it easy for you to find yourself, you'll need to choose the right price, create a complete and engaging ad, and always be ready to answer buyers' questions. There are no limits on the types of items you can sell, as long as they are legal goods and services. For more details you can visit the eBay official website directly.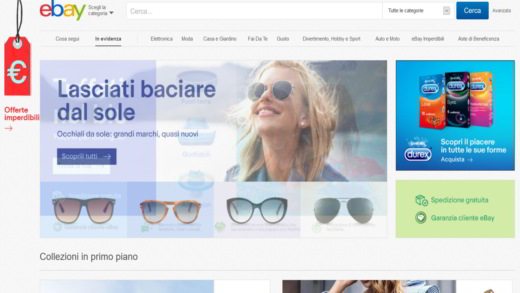 How does eBay work? After registering on eBay by creating a seller account, I advise you to carefully read the page of the rules to follow, to avoid risking the closure of your business before even starting.
You can speed up the ad creation process by searching for an item similar to yours in the large eBay e-commerce and clicking on Sell similar item. Your best bet, if you're starting to sell on eBay now, is to open a shop as a non-professional seller. The monthly cost is 20 euros and guarantees up to 100 adverts at no additional cost. Alternatively, you can avoid opening a shop and publish up to a maximum of 50 ads per month without spending anything, but with some limitations. Read here for further information.
In any case, if the item is sold, you must give eBay 10% of your profit. Then there are the commissions to use the PayPal secure payment system up to 3,4% of the amount earned plus 35 cents in the euro zone, but in this case I recommend you contact eBay to understand how much it actually costs to sell yours. products.

How much do you earn with eBay? It is not easy to quantify your earnings with eBay. On the eBay forum you can read comments from sellers who have earned from 1.500 to 7.000 euros in a year, net of expenses of course.

Don't Miss Also: How To Buy On eBay Without Getting Scammed.
How to make money with a blog
Starting a blog is another of the 5 ways to make money on the Internet. If you are good at writing and have communication skills, but above all you know a specific topic well then you can become a successful blogger. The key to breaking through is aiming for content to constantly update it. Furthermore, it is necessary to study the advertising strategies related to the Web and the tricks to always appear at the top of the results of the main search engines.
Among the platforms that can help you in your blogger project, I recommend WordPress: it is free and comes with many plugins. The costs of managing the blog do not exceed 300 euros. But you have to take into account that if you want to grow and start earning, you will have to invest a small expense to advertise it online (100 euros every now and then would not be bad) and create a newsletter to send content via email to those who are subscribed to your blog. The more visits, the higher the revenues.
How much do you earn with a blog? Blogging can be a great tool for selling services (e.g. online courses) or products (e.g. digital guides or books). Additional revenue can come with advertising spaces (banners) and paid written content. Making money with an Internet site is not easy, but there are blogs like that of Chiara Ferragni which in 2004 received revenues exceeding 8 million euros.

Let's say that with 1.000 unique daily visitors you could reach an average income of 150 euros per month.
How to make money with Google Adsense

One of the easiest ways to make money on the Internet is advertising on your site through Google Adsense. It is a service that connects companies that want to advertise their products or services and bloggers who need to sell advertising space.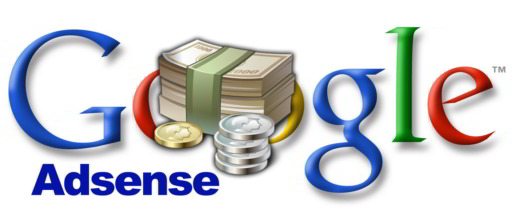 How does Google Adsense work? Signing up for Adsense is free and fast. Google's service takes care of making sure that the ads displayed on your site are consistent with your content. So if you write about technology you will host advertisements for smartphones, PCs and so on. Activating banners with Adsense is simple, all you have to do is copy and paste the code, released by Adsense, in the spaces of your site dedicated to advertising.
You can sign up for Adsense using your Google account or by creating a new one. At this point, just go to the official Adsense page, choose the format and type of ads. Activation is not immediate but will require site verification. To learn more, take a look at this page.
How much do you earn with Google Adsense? How much money you make with Adsense depends on how popular the blog is, the type of ads, their originating price, and the number of Adsense products you choose to place on your pages. Statistics show that the average payout per click is 25 cents and that bloggers earn on average between $ 10 and $ 50 per month with Adsense.

How to make money with YouTube

Becoming a star on YouTube is synonymous with certain earnings. Advertising inserted at the beginning of the video or on the right where the suggestions appear is the monetization system guaranteed by YouTube.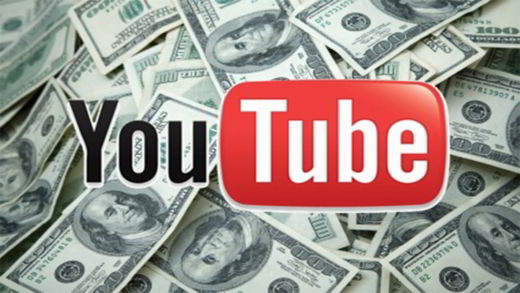 How does YouTube work? To make money with YouTube it is necessary to publish at least one video a week respecting the rules of the portal, which are: original content not protected by copyright, non-offensive or violent videos.
It is possible to become an official YouTube partner or to rely on intermediaries. For more information take a look at:
How much do you earn with YouTube? YouTube guarantees roughly the same figures as Adsense. To get started you will need 100/150 daily views and at least 35/40 videos already published.
Also check out: How to make money with YouTube ads.