Don't have a Facebook account yet and would like to log in without registration? In this guide you will find out how to log in to facebook without account through special pages and without registration.
Would you like to know who your friends are using Mark Zuckerberg's social network? Self log into Facebook as a visitor you can, through special methods, spy on the public profiles of people registered with Facebook and access without login. Let's see how to use Facebook without registration and find pages, people, groups using information you will find in this guide.
Index
How to log into Facebook without an account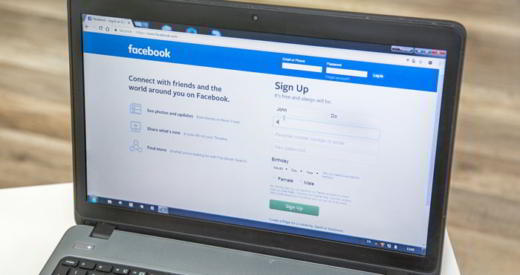 Log into Facebook as a visitor to search for profiles of people is possible. Consider that Facebook users can decide to change the privacy of your profile to make personal information public, such as photos, friends, shares, friend lists, likes and so on, or decide to hide all or part of the information concerning them.
The Facebook home page offers a series of links, at the bottom of the page, including People, where it is possible, through the search field on the right, to find out if they are registered in the social network and view their profile photo.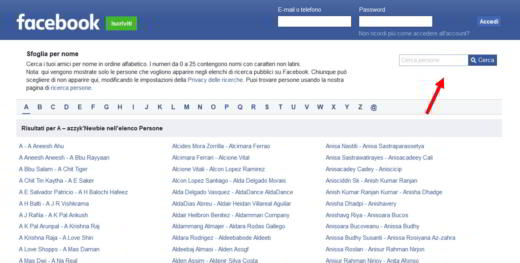 In addition to People, you can use filters, Find Friends, search for Celluare, Pages, Places, Groups, Toys and even if the person you are looking for is on Instagram.

Once you have found the profile you are looking for, you can view all the information concerning it, if publicly visible. So the shared posts, photos and more. Of course you can't put Mi like it or leave a comment, as you don't have a registered account.
Watch out for a security check, Facebook may ask you to tick the box I'm not a robot. It is used to prevent spammers from creating fake accounts and spamming users. Check the box and press the button Send to continue.
Read also: How to find out Facebook password
How to search for people on Facebook from Google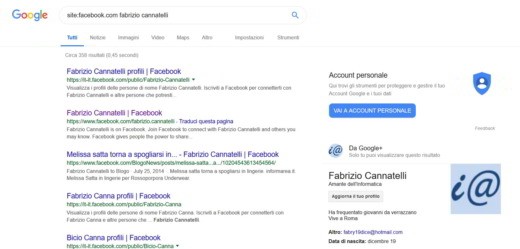 Another way to see if your friend is on Facebook is to search for their profile on Google. Then go to the search engine and type:
site: facebook.com Mario Bianchi (replace Mario Bianchi with the name of the profile you are looking for).
Among the search results you will see the directory page and not the public profile of the person you are looking for which in the privacy settings could disable the indexing of the profile by search engines outside the blue social network, including Google.
To further narrow your search you can also add your date of birth and / or city of residence. Eg:
site: facebook.com Mario Bianchi 19/12/1970 Milan
Keep in mind that this search method will also allow you to find profiles of people who have blocked you. Of course, you will not be able to access these profiles on Facebook anyway.
Read also: How to spy on private Facebook profiles
How to search for people on Facebook with Pipl and Social Searcher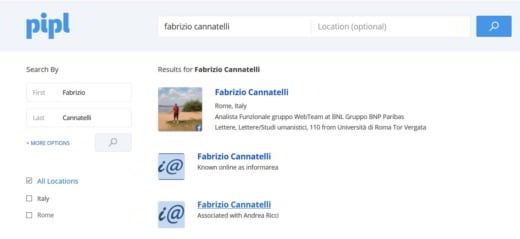 A search engine that specializes in finding public profiles is Pipl. It is a service that allows you to find people by their name, email address or phone number. By entering the user's name and surname, you can find all their social profiles and access Facebook without a password.
Another equally good search engine is Social Searcher. Allows you to view public posts written on Facebook to read without signing up on Facebook. This way you can watch Facebook profile without being friends.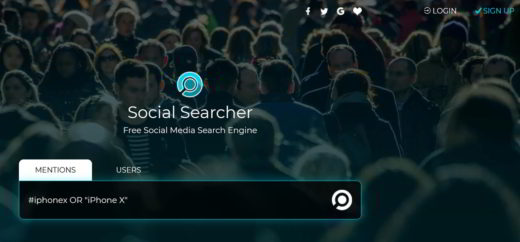 How to enter Facebook with a fake profile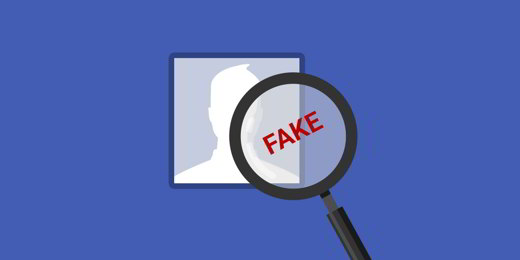 To find out if the person you are looking for is registered on Facebook, you can create a fake profile in order to become friends without being recognized.
As you can see there are many ways to access Facebook without an account, which one do you use?
Other useful articles
Facebook login direct access
Facebook blocks website links and shares
How to know who blocked you on Facebook