Do you have a romantic or business dinner and are you wondering if there will be a place to park your car where you will go? I know this in big cities like Rome and Milan find parking it has always been a lottery, that's why in this article I want to reveal a solution that will help you at least to get information about the availability of parking spaces in the place where you will go.
Make yourself comfortable and read the next paragraphs carefully because at the end you will be able to understand how to find parking with Google Maps, all you have to do is follow the information I will give you.
With the latest update of Google Maps it is now possible to find parking in 25 cities in the United States and in major European cities, including Rome and Milan. Big G is however extending this functionality to the whole world. For now it has started showing the icon indicating the parking difficulty.
To see how to find parking with Google Maps, just get directions to your destination and look for the parking difficulty icon in the destination tab at the bottom of the screen.
Parking difficulty is based on historical data and ranges from medium to easy. This feature is available on both Android and iPhone and to use it you need to calculate the route to the destination and immediately select Indications. Then choose the car as a transport and press on Information percorso.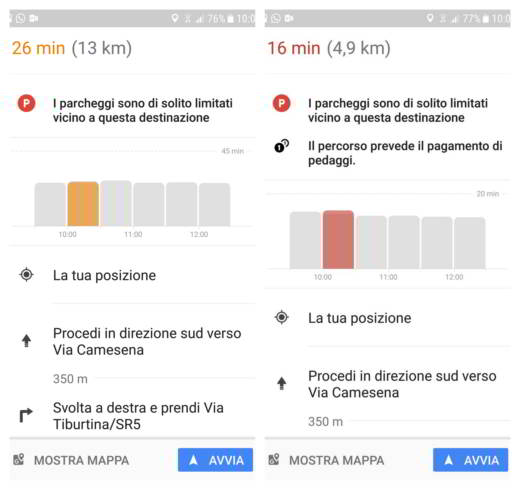 In Spain, the function to find parking right near the arrival is not yet available, but Google Maps can tell you how difficult it is to find a parking space in a specific area.
As an alternative to Google Maps, there are several apps for Android and iOS that help you find parking, that's why I want to list the best apps for finding parking in big cities.
ParkTAG (Android, iOS) is an easy-to-use app that will allow you to easily locate a parking space in your city. ParkTAG has a location algorithm that detects free parking spaces or when a parking space is being vacated. It also shows only free parking spaces and works thanks to the community that contributes to the improvements of the app.
SocialParking (iOS), reports free parking spaces to users of the social app in real time. By launching the app you will be able to see which are the free parking spaces in the area where you are. Its operation is very simple, all you have to do is launch the app and see which are the free parking spaces. When you leave your seat, you can contribute to making SocialParking a better app by clicking on the Report a parking button, to allow other users to have your information available.
Parkopedia (Android, iOS), is a useful app to find parking through your current position or by entering an address to see the availability of free parking spaces. You can choose between free parking, street parking, covered parking, paid parking and so on.

Parcheggi.com (Android), it helps to find parking spaces according to your location, time and price. You can pay for parking directly through the app.
READ ALSO: How to find parked cars with Android and iPhone