Keeping an eye on the price of products on Amazon is not easy, in this article I want to show you how to find offers on Amazon tracking the products you are interested in on the largest online store in the world.
Have you found a product on Amazon that you want to buy but its price is too high? You need to know that prices on Amazon can vary from day to day and become more advantageous. With a small extension for Chrome you can be able to monitor all the products you want without having to constantly go to Amazon.
Chow to find offers on Amazon.
The first step to track an Amazon product and buy it at an advantageous price is to install the extension on Chrome Keepa – Amazon Price Tracker. After downloading it from this page click on the button Add to install it.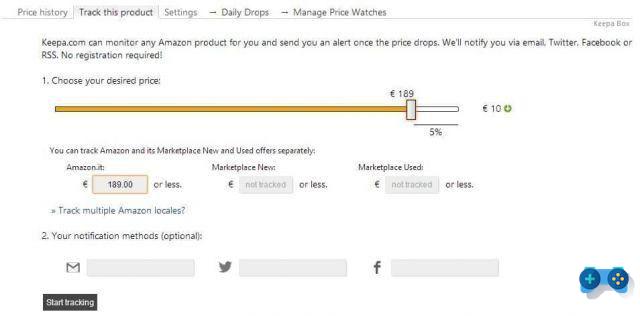 Now go to the product page on Amazon. Below the description you will also see a panel that allows you to view the price history.
Go to the tab Track this product and set the price you would like to pay indicating the notification method and click on Start on Tracking and Scanning Services.
You can choose whether to receive a notification via email or from Facebook, Twitter or via RSS.