How to find Facebook page ID. A quick and useful guide that will help you discover the ID that hides the Facebook page.
THEFacebook Fan Page ID it is very useful for creating Facebook applications but also for using it on different occasions. You can find it either on Facebook or elsewhere.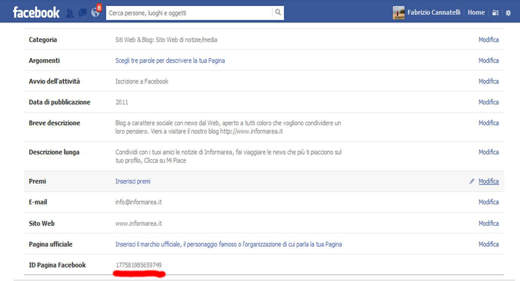 If you need to retrieve the ID of your Facebook Fan Page the simplest way is this:
Go to the Facebook page and click on the button Refresh Page Information, on the next screen, scroll to the bottom of the page and down to the item ID Pagina Facebook you will find the ID of your Fan Page clearly visible.
The other two solutions are:
Use the open graph made available by Facebook. Type in the address of your browser the following URL http://graph.facebook.com/ adding the name of the Fan page at the end and press enter. In the result on the screen, locate the line "id" :, to display the ID.
For those who do not have access to Facebook, you can go to the following link http://findmyfacebookid.com/ and enter the url of your FAN page in the appropriate field. Click on the button "Lookup numeric ID", And on the next page the service will show us the ID of the Fan page on the screen.
Other useful articles