How to download subtitles from YouTube. In this guide you will find out how to download subtitles from YouTube videos through the DVDVideoSoft online service: Online YouTube Subtitles Downloader.
Su YouTube, in addition to downloading videos or music, you can find contents with recipes, guides or films in a foreign language whose subtitles can be downloaded. This way you can get a real manual of what you are watching in the video, which you can access on your computer as and when you want, and take advantage of the instructions.
Those who upload videos often include subtitles as well to help users follow what is being explained step-by-step. On YouTube instead. subtitles are automatically generated, so you can download them as a text document in TXT, to edit them at will, or reuse them in other videos and download them in SRT, supported by almost all modern media players (such as VLC Media Player).
How to download subtitles from YouTube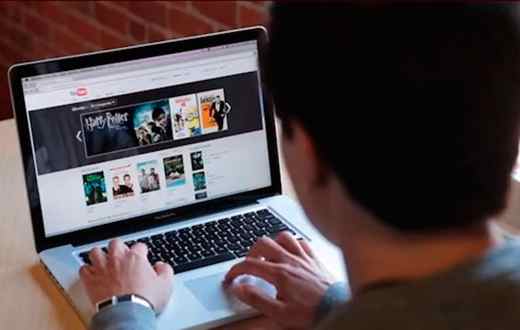 download videos from Youtube with subtitles of TV series, films, documentaries, music tracks and much more, you do not need to install any program, but simply take advantage of the online services made available by the Web.
Among the best specialized websites in the sector it should certainly be mentioned Online YouTube Subtitles Downloader di DVDVideoSoft, a free online tool that is simple to use and requires no registration.
First you need to go up YouTube and locate the video whose subtitles you want to save to copy its URL address. Once you've done that, go to the Online YouTube Subtitles Downloader and paste it in the field Paste the URL and download the subtitles.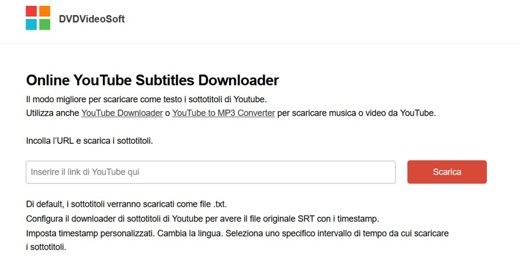 Pressing on the red button Download, the online service offers you the possibility to open or save on your PC a .TXT file containing the subtitles of the chosen video. This is because by default, subtitles are downloaded as a .TXT file (to be opened with Word or any other text editor such as Notepad).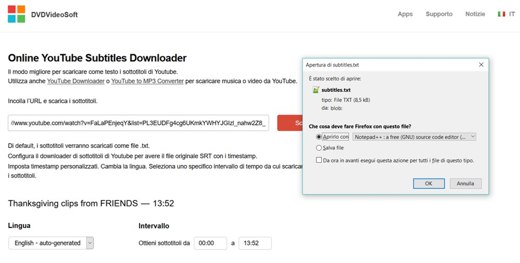 To get the original file .SRT and customize the download, you need to configure the YouTube subtitle downloader with i timestamp, at the bottom of the web page.
In the drop-down menu Language, change the subtitle language and specify, if you wish, a specific time interval from which to download the video subtitles. The latter option is useful in case you don't need to download subtitles for the entire video.

In the Marche Temporal, you can add timestamps useful for creating the .SRT file. You can choose between:
Remove timestamps
Original timestamps (for each sentence)
Custom timestamps every ..
Based on the choice you have made, you will be able to viewPreview, immediately below, the result you will get.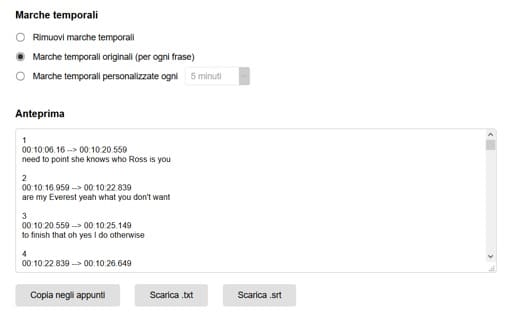 Once the customizations are finished, you can copy the contents of the preview to the clipboard, download and save the subtitles in TXT or SRT format (only if you have set a time marker), simply by pressing one of the buttons located below: Copy negli appunti, Download .txt, Download .srt.
What are SRT files for? The need to create an SRT file is to have a file containing subtitles and a series of information, such as formatting and time for synchronization with the video, available. If you don't have a good knowledge of the English language, by manipulating an SRT file, you can add it to the original video to understand the different scenes.