Do you run a blog and do you often earn and receive money in your PayPal account? In this article I want to explain how convert currency on PayPal, especially for those earnings that require currency management to be credited to your new balance.
PayPal is one of the most used payment systems in the world both for making purchases on the Internet and for receiving money. With PayPal your online shopping will become safer and you will not have to fear for the safety of your personal data. The system, in fact, allows you not to share your credit card details when you are about to buy something on the Web. Only PayPal will know your credit card number which it will protect through advanced and unassailable security systems.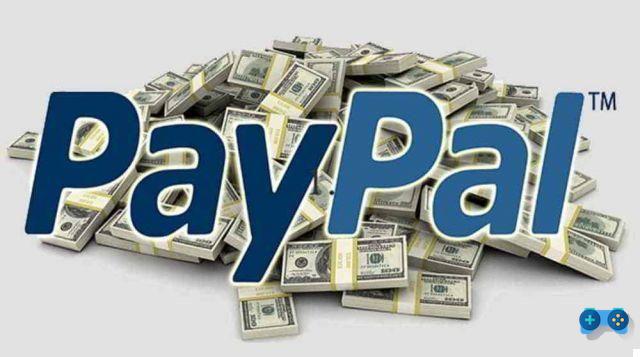 If you've received payments in a foreign currency, for example in dollars, the first step is to take convert currency on PayPal is to connect to this page to log in to the service, by entering your email address and your password you can access by pressing the button Log in.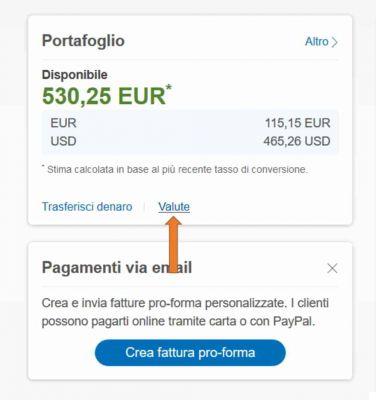 On the main PayPal screen you need to click on the link currencies in the section Our customers, located on the left of the screen. The page will open Manage Currencies, where you can:
Add a new currency
Making a primary currency
Remove a currency
Use the Currency Conversion section
By adding a currency, any payments you receive in the future will be credited to your new balance. Your primary currency, if you choose the euro, will remain the default for sending and requesting payments.
La Currency conversion instead, it allows you to convert money from one currency to another. Choosing a currency will automatically create a balance in that currency.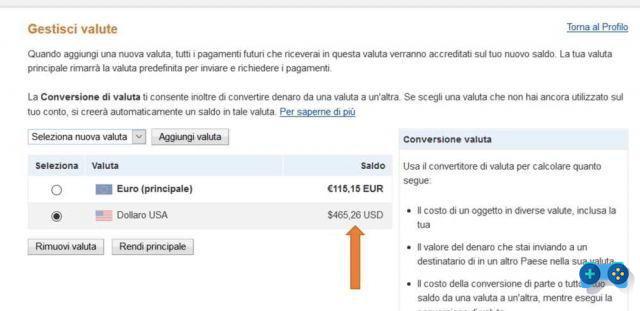 convert money from dollars to euros on PayPal, you need to use the currency converter to calculate:
The cost of an item you wish to purchase in different currencies
The value of the money you want to send to a person or relative from another country in its currency
The cost of converting part or all of your PayPal balance from one currency to another.
To use the function Currency conversion e convert currency on PayPal you have to follow the following steps:
set in the drop-down list of Select the type of currency conversion, the voice Balance conversion.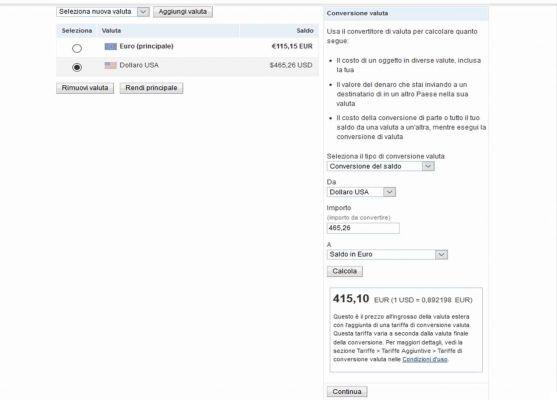 su Da choose the conversion currency, enter the amount to be converted and click on A select the currency to convert. In our case you should put on From: US dollar and A: Balance in Euros.
Push the button Calculate to view the wholesale price of the foreign currency with the addition of a currency conversion rate. Confirm everything by pressing the key Continue.
On the next screen click on the button Change currency.

At the end, the PayPal service will notify you of the correct transfer of money between currency balances and the PayPal exchange rate.
Other useful articles