Lately I have found myself a significant drop in daily visits due, in my opinion, to some links in entrata which could have led the site to a probable penalty.
Google he really thought of everything and of course he couldn't miss a tool called Disavow links able to block inbound and harmful backlinks to our site. The Matt Cutts explains that blocking such links is only useful if they are deemed to be truly dangerous and if they affect the site's performance in Google search results.
Google considers links as an element influencing the position and ranking of a site and wants all of them to be natural, that is, inserted spontaneously by internet users to indicate their interest in a resource on the web. Link exchanges, purchased links or other manipulations are considered unnatural links.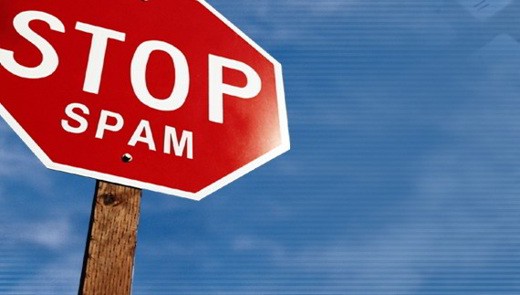 Some examples of unnatural links:
Artificial Blogrolls
Link to payment
Spam comments on Blogs and Forums
Automated link exchanges
Low-quality directory entry
Artificial blog networks
False profiles
Widely popular links in the footer
Links embedded in widgets and distributed in different sites
By adding the rel = "nofollow" attribute and redirecting links to a blocked page through the robots.txt file we can prevent the PageRank transfer and avoid so-called unnatural links.
First of all you need to make sure and identify which are actually the links that refer to your site and analyze them after downloading them in a csv file.
Let's go to the Home Page of Webmaster Tools (Google Webmaster Tools) and click on our site.
In the Dashboard click on Search Traffic and then Links that lead to your site.
Bottom Who uses more links, click on Other.
Click on Download more sample links or on Download Latest Links (if we're sure it's a recent backlink).
Let's examine the links downloaded in the .csv file and pay attention to the www and non-www version of the domain, for Google these are completely different sites.
After identifying the malicious links we need to create a txt file to send to Google and ask them to block it:
Let's create a text file (.txt) encoded in UTF-8 o ASCII 7-bit, containing the link that Google must ignore (the links must be one per line). If we want to delete all the links of the offending domain we must write "domain:sitename.com". The text file may also contain additional information such as: "# I tried to contact the site to ask him to remove the link on ... but I did not get any response", the important thing is that each description line begins with the character "#".
An example of a file sent to Google:
# Spam comments on blogs (ignore offending pages)
http://nomesito.com/pagina-spam-link/
# I contacted the owner of sitename.com on 12/04/2014 for
# ask for links to be removed but have not received an answer
domain:sitename.com

When indicating the name of the site, pay attention to the presence or absence of www.
To send the created txt file to Google we need to go to https://www.google.com/webmasters/tools/disavow-links-main and click Reject Link. The text that appears before the button warns us that Google will no longer take into account the links present in the file when evaluating your site and that in any case we must always clean up the unnatural links pointing to your site by intervening directly, by contacting the owner, on the unwanted site.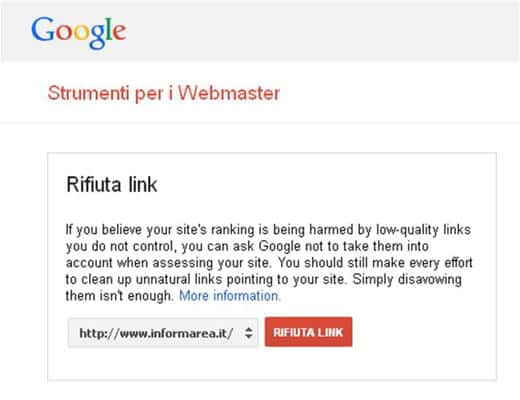 In the window Deny Link Google tells us the following: "This is an advanced feature that must be used with caution. If used incorrectly, this feature can potentially impact your site's performance in Google search results. We recommend that you deny backlinks only if you believe you have a substantial number of spammy, artificial or low quality links pointing to your site and only if you are sure the links are causing you problems. In most cases, Google is able to evaluate which links to trust without further guidance, so more normal or standard sites won't need to use this tool. "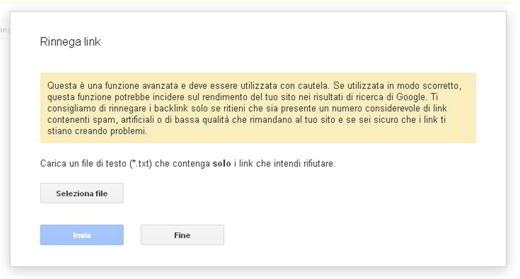 If we are sure of what we are doing, select and load the created txt file (let's call it for example: siti_indesiderati.txt) containing the links to be rejected and click on Send.
At the end Google will notify us if the operation was successful by highlighting: upload date, file name, domains and URLs reneged.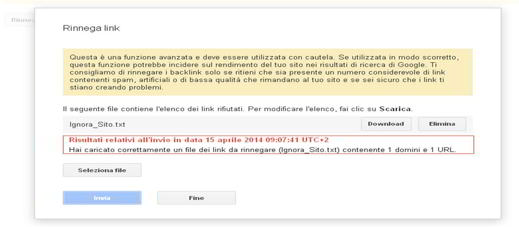 We reward end. All that remains is to wait for Google to crawl the web again (which could take several weeks).

Caution:
If we load a new file this will replace all those previously loaded;
Links submitted and to be rejected will continue to be visible in the Inbound Links section of GWT.
To learn more:
Refusal of links
Link schemes
Alejandro Crespo Martinez We are a specialized and passionate team of virtual reality. We have extensive experience in this area. We decided to create ForVirtualRealityLovers to share all our information with customers and users. We have quality information. You can find tips, guides, interviews, top products and much more! If you are curious, enter our site ForVirtualRealityLovers.com and discover the virtual world! 😉 How to block Vitaly rules spam on Google Analytics ❯
Articles related to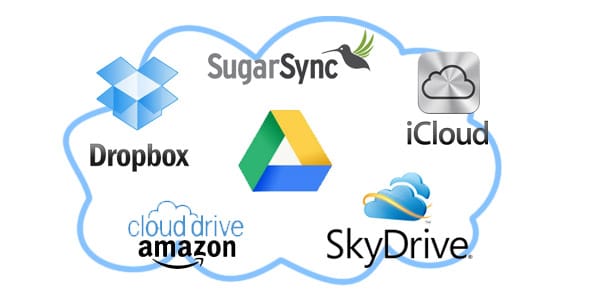 Google Drive, iCloud, SkyDrive and many others: which Cloud Storage to choose?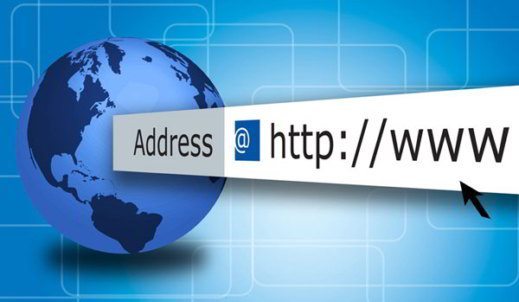 How much is a blog or website worth?
How to make Emule faster and have a High ID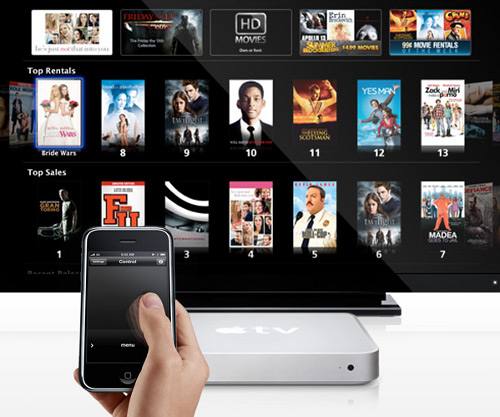 The Apple TV: the box of wonders wanted by Steve Jobs
What are the best cashback websites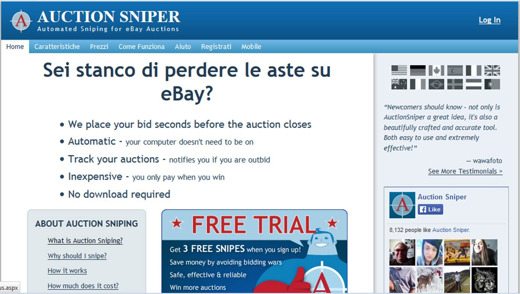 How to stop missing out on eBay auctions
Add a comment from How to block unwanted backlinks with Google
Comment sent successfully! We will review it in the next few hours.

Internet
How to increase the character limit of articles in BlogEngine.net
How to download Wikipedia
Mobilegeddon: the new Google algorithm for mobile devices
How to block notifications from a website
How to access KickAss Torrent (KAT) and what are the alternatives
How to download and record the videos broadcast on the RAI website
How to make money with Amazon
How to send large files online
Create a Facebook ad
How to boost the Wifi signal at home
A new frontier of ADSL: satellite broadband
How to ask for a refund at the Google Play Store
How to make money with video games
How to set up a mailbox with Thunderbird
Facebook: da social network a titolo Nasdaq
How to check multiple mailboxes from one place
How to use Gmail offline
How to schedule posts on Facebook
38 centuries in one day: the years "fly" on Skype
How to report to Google who copies our content
❤️Chi Sleep For Virtual Reality Lovers?
For Virtual Reality Lovers we are a team of people who aim to give you all the best information about Virtual Reality.
What information do we share?
We share everything you need to know about virtual reality, tips, prices, features, guides and much more !.
🤖What are the best virtual reality products?
We have the best information section on the best virtual reality products.



This work is under a Creative Commons Attribution-Non-Commercial-No Derivatives 4.0 International License. 2021/primerpaso.me X
Check out our best articles!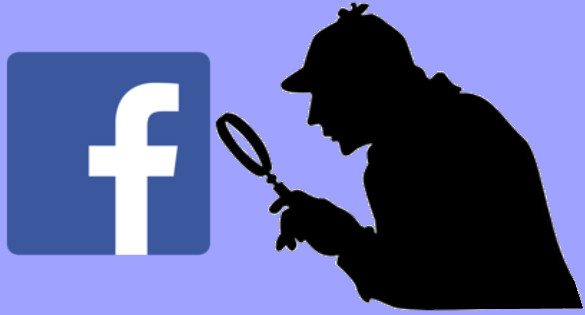 How to find out who visits your Facebook profile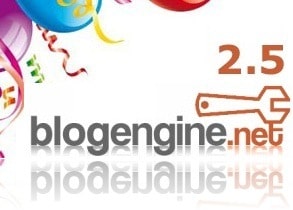 How to insert a donation button in Blogengine.net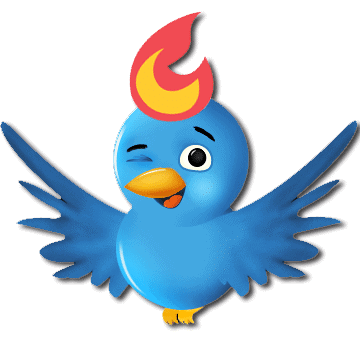 Track Twitter clicks with Feedburner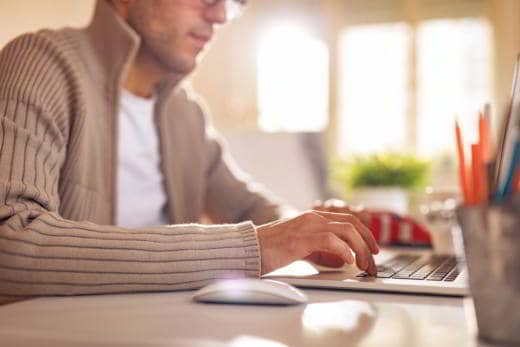 How to archive Outlook messages