How to block notifications from a website. Let's see how to avoid having continuous notifications appear while browsing the web with Chrome, Firefox, Edge, Internet Explorer and Safari browsers.
It often happens when you visit a website you are faced with a pop-up pop-up that offers you to activate the notification that will inform you about news or when a new article will be published. Notifications that can be useful but also annoying if proposed by sites you are not interested in.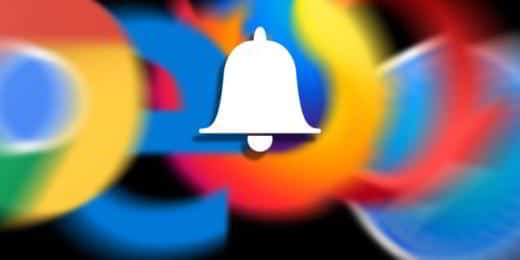 Fortunately, ignoring the notification shown by the browser will not give any consent, but there is still a solution for block notifications from a website with the main browsers, let's see how to do it starting to understand how to block Chrome sites.
How to block notifications su Chrome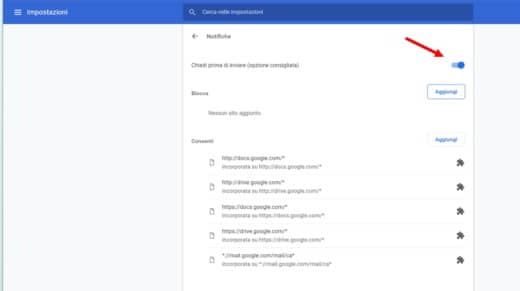 To turn off notifications in Chrome you have to press the menu button at the top (the one with the dots) and open Settings. Scroll down until you find the link Advanced. Click on it and then click on Settings contenuti of the section Privacy and Security. Scroll down to locate and click on le Notifications e pigia his Ask before sending to set the item to Blocked.
In this way you will no longer receive notifications from the sites, unless you decide to customize the notifications by pressing the button Add, of the section Block, to enter the sites to be blocked or that Add, of the section Allow, to enter the sites you want to allow notifications to.
How to block notifications su Firefox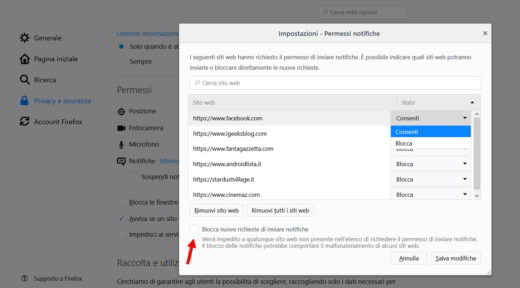 To turn off notifications in Firefox, after opening it, click on the menu at the top with the three horizontal lines and click on options. In the section Privacy and security, look for the voice Permissions.
Next to Notifications, award-winning Settings to check the sites that send notifications and deactivate the ones you don't care about. On each site you can select Block o Allow.
By checking the item Blocca nuove richieste di inviare notified, you will prevent all websites from asking for permission to send notifications. When finished, press the button Save Changes to make the changes made effective.
Another solution to disable website notifications on Firefox is by acting in the browser configuration. In the Firefox address bar, type about: config I awarded Submit. Press on I accept the risks in the warning window, and in the search field, type Notifications then press Enter.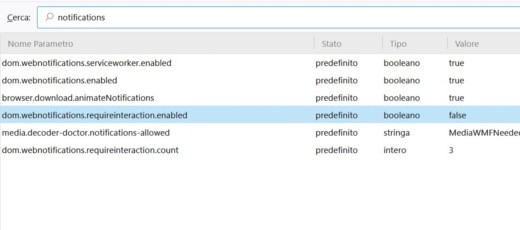 Among the various results obtained, click on dom.webnotifications.enabled to set it to False and exit the configuration. By doing so you will have blocked all notifications on Mozilla Firefox.
How to block notifications on Edge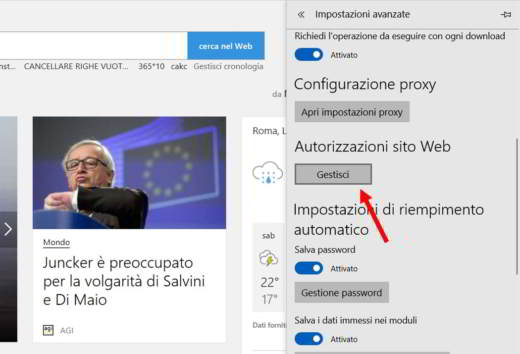 To block unwanted notifications on Microsoft Edge of Windows 10, open it and go to the top menu (the one with the three dots) to press on Settings. Scroll down until you find the button ManageIn section Website permissions, and click on the link Notifications.
Unfortunately, Edge doesn't turn off notifications in total mode, which is why you'll have to block sites that are already authorized.
How to block Internal Explorer notifications
To block notifications from a website with Internet Explorer 11 you have to go up Tools> Internet Options> Privacy. In this section check the item Attiva Block Popup. By clicking on Settings, you can customize the Sites to allow notifications and even specify the Blocking Level between High, Medium and Low.
How to block notifications on Safari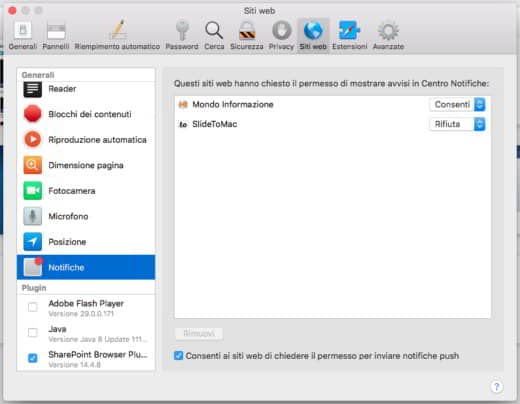 To block notifications from websites on Safari, all you have to do is go to the Apple browser menu and press on Safari> Preferences. Press the button Web Sites and then, in the left sidebar, up Notifications. Here you will be able to manage the list of websites that have asked for permission to show alerts in Notification Center.
To customize the permissions to send notifications, for each website you can select Allow o Reject. Otherwise, just uncheck the item Allow websites to ask for permission to send push notifications and you will no longer receive requests.