You need to know that WhatsApp automatically backs up your data, but only on your mobile device. If you lose it or it gets damaged, your data will be lost forever. Therefore? If you don't know there is a way to backup WhatsApp chats su Google Drive for Android mobile devices and on iCloud for iOS mobile devices such as the iPhone.
All you have to do is get comfortable and read this guide thoroughly because you will be able to find out how to backup whatsapp chats in the most effective way and without losing all your conversations.
How to backup WhatsApp chats on Android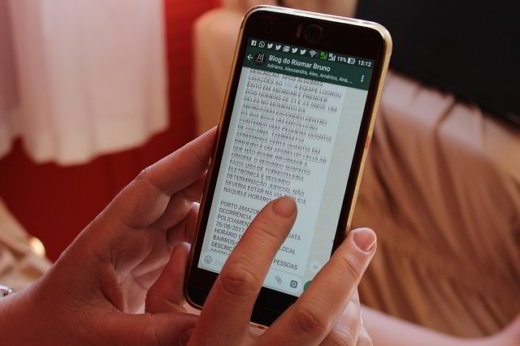 If you have an Android phone, open WhatsApp and tap on the three vertical dots, located at the top right, and then select Settings> Chats> Chat Backup. Here you can backup your messages and media files to Google Drive and you can restore them when you reinstall WhatsApp.
The backup will also be made to your phone's internal memory. Be aware that messages and media files on Google Drive are not protected by Whatsapp's end-to-end encryption.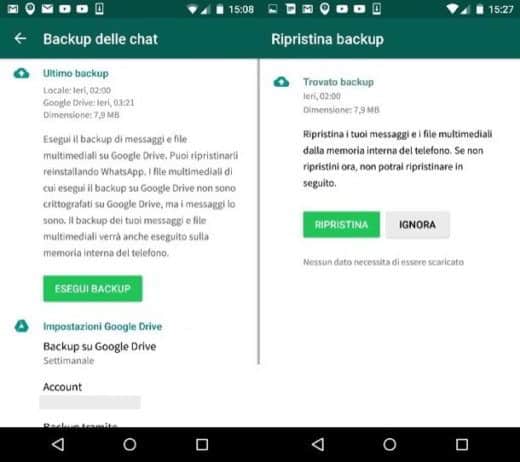 In the Google Drive settings you can manage four options:
Backup to Google Drive, to select the backup frequency to:

- May
- Only when I tap "Back Up"
- Daily newspaper
- Weekly
- Monthly

Google Account, to add a new account or use the existing one.

Backup via, to choose whether WhatsApp will have to back up the data only with an active WLAN connection or also via the mobile phone network.
Include videos, to add WhatsApp videos to the backup.
If, on the other hand, you want to perform a manual backup of the chats on Google Drive you can set the frequency of Backup to Google Drive su Mai and plug up Backup to start the backup on Google Drive and wait a few minutes for the process to complete. I recommend that you connect the phone to a power source.

How to restore WhatsApp backup from Google Drive

To restore from a Google Drive backup, you must first use the same phone number and Google account that you used to create the backup. That said, uninstall and reinstall WhatsApp. Check the phone number and wait for the app to restore messages and media files from Google Drive.
Once the restore process is complete, click Next and you should be able to see all your chats. Immediately after, WhatsApp will start restoring the media files as well.
If, on the other hand, you don't have any backups on Google Drive, WhatsApp will only restore the backup files stored on your mobile.
How to delete backups on Google Drive

To delete WhatsApp data from Google Drive, you need to go to Google Drive and log in with your Google account. From your mobile you just need to set the Desktop mode reachable in the settings of the mobile browser.
On your Computer or Smartphone click on Gear> Settings> Manage applications. Locate WhatsApp Messenger and click on Options> Clear hidden application data.
How to backup WhatsApp chat on iOS

If you have an iPhone, open WhatsApp and go to the app settings. Then stop on Chat > Chat Backup and then click Back up now. Select Automatic backup and stop, for example, on Daily, to have the new data automatically saved to iCloud every 24 hours.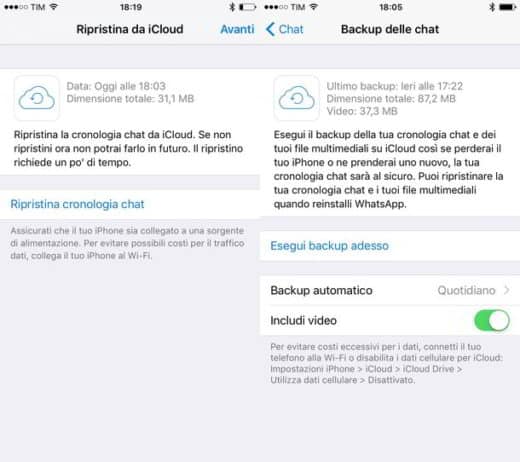 If the notification appears in the iPhone settings that you need to authorize WhatsApp for access to iCloud, open the app iCloud, then iCloud Drive (if you do not find it try from Settings> Apple ID) and intervene on the switch to authorize WhatsApp. For iPhones with iOS 7 you need to go to Documents and data (IPhone Settings > iCloud > Documents and data) and must be set to ON.

How to restore WhatsApp backup from iCloud

To restore WhatsApp chat backup from iCloud, you need to reinstall WhatsApp by downloading it from the App Store. After verifying the phone number, follow the instructions to restore the chat history and use the same WhatsApp account.