It has often happened to you that you have the desire to be invisible on WhatsApp but you have always wondered if, and how, it is possible to set this functionality since it has not yet been implemented in WhatsApp. In this article I will reveal some tricks for be invisible on WhatsApp and with some precautions, hide from those who annoy you and storm you with messages.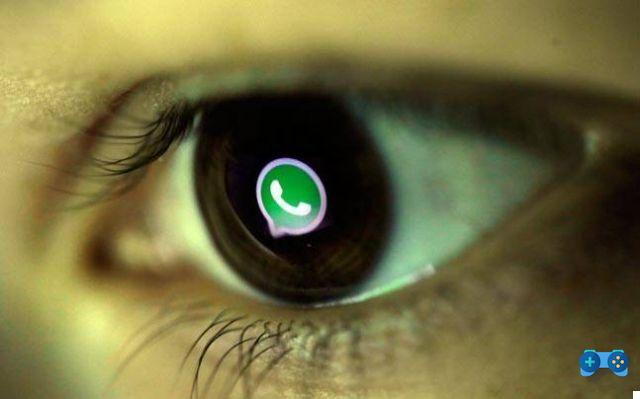 So here are some tips to understand how to be invisible on WhatsApp and maintain your privacy.
The first thing to put into practice is to go in Settings> Account> Privacy and plug up Last access to set the option to Nobody. In this way, those who have targeted you will not be able to know your last access on WhatsApp. By not sharing the last login you will of course not be able to see the last login of other people.
Another method to be invisible on WhatsApp is to hide your profile picture. To do this you have to go up Settings> Account> Privacy and plug up Profile picture to set it to Nobody.
The same goes for the state. You can avoid letting others know your state by setting the None option. To do this you always have to go up Settings> Account> Privacy and plug up State and choose Nobody.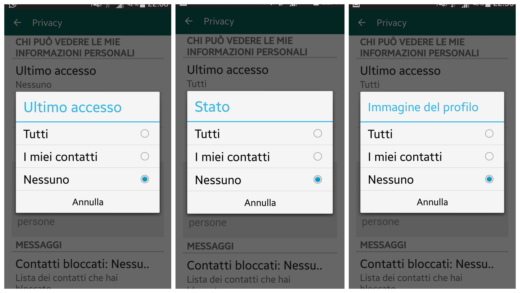 Another solution for be invisible on WhatsApp is to block a person and prevent them from seeing you online. For block a person on WhatsApp with Android you have to go into the rumors Contact Us o Chat and select a contact. Then tap on the symbol of the three vertical dots (Settings) and select the item in the menu that appears Other. It will appear to you in addition to Add collegamento option too Block. Clicking on it will block one of the contacts that annoy you. To restore blocked contacts, just go to the main WhatsApp screen and tap on Settings> Accounts> Privacy> Blocked contacts and select the name by pressing on Unlock.
Another way to become invisible is hide read receipts on Whatsapp, therefore the so-called blue ticks placed next to the message after reading it. To deactivate the double blue check it is necessary to go up Settings> Account> Privacy and uncheck the item Read confirmation. By deactivating this option you will be able to hide your read receipts but at the same time you will also lose the read receipts of other people. Please note that the blue ticks will always be active for messages sent in groups.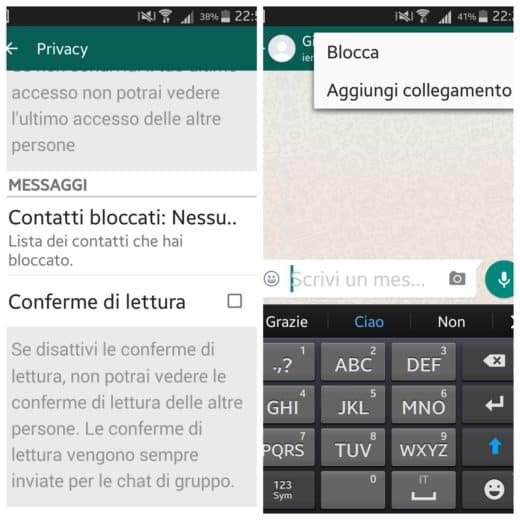 In conclusion, you can decide to forcefully stop Whatsapp, which is always active on Android and iOS mobile devices, by going to Settings> Apps or Application manager and after selecting WhatsApp press the button Ends o Arrest Forzato. This way WhatsApp will no longer work in the background, until you restart it.
HOW TO BE INVISIBLE ON WHATSAPP WEB
With Web WhatsApp the situation is quite different. When reading the messages, your friends immediately know that you have seen it and there is no way to set an option to prevent it, as happens on a smartphone. The only solution is to make use of browser add-ons.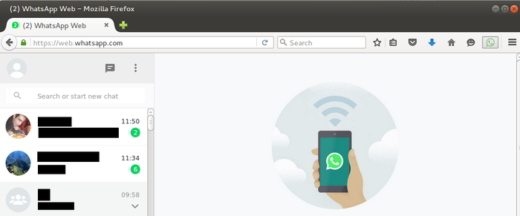 It was used Mozilla Firefox you can make others not know if you have read their messages. To do this, just install the add-on ShutApp. After adding it to the fox's browser, by clicking Aggiungi to Firefox, a small WhatsApp icon will appear on the right of the address bar.
When you start WhatsApp Web, just click on the icon to activate the private mode, which will allow you to read the messages received without sending the notification. To disable this mode, all you have to do is click on the same icon again.