How Facebook Marketplace works to sell and buy items online at a good price and find many bargains.
Is called Facebook Marketplace and is the new Facebook platform that landed in Spain in mid-August 2017. The service of the blue social network allows you to sell and buy on Facebook items from other users.
FB Marketplace looks a lot like Subito.com, where individuals sell items of all kinds that are no longer needed; a sort of market that satisfies the needs of those who want to do business by exploiting the relationships of trust that are created in Facebook Groups.
On Facebook there were already sales and purchases pages, but now the social platform has decided to create a real market for its users where sell and buy on Facebook through the icon called Marketplace which not only uses your location to display nearby ads but does not ask for commissions. The aim is to act as an intermediary between those who sell and buy with all the dangers of the case.
That's why in this guide I want to tell you how Facebook Marketplace works revealing how to sell and buy and giving you the right advice to avoid being a victim of online scams.
Marketplace is a very easy to use showcase where you can sell new or used items and post short ads. The insertion of ads can be performed on 9 categories that group the objects and services for sale on Facebook. These include: Home & Garden, Accommodation, Entertainment, Clothing e accessories, Family, Electronics, Hobby, Vehicles and bicycles. The category is not missing Little ones ads, where you can offer for private repetitions or if you are looking for a used item that cannot be found.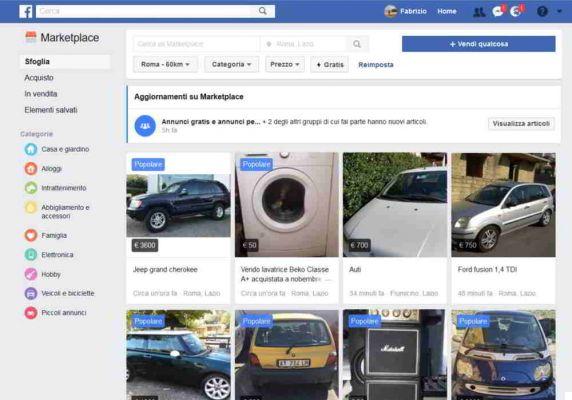 The service bans drugs, weapons, alcohol but also animals and products for adults.
With Marketplace, you can't pay online or arrange shipments. What you can do is get in touch with the seller or buyer from Facebook and privately agree on the price and location of the pickup. There is no shipping policy like Amazon or eBay, but everything happens between individuals.
How to post an ad on Facebook Marketplace from PC

To sell a product on Marketplace and start earning, you need to create an ad. To do this you need to log in to Facebook and after logging in click on Marketplace, in the left column of the section News. Prize for your Sell ​​something + and, at the top right and wait for a window to open in which you will need to enter product information.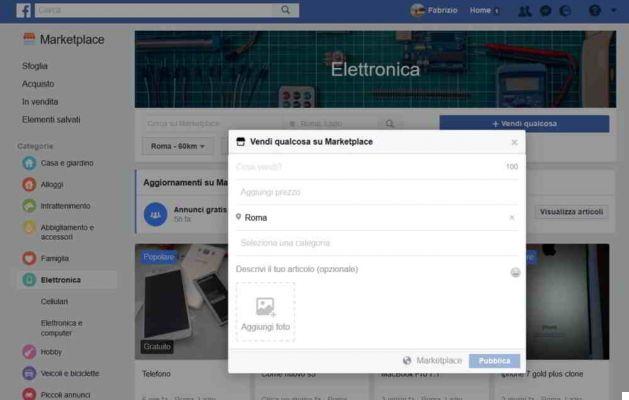 First enter the item name, price, location, category and a short description. Try to be as specific as possible. Then click on Aggiungi photo to upload one or more photos of the item from your PC and end with Public. Warning: try to make photos that show the article well from multiple angles and maybe try to make some collages by combining more photos.
Once the item is on sale, a public post will be created visible to everyone on the Marketplace, in the section News and in Searches.
To keep track of your article just go to the section In vendita. From Manage> Edit Article, you can change the product information at any time.
How to publish an ad on Facebook Marketplace from a smartphone

To sell on Facebook Marketplace from a smartphone, you need to start the Facebook app and tap the shop icon at the bottom center if you have an iPhone, or at the top if you have an Android device.
At the top you will find the field About su Marketplace, to search for an article by name, just below the line from which you can select categories. The app uses the location detected by the mobile phone (geolocation) to find nearby items. You can filter ads by distance and only view those that really interest you. It is useless to find a low-cost item that requires 200 km to go and collect it.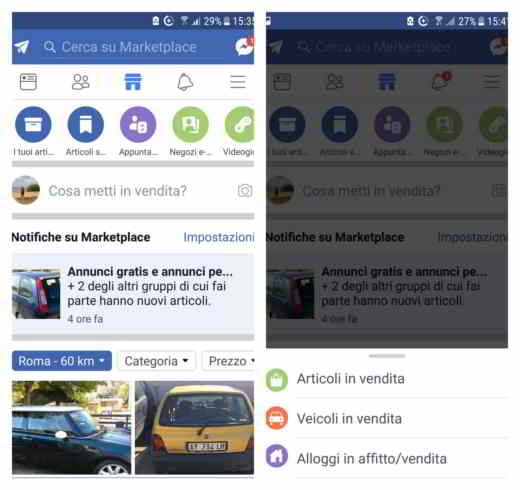 To sell something, tap What are you selling?, select a category among Items for sale, vehicles for sale, Accommodation for rent / sale and touching the icon camera at the top right, you can take photos of the article by pressing then on the item OK, up. Then enter the information in What do you sell?, Price, Add items or options, Modification photo I awarded her NEXT.
Decide whether to share the announcement also on your Facebook profile and stop on Public.
How to buy on Facebook Marketplace
If you are a buyer and want to do business on the Marketplace, the first step to understand how Facebook Marketplace works is to browse the various offers in the categories. Click on the item Marketplace in the left column of Facebook and then on a subcategory to add filters by changing place and radius.
In the field About su Marketplace type the name of the article you are interested in and press Submit. The search will be performed considering also your position. You can in fact indicate the maximum distance of the specified place up to 100 Km, the product category and the price range. The filters must be applied before the search, to start over click on Reset.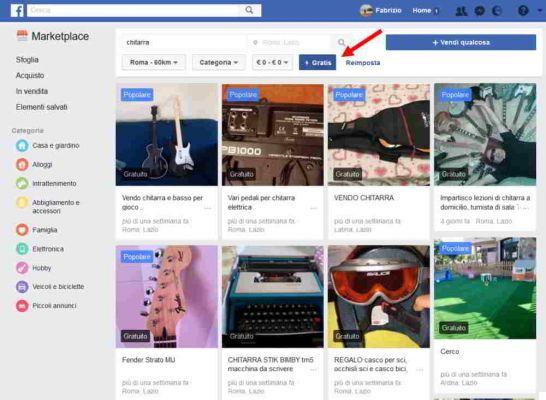 If you click on Free you can find products at no cost. Generally these are items to be exchanged or to be freed. Once you have found the article click on it for more details and click on Save o Send a message to the seller for a private contact.
The message will come on Messenger and you can start your bargaining. In the section PurchaseAt the top left of the Marketplace, you can also keep track of the items you intend to buy and the conversations you have had with the seller.
How to avoid Facebook Marketplace scams
To avoid scams on the Marketplace, I recommend that you first of all gather as much information as possible about the seller or buyer.
Before buying, compare prices by checking similar items sold elsewhere, such as on eBay, Amazon or Subito.com.
Be wary when a product is sold at rock bottom prices.
Always and only buy through PayPal.
Do not send the item before payment.
Meet the buyer or seller in a public place and avoid going to someone's home.
Beware of fake profiles, it might be useful to do a search in Google images.
Attention on Marketplace, for privacy reasons, addresses and telephone numbers are exchanged between buyer and seller only in private.
Read also: How to sell used furniture online
Frequently asked questions and answers
Click on "Marketplace" in the left column of the news feed; Click on "Sell an item"; Enter the different data: the item, the cost, the location, the category, etc.
; Click on "Add photos": you will be able to import a photo of the item from your PC.
21 Oct two thousand nineteen
To sell a used or even a new product on the Fb Marketplace, just post an ad.
It's free of charge and gets up and running very quickly.
Log in to your Fb account with your frequent browser.
In the left column, under your name, click on the Marketplace link.

To access Marketplace, you just have to update your application and click on the logo that will appear.
Now, you will access a page with the different items (in each and every category) that are for sale near you.
August 15, two thousand and seventeen
Compilation of frequently asked questions that our users have sent us and that our experts have answered.