On April 2, 2019 Google Plus, Google's social network, also known as Google+, will permanently close personal accounts. Before closing if you need to download photos, videos and more, I recommend that you read this guide carefully because I will give you instructions on how to proceed to save everything on your computer.
Google+ instead will be closed in August 2019, theentry into force of the European legislation (GDPR) established that all users have the right to have a copy of their data recorded by a particular service. Here is how Google will allow its users to obtain their data registered by all its services.
How to download data from Google Plus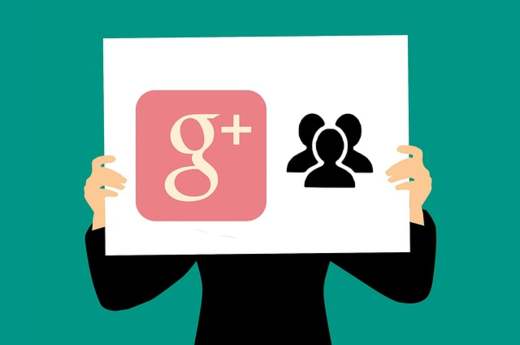 Launched at the moment of the greatest success of Facebook, Google Plus has unfortunately not been able to give an added value compared to that of Zuckerberg who over time has created and introduced new features to his social network.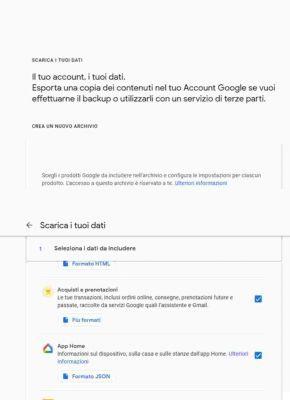 To access the Google Plus data archive, Big G provides a site called Google Takeour where you can explore your Google account data.
On this page you just need to select the items:
+1 from Google+
Google+ circles
· Google+ community
· Hangout in diretta
· Hangouts
· Profile
· Stream Google+
This is a copy of the content in your Google Account that you can export by pressing the button at the bottom Step Following.
In the window Create a new Archive you can customize the archive format and choose the type of file to download or save to the cloud.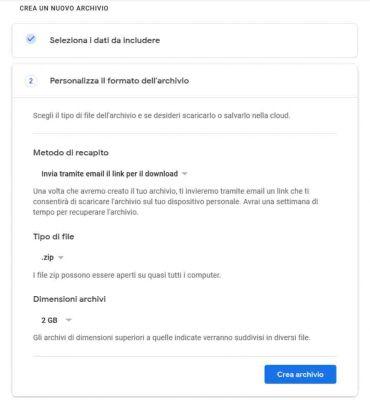 In delivery method you can choose to send by email the download link, or add it to Drive, dropbox. OneDrive, Box.
In File type you can select .zip o .tgz (the latter are used in a Linux environment).
Then specify the size of the archive from 1 to 50 GB taking into account that the archives larger than those indicated will be divided into different files.
At the end click on the button Create archive.
Wait for the archiving to progress and for the email that will notify you when the archive is complete and ready for download.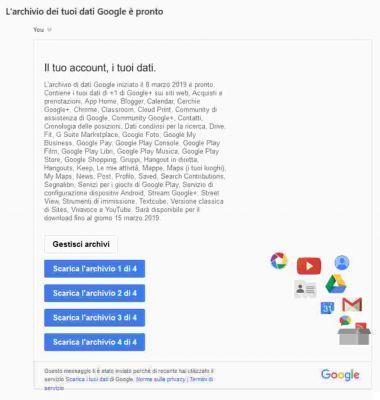 Press the button Download the archive and after logging in Archives Management the option to save your .zip or .tgz files to your PC will automatically open.
Do not download your archives to public computers and do not upload them where others can access them. After downloading, you can also proceed with deleting the account.
How to delete Google+
To delete your Google+ profile you must visit this page and after logging in with your account, locate the Google+ service and press theicon of the basket to delete it.
On the next page you will be specified that by deleting your Google Plus account will be deleted: your circles, your +1, your posts, your comments and your profile data. Photos and videos from your posts will continue to appear in your album archive, from which they will be deleted when the consumer version of Google+ is closed. The same goes for Google+ Pages.
I conclude by adding that deleting your public profile will not affect the status of your Google Account.
Check the box where you say that you are aware of the deletion of the Google+ profile and of the fact that the deleted data can no longer be restored and presses the button Elimina Google+ to confirm.