Are you perhaps looking for one free flashlight for your smartphone? Here is a guide with the best apps for Android and iOS to light up anything you want.
The smartphone is an electronic device capable of countless things, thanks to it you can entertain yourself with videos, music or work productively and quickly. Among the features that seem trivial but can make the difference is that of torch.
We are sure that you have ever had to use a candle or a lighter for illuminate an environment, homely or not, due to the lack of light. Fortunately, smartphones, be they Android or iOS, have a flashlight capable of illuminating what you want with good intensity.
As you can imagine the intensity of the smartphone flashlight mainly depends on the power of the flash installed on the body or the 'screen intensity, but even older devices allow you to have excellent artificial lighting. In the next few lines we will examine the best flashlight apps for Android and iOS, trying to find maybe the torch free that's right for you.
Where do I find the flashlight in my cell phone
Among the many applications installed by default on your smartphone you may not know it but there is also that of the flashlight. Although it may have limitations compared to third-party applications, it can still give you excellent performance. We see how to activate the flashlight app native to Android or iOS.
Android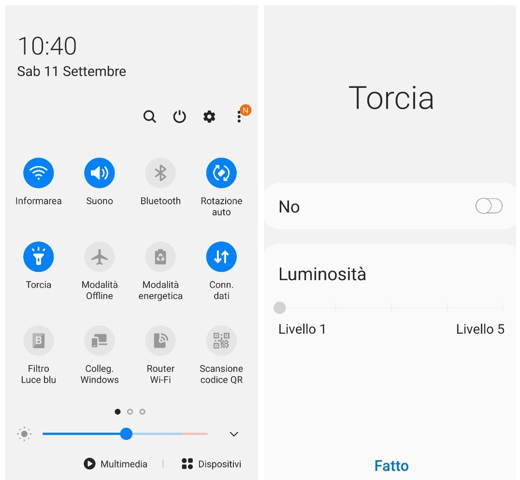 There are several ways to activate the flashlight on an Android operating system, we will list all the possible solutions so that you can decide which one you prefer.
Android versions from the tenth onwards have inserted the flashlight function directly in the drop-down menu. Unlock your smartphone and with two fingers at the same time tap the screen from top to bottom. The scrolling window will open Quick settings, here you will find the Torch. If you don't see it, it could be in the second window, swipe right and in a moment just click on the flashlight icon to turn it on.
You can turn on the flashlight using directly Google Assistant. If you already have Google's voice assistant activated, just say out loud "Ok Google" and subsequently "Turn on the flashlight". The voice assistant will turn on the camera flash.
iOS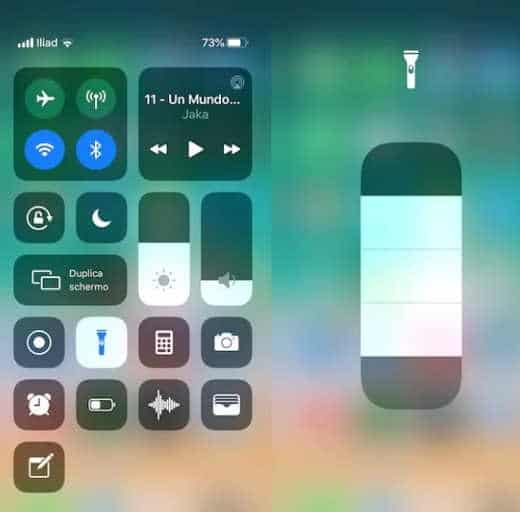 Even the Apple device has a flashlight by default, but how to activate it? Enter the Control Center swiping from bottom to top and press on the first one torch icon which you will find at the bottom left. For more information you can read our guide on how to turn on iPhone flashlight.
The best Torch apps for Android and iOS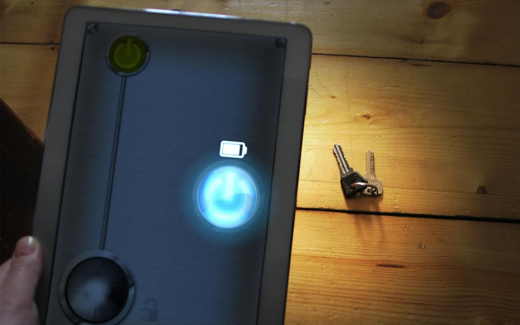 We are sure that you do not want to limit yourself to turning on the default flashlight of your smartphone but you want to have something more performing. In fact, third-party apps implement new features that can be useful to you, such as the power control or blinking.
So let's see what are the apps to have an efficient flashlight for Android and iOS.
Torcia app (Android, iOS)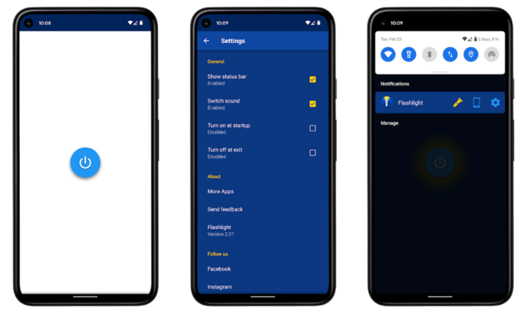 One of the most popular and recommended solutions is certainly one Flashlight app, this allows you to make the most of the camera's flash by also implementing strobe and flashing modes.
To download it, go to the App Store and type in the search bar Flashlight app, click on it and download once you have confirmed access. Start the application and an intuitive and quick to use screen will welcome you. A large central button will allow you to turn on / off the flashlight and a small graphic will inform you of the battery charge.
For Android you can download Flashlight app area of Spend app, easy to use and also perfect for old phones. It uses the built-in camera with LED flash and provides very bright light. In case you don't have a phone with a flash, you can still use the white screen mode.
To access it quickly you can tap the flashlight widget on the home or use the status bar button.
HD LED flashlight for night hunting (Android, iOS)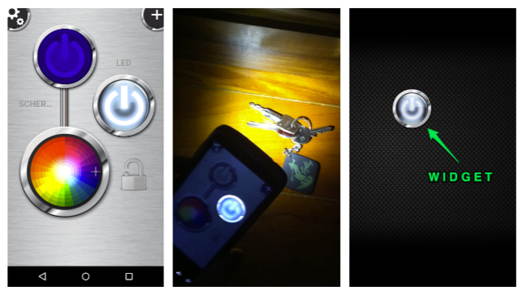 If you want a no-nonsense application that aims to illuminate effectively, the ideal solution is Torcia LED HD for Android and iOS. A simple and immediate interface will give you the opportunity to take advantage of a free and very light flashlight for system resources. It is perfect for the hunting night both because you can adjust the brightness of the light depending on your needs and both because you can choose the colors proposed.
High Power Flashlight (Android, iOS)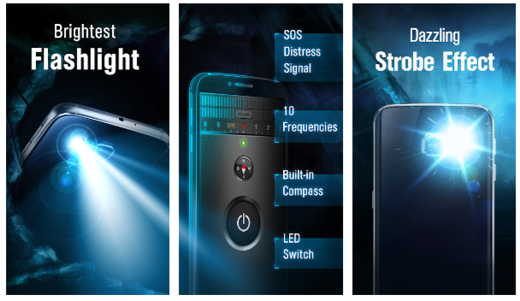 If you want to squeeze your smartphone's flash to its maximum potential, you can opt for the high power flashlight on iHandy for Android and iOS. It allows you to use the lighting mode that differentiates up to 10 shades of light. It also adds a very comfortable compass and only for iOS systems also the function of adjusting brightness levels through the cursor and sending a morse code.
Other Android Flashlights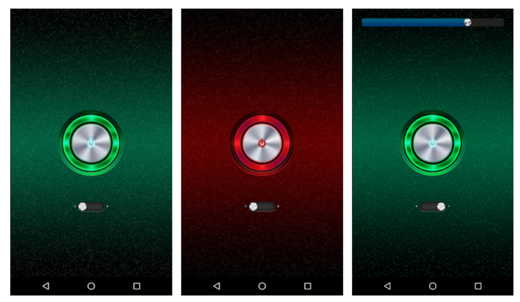 Obviously the best flashlight app is the one that comes closest to your needs, for this reason, in addition to the applications listed above, available for both iOS and Android, we want to suggest alternatives that are equally valid but designed for the dedicated operating system.
The most popular and functional for Android smartphones are:
Universe LED flashlight.
Nikolay Ananiev's torch.
ArtLine torch.
HD LED colored flashlight
Zentertain Flashlight
Flashlight + watch
These three applications are aesthetically nice and have an intuitive interface with which you will not have any problems. All applications highlight a central button to press to activate or deactivate the camera flash, choose the one closest to your tastes and the resources of your smartphone.
Altre torce via iPhone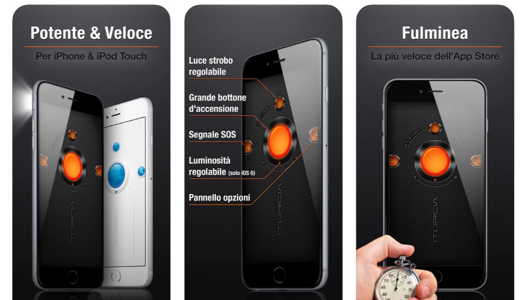 You will know very well how Apple maniacally curates its own applications, be they proprietary or third-party. Among the alternatives most downloaded by owners of an iOS operating system include:
iTorcia.
Intellectual Flame Co.
Flashlight from MobileTrends Inc.
Flashlight di 7th Gear
Best Flash Light di RV AppStudios LC
Flashlight for iPhone and iPad
All three downloadable from the official Apple Store, provide excellent performance in both battery consumption and ease of use.
Read also: How to block apps that track your movements
Free flashlight with no ads
Once you have downloaded the applications that we have recommended previously, you have noticed that from time to time gods appear on the screen banner Advertising? Unfortunately, as with any application, companies sometimes need to place advertisements to keep development costs down.
How to get around this problem? Fortunately, there are several applications that allow you to have one free flashlight with no ads, they may not be as excellent as those examined above but they do their job very well. In case you continue to have problems, I recommend that you read this guide on how to block Android apps from advertising.
Flashlight (free and without popup ads)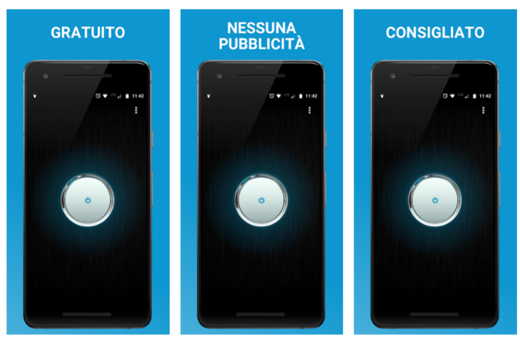 The app FreeApps flashlight not only is it free but it is free of intrusive and annoying advertisements. It includes a flashlight widget, gesture support, bright light and is easy to use. It also works with a locked device and does not require unnecessary permissions for its use.
Universe LED Flashlight (Android)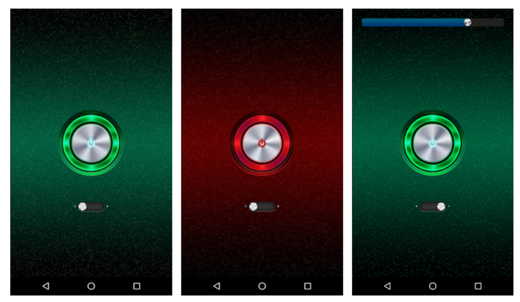 As anticipated in the alternatives, the app Universe LED Flashlight it is highly appreciated by consumers for its excellent performance and lack of advertising. From a technical point of view the application does nothing but ask you for permission to use the camera flash and use it, without implementing additional modes.
Flashlight Ultimate (Android)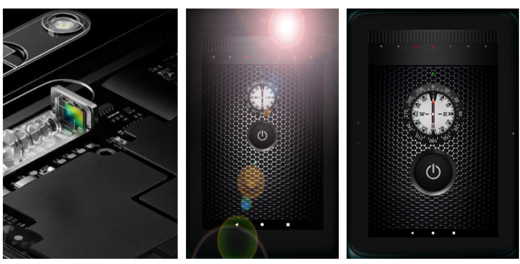 The app Flashlight Ultimate for Android it is less aesthetically pleasing, but if you hate advertising it is definitely worth downloading. With just the middle button to start or disable the flash it is an extremely flashlight fast and reliable.
High Power Flashlight (Android)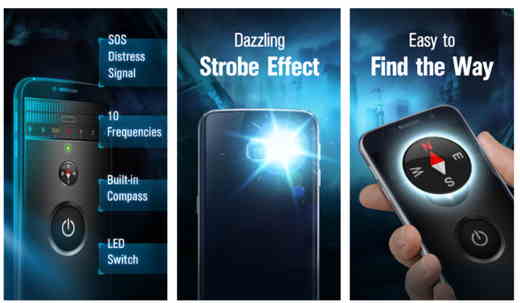 Browsing through the Play Store apps you will have come across this application many times, it is always among the first places as Google suggestions. There High Power Flashlight is completely ad-free in addition to the flashlight functionality allows you to view one comfortable compass, a system of SOS and a modality stroboscopica up to 10 positions.
Vlad Lee's Torch (Android)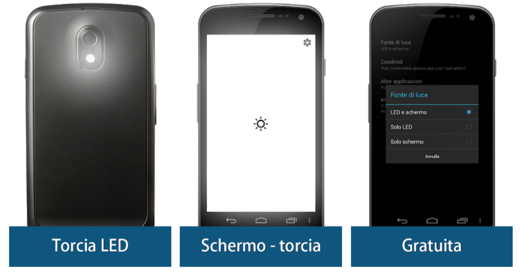 The company Vlad lee for years it has been committed to offering ad-free applications to its supporters. With the Vlad Lee's torch, you can take advantage not only of the led flashlight, but also the brightness of the screen, a double possibility that is hardly found even in the paid versions.
iOS
If you are an owner of an Apple smartphone, you will know very well that applications designed for this operating system hardly have advertisements. The Apple company, having a more closed policy than Android, avoid additional advertisements on approved apps. You can then use the Free torcia app that we have previously recommended without being afraid of seeing banner ads appear.