Here is a rundown of the apps they offer free android animated wallpapers to download. I recommend that you try them on your home screen or lock screen and choose the ones that might be right for you.
I would like to announce that inserting an animated wallpaper on the home screen or for locking the screen on an Android smartphone can cause a drop in performance, especially if your smartphone is not of the latest generation. Slowdowns or rapid battery discharge are the most common cases.
Free Android Live Wallpaper to download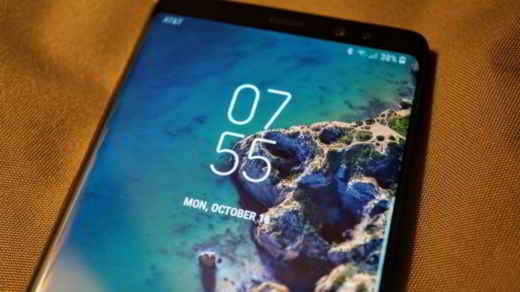 Below is a list of free Android animated wallpapers that will allow you to customize smartphones and tablets. The animated wallpapers or live wallpaper shown are present in the Play Store and you can usually find them in the link Categories and immediately after Customization if you are using a mobile device while on App and then on the category Customization if you are using PC.
The apps allow you to apply Android live wallpapers simply through the button Apply and they can be free or paid, or simply in 2D, 3D or HD, with advertising and with or without in-app purchases. Wallpapers can be applied to the lock screen, the home screen or both.
Alternatively you can use the moving wallpapers made available by the mobile device and downloadable from Settings> Wallpapers and Themes. But stop the chatter and see the best free android animated wallpapers to download.
Read also: Live wallpapers for iPhone to download
Zedge
Zedge is an app that offers a large number of free wallpapers for Android, animated, wallpaper, screensavers and more. You can also find ringtones, icons, widgets and games. This is a historical app that not only searches for wallpapers of your interest at maximum speed but has a division into categories with the possibility of sorting the downloads made.
Walloop
Walloop is an Android app with an amazing collection of free live HD wallpapers, both in 3D and animated, and 4K wallpapers. Live wallpapers and live wallpapers can be downloaded by tapping on the padlock symbol and confirming the unlock, thanks to the 2 keys provided for free on first access. After unlocking the wallpaper, press the Set button and Set wallpaper to add it to your mobile. When you have run out of virtual keys, you have to press on the key symbol, located on the home screen, and then press on Watch Video to get another 3 keys by watching the proposed advertising video. Alternatively, you can buy the keys by pressing the Buy Keys item. Prices start at € 1,79.
Google Wallpapers
Wallpapers is a free application created by Google easy to use whose dynamic hd wallpapers for android are grouped by categories. The backgrounds are animated but also static. You can customize your Android live wallpapers with images from Google Earth, or spectacular landscapes from Google+. You can choose an animated wallpaper for the Home screen and one for the lock screen. By choosing a favorite category each day you will receive a different wallpaper.
Sfondi 3D

Sfondi 3D provides the best 3D animated wallpapers in high quality. Not only can you download the coolest moving 3d wallpapers, through an intuitive interface, but you can also create the base of animated wallpapers. The app is totally free and is categorized with lots of screensaver.
Pixelscapes
Pixelscapes is a free screen app for android mobile devices optimized for battery saving. It features three different environments: the first live wallpaper is set in a lake with a house and trees covered by snow and a starry night. The second wallpaper features a windmill, sea with boats and mysterious people, The third live wallpaper is set on the beach with sunbeams illuminating the ocean. Another peculiarity: the backgrounds, very fun and interactive, are made in style pixel Article.
HD Wallpapers
HD Wallpapers provides a unique collection of android HD wallpapers. Wallpapers can be added not only on the lock screen but also on the homescreen. You can also consult them with a simple and intuitive interface to find out which are the most downloaded wallpapers, the artist information, the URL of the artist's website and search by keywords by consulting about 30 categories. Finally, you can crop the images and share them on WhatsApp or use them as a Facebook cover photo.
Space HD
Space HD offers free wallpapers to download, animated for Android with stars, planets and space in motion. Preserves battery life and works great on smartphones and tablets that support live wallpapers.
Ocean HD
Ocean HD offers a free animated wallpaper where you can immerse yourself in an underwater world with sharks and fish. Live wallpapers are with animated 3d wallpapers which preserve battery life to work on phones and tablets and which support live wallpapers.
M
M is an animated wallpaper with famous artwork. Use blur and darken effects to make the background stand out. In addition, every day automatically updates the wallpaper with the possibility of loading new extensions.
Holo Droid
Holo Droid presents free android wallpapers, animated with the specifications of your android mobile device. You will see the battery status, CPU, date and time, RAM usage and much more. With this app your phone will look truly futuristic.
HexShaders
HexShaders is an app with wallpapers for tablets that is very light and does not affect the battery consumption of the mobile device. These are particles to be sized at will. The best effects proposed are Rainbow, Wave e Metaballs. Customizations allow you to create new wallpapers to take advantage of and try out.
Your name in your live wallpaper
Your name in your live wallpaper is a free app that allows you to create your own name as your phone wallpaper. Your name will flash in beautiful colors on your mobile screen. You will be able to customize your animated wallpapers for cell simply by writing your name to see it in different colors and font styles.
How to Create Android Live Wallpapers
Video Live Wallpaper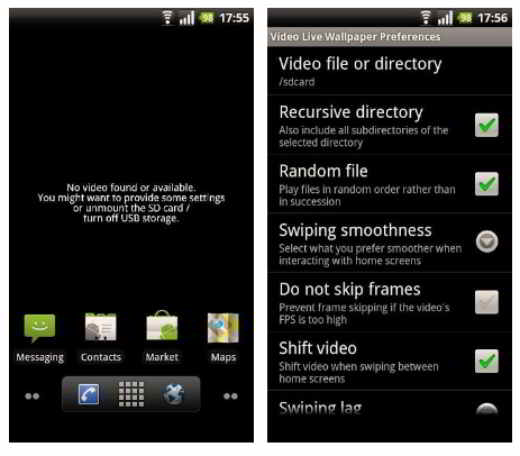 To have animated wallpapers for mobile I recommend you to download the app Video Live Wallpaper which will allow you to use as animated wallpapers the videos previously saved in the Gallery of your smartphone.
After installing the app, go to Settings phone and then on Wallpaper> Wallpaper Style> Live Wallpapers (the path and the words vary depending on the Android version installed) and press on the name of the app Video Live Wallpaper. In the screen that appears, tap on Modification, accept the app license and then click on Close.
Press on Video source to select the video to use as an animated wallpaper on Android and then click on the option File or directory e video file name to indicate path and name to assign. Then stop on the button back (arrow symbol) and then up Apply. Always try to use videos with maximum 480p.
To return to a static background go to Settings> Wallpaper> Wallpaper style and choose a wallpaper from the default ones.
GIPHY
There is a free app called GIPHY where you can convert GIF to animated wallpaper. Once the app is installed, search for the GIF from the search bar and turn it into Live Photo and then set it as an animated wallpaper. The steps are as follows: select the GIF, step on three: dots under the photo and in the menu that appears, step on the icon of Live Photo, located at the bottom left and give the app permissions to save the photo in the Gallery of the mobile device. Choose the format and save the image that will be converted to Live Photo to be set as Live Wallpaper.
GIF Live Wallpaper is a valid alternative. Open the GIF through the app and after changing its size and position, select the item Set wallpaper for the home screen or lock screen of your mobile device.
More Android Live Wallpapers
The apps indicated are in our opinion the best around, to try others you can still go to the Play Store and look for others animated wallpaper to have fun with.
Other useful articles
Animated desktop wallpaper
Free Android themes
Best free Android apps