Are you looking for the best online shopping sites or e-commerce sites on low cost fashion? If you are looking for shopping sites and sites to buy cheap and discounted clothes, then you've come to the right place at the right time. You must know that there are many sites that allow you to make online purchases without leaving home and sitting comfortably in front of a computer.

That's why today I want to talk to you about best sites for online shopping low cost with free shipping and returns. I'll give you all the information you need about shopping online and how to buy clothes without scams.
If you are skeptical about free returns, you need absolutely not worry, because in listing the best low cost online shopping sites, I will also give you more details on what are the advantages of buying cheap online clothes on the Internet.
Read also: Everything you need to know about online shopping
Best sites for low cost online shopping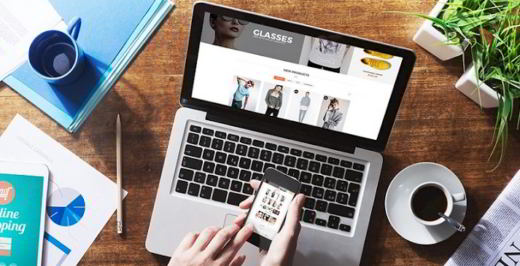 Let's start by saying that online purchases can be made through the following payment methods: Prepaid Card, Credit Card, PayPal account, Cash on Delivery.
While the Credit Card is linked to the current account, the Prepaid Card is used for online purchases and fortunately it is not linked to a current account. The Prepaid Card offers secure payment systems with MasterCard and Visa circuits and can be recharged online, with Internet Banking, or directly at the ATM. For more information read the article on the most popular prepaid card of the Spanish Post Office: How to top up PostePay.
PayPal is an online service that allows you to activate a virtual account to use and manage money. It is usually connected to a credit card, prepaid card or current account and allows the transfer of money to a current account as and when you want. For more information read: How to pay with Paypal when shopping on the Internet.
The Cash on Delivery provides for the non-payment of the product chosen online. This payment method provides that the amount of the ordered product is paid directly to the courier upon delivery.
Below is a list of sites to buy any type of product online.
Amazon Fashion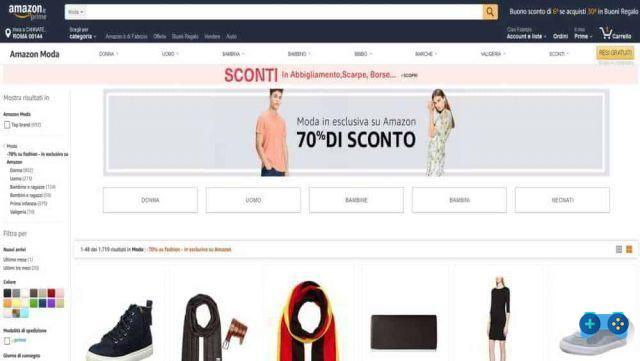 Amazon Fashion it is definitely the best low cost online shopping site in the world, not only for what concerns the purchase of technological products and devices, but also as regards clothing, shoes and various accessories. When a product is sold by Amazon, shipping is free above 30 euros and is always free of charge for customers Premium. Read also: How Amazon Prime Works.
As far as the return is concerned, the shipment to the post office is charged to the customer but a refund can still be requested later. The product can be returned free of charge with the right of withdrawal and must be made within 14 days with a refund of the purchase and shipping costs.

To start buying on Amazon Fashion you have to sign up to the site and create a free account. Click on the main page on Account e list and then Start here to start filling out the registration form and create an account on Amazon. After entering: name, emails, Password e password again, award-winning Create your Amazon account.
After a few seconds you will receive an email with a link to complete the account activation. Back to Amazon and from Account e list, click on My Account and on the page that appears click on Payment options. On the following page you can manage and associate your payment methods, such as your credit card.
Once the payment method has been assigned, you can start shopping on Amazon. Add the products to the cart and follow the Amazon purchase directions.
To buy clothing online on Amazon you can also use the apps for Android, iOS.
For further information read here: How to buy on Amazon.
Zalando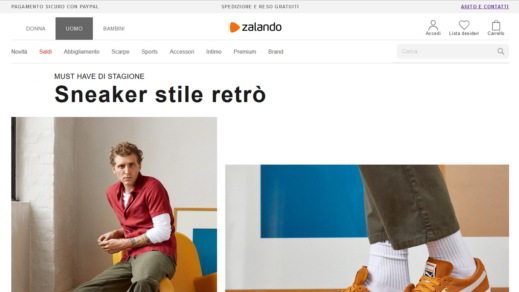 Zalando it is among the best places to buy clothes and is the best stocked and largest in Europe. On sites like Zalando, you can find all the brands of clothing, shoes and accessories, from those commonly sold in physical stores to those practically unavailable. In the section of the website dedicated to the conditions of sale, Zalando offers a free shipping and return service, as long as it is made within 14 days from the date of purchase.
As for the payment, Zalando allows you to pay also on delivery through the cash on delivery method. Registration on the site is free and must be done by moving the mouse to the icon Log in, located at the top right, and then click on New client? Register now.
On the next page below I AM A NEW CUSTOMERclick on your button Proceed to fill out the registration form. At the end press on Create your account and start shopping on Zalando.

As for Amazon, also on Zalando after choosing the product and the size, you have to click on Add to Cart. Hence the sequences are Proceed, Color, size and quantity summary, Amount due and finally Proceed with the order.
For payment methods we have: cash on delivery, credit card, PostePay, PayPal and prepayment by bank transfer.
To buy clothing online on Zalando you can also use the apps for Android, iOS.
READ ALSO: How to track a shipment online
Spartoo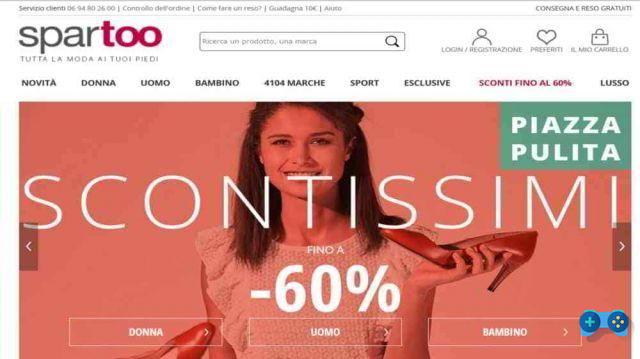 Spartoo is a large portal for cheap online shopping and can be cataloged among sites such as Zalando. It is ideal for finding shoes of all brands at competitive prices, bags, hats, accessories and clothes for men, women and children. As for the delivery costs, they are not foreseen for expenses over 25 euros and also accepts the return of products if they are shipped within 30 days from the date of purchase. Delivery times for Spartoo products are 5 days.

To register and start your online shopping on Spartoo you have to click on Login / Registration, located at the top right, and on the following page enter the email address, under the heading I want to register, I am a new customer, and click on the button Continuation to then complete the registration.
To start placing an order with Spartoo you have to choose the desired size in the product sheet by clicking on Your measure and then Add to Cart to insert its product. Immediately after you will be directed to the cart page where you can continue shopping or click on Proceed with the order.
Spartoo also allows you to earn 10 euros in vouchers if you invite your friends. It also allows payments with cash on delivery with a supplement of 5 euros on the total amount. Other payment methods are: Visa or MasterCard credit card, bank transfer, PayPal, PostePay, American Express.

To buy clothing online on Spartoo you can also use the apps for Android and iOS.
Asos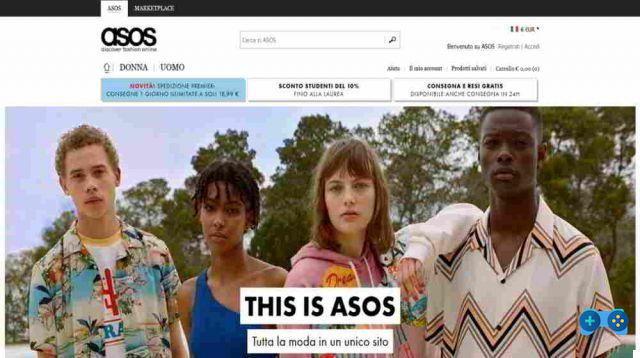 ASOS is one of the most trusted and popular online clothing sites. It houses an incredible variety of items for both men and women. An outlet space is also available, where you can buy branded items at reduced prices. In short, a real temptation for those trying to resist online shopping.
Asos ships free of charge to home for orders over 25 euros and the return is completely free as long as it is made with Spanish Post.
For purchases on ASOS you need to register and create a free account by always entering a payment method. Registration takes place by connecting to the official page of the site and clicking on Sign Up. On this page you can register with a social network, such as Facebook and Twitter, or fill in all the necessary fields and then complete everything by pressing the Register on ASOS button.
Once you've signed up, you can start shopping for clothes on ASOS. To do this, search for the item of clothing you need by typing something in the box Cerca in Asos, place at the top of the HomePage and add to the cart what you consider interesting by clicking on Add to cart then press the button Buy it now. Follow all the instructions and complete the order.
ASOS offers a 10% discount valid until graduation for students.
To buy clothing online on Spartoo you can also use the apps for Android and iOS.
Other low cost online stores
LaRedoute

LaRedoute it is among the Zalando type sites and is also very well known in Spain. You can buy clothing, accessories, shoes and household products at very affordable prices. There is also a dedicated space for those looking for clothing at low cost prices. It ships free for orders over 29 euros, while as regards the return it is always free, you have 30 days to change your mind. In case of returning the products, the shipping costs are charged to the customer.
Bei Merilin

Bei Merilin is a Spanish online store for clothes, sports and casual fashion. Among the online clothing sites it is really reliable, moreover it also offers free shipping of products for orders over 45 euros. For the return, however, if it is made within 14 days of purchase it is free and the purchased goods are collected directly at home via courier.

BonPrix
Bonprix offers not only clothes and shoes but much more. It is an e-commerce site through which you can also buy linen, curtains, furniture and much more for the home. The shipment of the purchased products is free of charge for orders over 65 euros. The return, on the other hand, is always refunded in full, including shipping costs, although this option is shown on the site as a promotion. Shipping times range from 3 to 8 working days.

Privalia
Privalia is a well known clothing outlet. It is a Spanish company with offices also in Spain that can count on many registered customers all over the world. There are products for women, men, children and even for the home. Highlighted on the site offers also at reduced prices in the section Occasions. All products remain available for a certain period of time, as Privalia offers campaigns with expiration. As for returns, with Privalia the full amount of the product and the shipping costs are re-credited.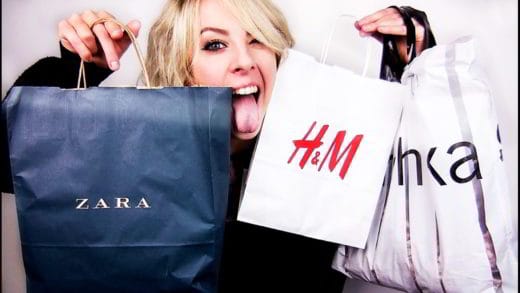 If, on the other hand, you prefer to avoid buying online, you should know that there are store portals that allow you to place your order online and then collect everything in a physical store. Among the many we should mention Zara, Bersha, H&M, Pull & Bear, Stradivarius. For low cost online purchases, SaldiPrivati ​​and the Chinese site JessicaBuurman should not be underestimated.
Similar sites to Shein
Zaful
Romwe
Tally Weijl
Airy
Yoins
Dresslily
AliExpress
Lightinthebox
Other useful articles
App for online shopping
Sites like Aliexpress