Best sites for newsletters. A guide that will help you create newsletters to keep in touch with your readers by offering updates and news.
Communicate away email in a direct, intimate and informal way, it remains one of the best ways to sell and promote your content, services and products online.
It is for this reason that the most effective online deals still rely on carefully prepared newsletters and emails to keep up to date, entertain and satisfy their customers and fans.

Best sites for newsletters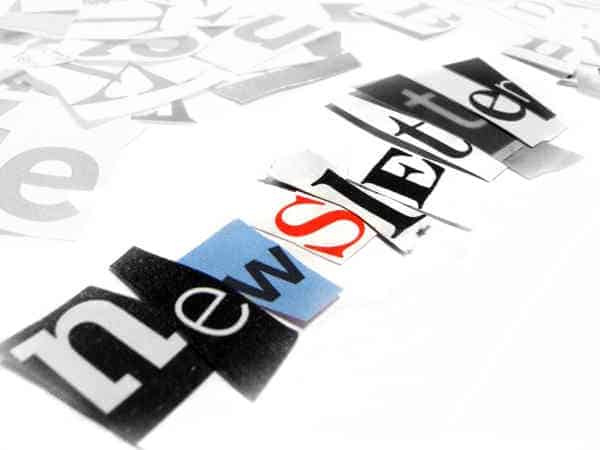 In this guide we will analyze the best Skills free newsletters to create newsletters and for manage mailings list, and we will provide all the complementary information to identify and select the one that best suits your needs.
In general, newsletter distribution services are very simple to use, because if you already know how to use email, you already know most of what it will take to package an effective newsletter.

Remember that you must prepare and share your newsletter in the same way you would with your friends and contacts, and not as if you were publishing an international magazine. Try to be informal and strive to offer value. So, not just content or product promotion.
That doesn't work. You have to meet the needs of the public and find a writing style that enables your fans to read the newsletter as if they were coming from a real friend.

How to choose among the best sites for newsletters

How do you select a newsletter distribution service and what features and characteristics differentiate them? Generally these services are characterized by a series of basic functionalities:
List management: create mailing lists to organize the contacts who will receive the newsletter and manage subscriptions and cancellations.
Schedulare: set precise dates and times for sending the newsletter.
Autoresponders: establish a set of predefined content for messages that are sent automatically when subscribers take certain actions. For example, if someone signs up for the newsletter, they will receive a thank you email or a message presenting the latest news and offers in response.
Support: to receive assistance in the form of tutorials or through a support forum, to learn how to efficiently manage your mail marketing campaigns and, in many cases, to understand how to optimize your efforts while planning the campaign.

These are some basic features supported by all free newsletter distribution services. Let's now see five free services to manage mail marketing campaigns, strengthen our brand identity and better convey promotional information.
Mailchimp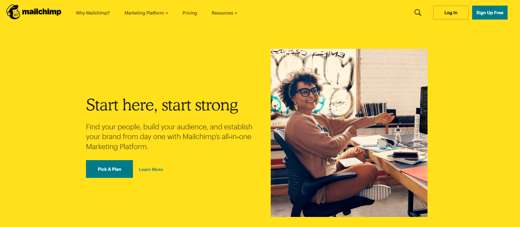 Mailchimp is an online service that allows you to create and gestire mailing list to send newsletters. With the free account it allows you to manage up to 500 subscribers and send a maximum of three thousand emails a month. If you already have a mailing list, you can use it. The newsletter can be created either in plain text or in html format. A vast series of ben are immediately available 101 template per email, usable freely or you can create your own template and upload it to MailChimp. To ensure that your readers subscribe to the newsletter, you can also insert a registration form on your site managed entirely by MailChimp.
It is also available the possibility to convert the Rss feed of your blog or site into a newsletter. Other features include autoresponders, the audience segmentation tool for targeted mailings to selected groups, integration with Google Analytics, the spam filter and much more.
Tinyletter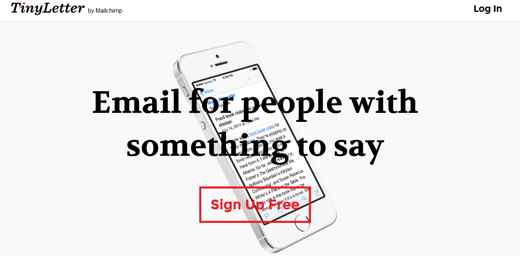 Tinyletter is among the best free newsletter services. In addition to being easy to use, it allows you to create texts to send by choosing the format that you think best suits your needs. After creating your account you can customize the registration form and quickly embed it on your site.
In summary:
You can prepare newsletters to send to your readers.
You can insert links to your audio and image files
You can do submission tests.
You can create a page where your readers can register and a form that you can embed on your site / blog.
You can create a public page where you can collect all the newsletters you have sent.
Import contacts in .csv format, via Gmail, or with copy and paste.
Customize a registration page, confirmation of registration and cancellation from the list.
Receive replies to your newsletter in your inbox.
Bravenet Mailing List Manager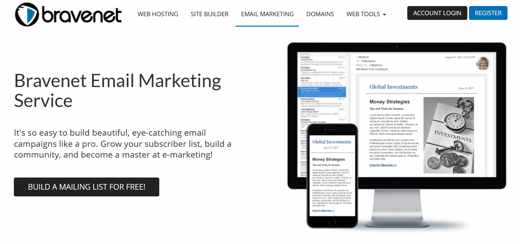 Bravenet Mailing List Manager is a service for creating, managing and sending mail newsletters: you can manage up to 500 subscribers and send a newsletter a day. It is expected free import of mailing lists from another service or software.
To compose the newsletter you can choose between the hmtl format or the text only. There are many predefined templates available to customize the newsletter. Html newsletters are tracked by Bravenet so that you can monitor how many open your email, who you write, who unsubscribes, etc. Other features include the ability to ban an IP address, create a thank you page, a farewell page, and more. To facilitate the registration of new readers to the newsletter, it is possible to insert a registration form, which is hosted and managed entirely by Bravenet.
YourMailing List Provider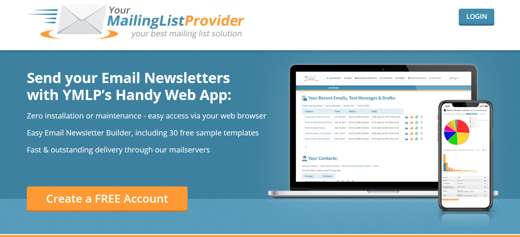 YourMailing List Provider is a free service that allows you to create newsletters, manage up to a thousand subscribers and send it once a day. You can compose newsletters in plain text or format in Html, also using a series of template predefined. There are no functionalities to import a mailing list and to monitor the performance of the newsletter, nor the form to be inserted on the site to make readers subscribe.
Letterpop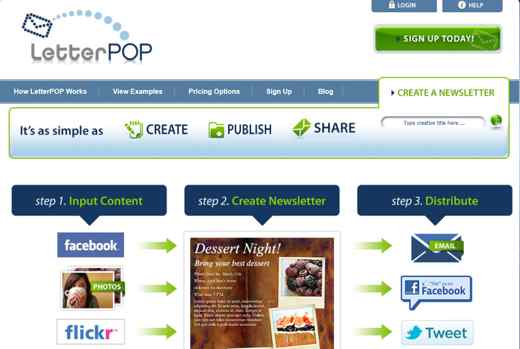 Letterpop is an easy to use site that offers many customizable templates and where you can add text and images with drag and drop. Besides allowing the copy / paste of texts and images, the editor offers the possibility to insert images from Flickr and send them via email, social networks, RSS feed and through other means of communication.
Other useful articles