A growing problem in Internet use is the huge amount of personally identifiable data that web browser companies try to collect from their users.
For companies like Facebook and Google, the goal is to help them better understand users so they can better target advertising to them. However, businesses in general have gotten used to viewing user tracking as a legitimate way to find out more about potential customers.
The result is that individual Internet users could download dozens of tracking scripts into their browser without even realizing it and which track which websites are visited.
Usually all of this is installed without even asking for permission and has become a real concern now that the European Union has launched the GDPR Compliance in an effort to give users the ability to choose which cookies and scripts while visiting Internet sites.
Read also: The best browsers
Best browsers for privacy and anonymous browsing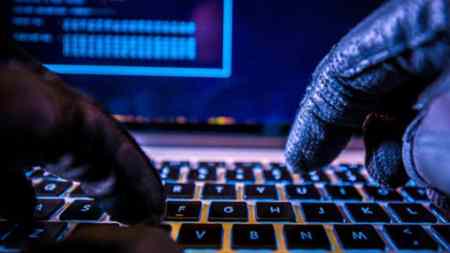 The browser is the key element for Internet browsing and it is important that it is safe and protected from any intrusion. Among the most common, we cannot mention: Mozilla Firefox, Internet Explorer e Google Chrome. They are fast and secure browsers but they do not protect your privacy and anonymity at 100%,
It is true that there is an anonymous explorer navigation that can be used at any time (in the final part of the article it is indicated how to exploit it), but its purpose is only to avoid storing data, and therefore saving the history, not effectively protect from privacy.
That is why we have decided to collect for you i best browsers for privacy and anonymous browsing. These are browsers that can be a valid alternative to usual browsers in cases where the need to hide one's presence on the Internet is required.
1. Tor Browser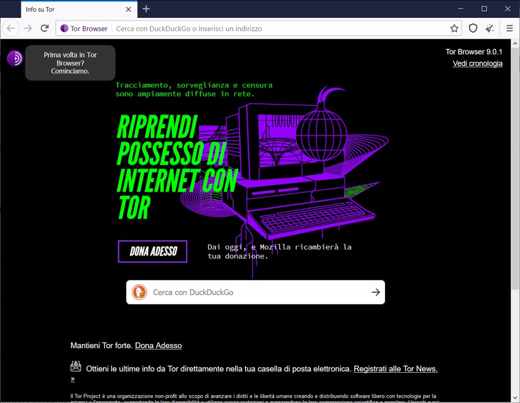 Tor Browser is the best privacy and anonymous browsing software that can secure your web traffic through the rete gate (The Onion Router). It protects your identity on the internet and is simple to use. You can use it to unblock censored internet sites and maintain your privacy effectively. It works by bouncing your communication across numerous encrypted nodes on the internet, making it impossible to determine your location or other identifying information. It is based on the same code as Firefox and walks you through the online connection process one step at a time.
Due to the anonymity it provides, Tor Browser has become the go-to for journalists and dissidents from around the world working in regimes that tend to block communications. Many see it as the foundation of modern online democracy. This is one of the reasons the developers are working to improve Tor's anonymity properties more and more.
Also Read: How to Uninstall Tor Browser
2. Epic Browser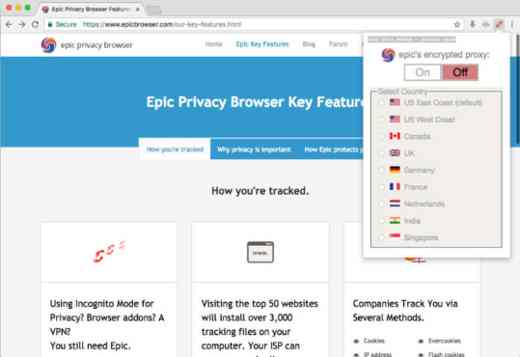 Epic Browser is an India based browser that offers a lot of privacy features while you browse the internet. It is based on the on the platform Chromium and allows the blocking of third-party cookies, the detection and blocking of advertising networks, the blocking of web analysis systems that track your online activity, the blocking of plugins and the activation of a proxy while browsing the web.
This privacy browser deletes cookies, search data and trackers after each browsing session. It also hides your real IP address by replacing it with an IP address that will allow you to browse all blocked sites in Spain. Also useful is the functionality to determine which online service is tracking you.
If you're familiar with Chrome, using Epic will be easy.
3. Brave browser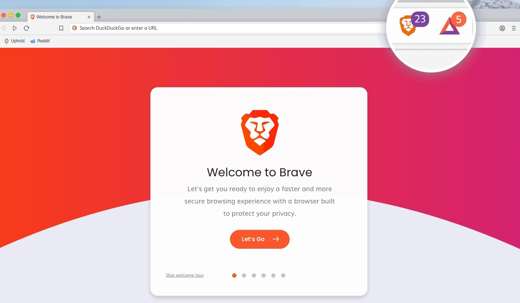 The browser Brave it is making a name for itself among those interested in privacy because it offers users a safe, fast and private browsing experience. Brave was founded by the Mozilla co-founder and the inventor of JavaScript.
Its goal is to revolutionize the way people think about the internet. Being an open source browser, it has a vibrant team of people who work with a focus on privacy and performance.
Brave aggressively opposes advertising. Its business model is based on the ad blocker and on replacing those with ads from his network. However, what Brave hasn't removed are the ads in the search results and this sadly includes the AdWords ads in the Google results.
4. SRWare Iron Browser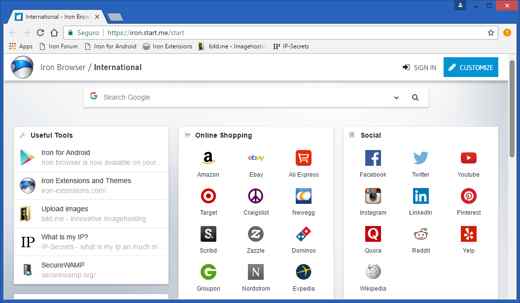 The browser SRWare Iron it markets itself as the browser of the future. Its focus is on maintaining privacy and security. Implement Chromium and is available for free on Mac OS, Windows e Linux.
Some of the features that make it private and secure include: blocking the traceability of downloads and installations from the browser, does not provide background updates, does not generate a program installation ID, and offers a customizable user agent.
Privacy is what sets SRWare Iron apart from traditional browsers like Google Chrome.
Other browsers for privacy and anonymous browsing
In addition to the most famous browsers to browse incognito, here are some really interesting ones:
DuckDuckGo: is an American search engine that uses crowdsourced information (requests for ideas and suggestions from Internet users) from other sites (such as Wikipedia) to increase traditional results and increase search relevance. Automatically blocks ads, third party trackers and allows HTTPS encryption. It is able to evaluate the privacy level of each website and the data collected from the websites visited. You can use it by installing it as an extension on Chrome or Firefox.
Comodo Dragon is a browser based on Chromium and is capable of improving all privacy and security features. Like the others best browsers for privacy and anonymous browsing blocks cookies and spy scripts from Internet sites, avoids connection tracking and uses its features to verify sites and their security certificates.
Private is another browser that guarantees private browsing and blocks traceability while you are on the Internet. Not only does it not share your information but it uses cutting-edge techniques for the anonymity of your search queries.
Best plugins to protect privacy
Privacy Badger is a plugin for Google to block invisible trackers. It doesn't have a list of what it will block but monitors the domains that seem to track you as you browse online. Then, send the Do Not Track signal. If a tracker ignores this request, Privacy Badger will start blocking it. Starts the blocking process when it detects the same tracker on three different websites. In addition to automatic tracking, Privacy Badger prevents the tracking of clicks on outbound links on Twitter, Google e Facebook.
Ghostery is an amazing privacy extension for Google Chrome. It blocks unwanted ads, stops trackers, and can increase the speed at which websites load. Ghostery allows you to see who is tracking you on which website and who is collecting your data. The anti-tracking features make your data anonymous to give you an extra layer of privacy.
Best Android browser for privacy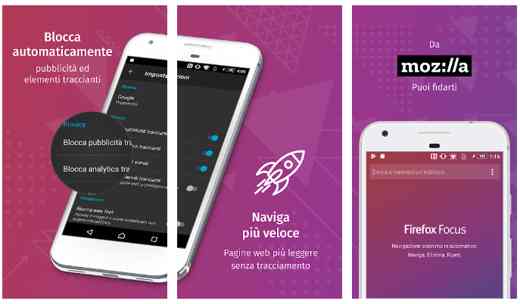 Firefox Focus Mozilla is designed for people who are concerned about privacy. As soon as you close your browsing session, the personal information about you, including your password, browsing history and cookies, is immediately deleted. Mozilla's Firefox Focus also blocks trackers and blocks ads.
With this Android browser you can choose to block ad trackers, analytics trackers or social trackers individually or as a group. You will also be able to block things embedded in news articles, videos, and photo presentations that could be used to track you down.
In providing tracking protection, Firefox Focus uses a list provided by the Disconnect provider. This list allows Firefox to identify and block trackers.
Best iPhone browser for privacy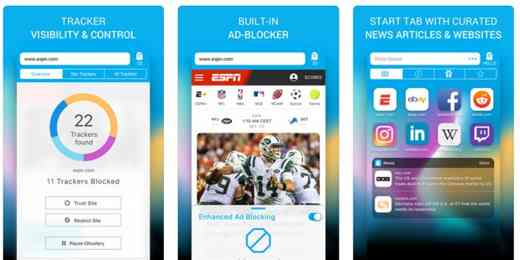 If you have an iPhone to surf anonymously and safely, you can download and install the browser Ghostery Privacy. It will allow you to browse the Internet privately and without leaving a trace on your iOS device.
Ghostery Privacy was acquired by Cliqz in 2017, both browsers still function as individual entities but share security feature add-ons with each other.
Ghostery Privacy is the fastest and safest browser for iOS and offers iPhone and iPad users the opportunity to browse the web quickly, privately, without trackers and without ads.
Privacy setting in traditional browsers
In addition to browsers, extensions and apps dedicated exclusively to privacy and incognito browsing, another way to protect yourself is to use stricter privacy controls on your regular browsers.
However, it is preferable to consider this option as a first defense rather than a complete solution, also because browser manufacturers are often allowed to collect some user data.
Here's how to apply incognito browsing and apply the right privacy using the most popular browsers.
Mozilla Firefox: You can adjust the privacy settings for Firefox using the official guide, which should allow for the improvement of your private browsing. Note that unless you make any changes your browser will actually send a lot of information to both Mozilla and partners like Google, not least your location. To apply anonymous browsing, press the keys at the same time CTRL+MAIUSC+P or go to the menu on the right (the one with the three dashes) and select New anonymous window.
Google Chrome: information about the modification of the privacy settings in Google Chrome are available on this page, although it is aimed at checking how much information third-party websites may try to obtain from your browsing habits and does not exclude Google from collecting data for its own purposes, not least the usability and improvements of the service. To apply anonymous browsing, press the buttons at the same time CTRL + SHIFT + N or go to the menu on the right (the one with the three vertical dots) and select New incognito window.
Microsoft Edge: You can find out how to adjust the privacy settings for browsing with the Microsoft Edge browser from this page. Again, this is more focused on more private than anonymous browsing, not least when it comes to advertising cookies. To apply private browsing, press the buttons at the same time CTRL + SHIFT + P or go to the menu on the right (the one with the three horizontal dots) and select New InPrivate window.
Apple Safari: Information on how to adjust privacy settings using the Safari browser on a Mac can be found on this page, although Apple is apparently putting new privacy protections in place in Safari 12.2, in order to better protect consumers from the growing use of data collected by companies through the apps they provide. To apply incognito navigation, press the keys at the same time Command+SHIFT+N or go to the File menu and select New private window.
Other tools to protect privacy
Here are other programs to browse incognito:
Best VPNs for Spain
Best free Web Proxies to access blocked sites
Other useful articles
Difference between Dark Web and Deep Web
How to browse the web without being seen
How to clear the history