Best Internet Download Manager for Windows and Mac. A selection of the best performing download programs.
Download managers (also called download programs) are nothing more than utilities, rich in features, which allow faster downloads and the possibility of taking advantage of practical options, such as pausing and resuming downloads.
Several internet downloader managers also allow you to convert downloaded files into various formats, while others automatically play multimedia files after downloading them. Most offer download scheduling, plus there are numerous extras, such as BitTorrent support, batch download, security features, file preview, and support for compressed file formats, which definitely add to their value. .
Best Internet Download Manager for Windows and Mac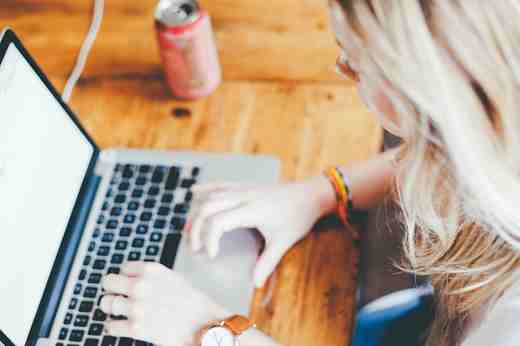 Please note that if the download speed is related to the actual browsing speed of your Internet connection. If the connection is not particularly fast you can never have spectacular downloads, but certainly faster than those made by browsers.
Whether you are looking for standalone software or something that connects to your favorite web browser, then take a look at the proposed list. I hope you can find the download manager that best suits your needs.
Please note:: the illegal download of multimedia contents protected by copyright is considered a crime. This post has no intention of promoting piracy and has been published for illustrative purposes only. Having said that, I do not take any responsibility for the use that will be made of the information contained therein.
1. Ninja Download Manager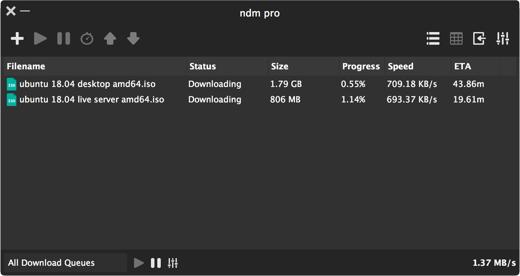 It is the best multimedia file manager.
For
Super fast downloads
Media previews mid-download
Download the schedule
Cons
Ninja Download Manager It is one of best Internet Download Manager for Windows and Mac whose simple and modern interface and its accelerator can help you get your files 10x faster. Work by breaking each file into chunks. It basically downloads them using a different connection to the server, making downloads not only faster, but also more reliable. If you like music and movies, you will be enchanted by its sequential setting which allows you to start playing files while it is still being downloaded.
There is also a built-in video downloader with support for YouTube and Vimeo and a video converter capable of automatically changing the file format when the download is complete.
2. Free Download Manager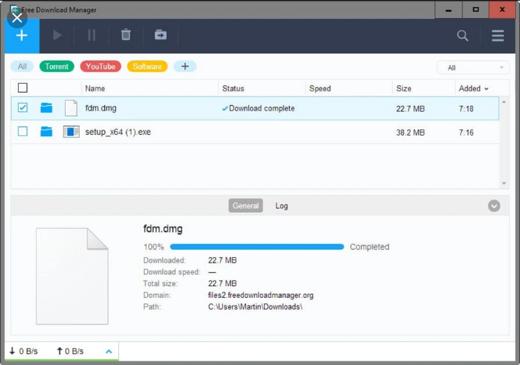 Among the programs similar to JDownloader for lovers of music and movies.
For
Bandwidth monitoring
One-click torrenting
Web-based remote control
Cons
Free Download Manager is a download accelerator, BitTorrent client, audio and video preview, and traffic management tool, and being open source, it is completely free to receive regular updates from its developer community.
It includes powerful scheduling features and a very handy remote control which means you can leave your downloads running and check their progress from any internet-connected device.
It can spider sites to download specific types of files, and you can choose to download only the bits of a ZIP file that you actually want. It's a great program and it was hard to choose between it and Ninja Internet Download Manager for the top spot.
3. Download Accelerator Plus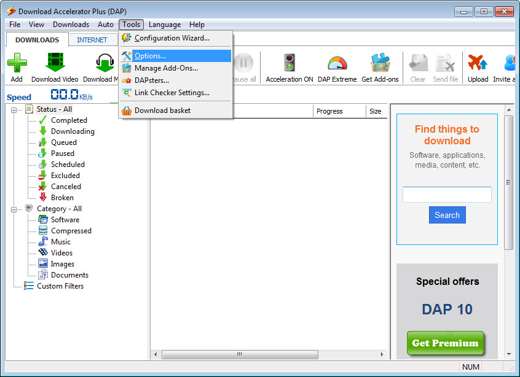 Excellent free version of a premium download manager.
For
Preview of media files
Impressive speed
Cons
The free version of Download Accelerator Plus it is a stripped down version of the premium edition, but it is much more than just a demo and contains all the essential features you need for fast and reliable downloads.
The free version lacks the privacy protection of DAP Premium, but includes link checking, video preview, file conversion, secure download, and multiple connections to increase download speed.
Download Accelerator Plus is clearly an internet accelerator and is designed for media fans and can help you avoid crashes with slow servers and internet congestion.
4. JDownloader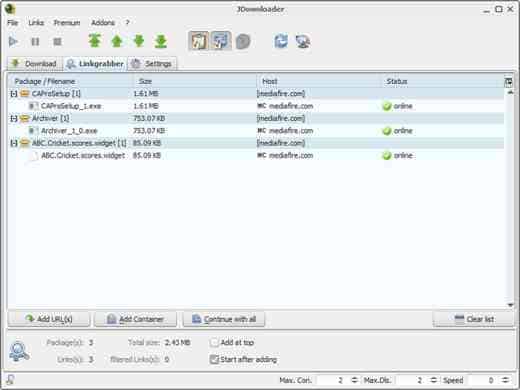 An advanced download manager ideal for advanced users.
For
Complete i CAPTCHA automatically
Web-based remote control
Cons
The installer contains adware
JDownloader is one of the best free and open source download programs with a huge developer community and is available for Windows, Linux and Mac.
It offers support for over 300 decryption plugins, automatic RAR extraction, password list lookup and OCR to complete some of the 'I'm not a robot' captcha checks you encounter on download sites.
You will need the Java Runtime Environment to run it, and you will need to be careful when installing it - the installer contains adware to be deselected and bundled with the download manager. Also beware of fake "download" buttons on the site; the actual download link is one line of text.
Read also: JDownloader download ita free
5. EagleGet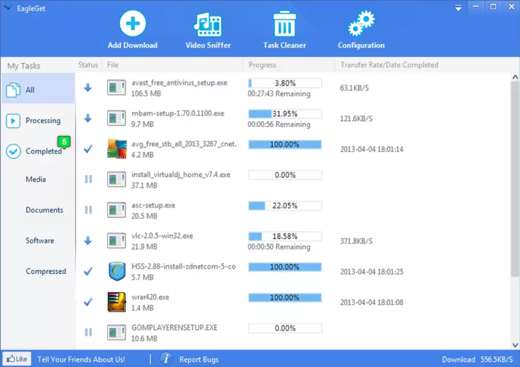 An incredibly flexible freeware download manager that makes collecting multimedia files fast, safe and convenient.
For
Compatible with all browsers
Malware check
Cons
Additional software supplied
Eagleget is a modern and smart download manager that makes it easy to download all types of media files. It boasts accelerated downloads, automatic malware checking, automatic and batch downloads, and many other features.
The EagleGet browser extension works with Chrome, Firefox, Opera, and Internet Explorer, identifying downloadable content on pages and letting you capture it with a couple of clicks.
All open browser windows will be closed when you install EagleGet, so make sure you have saved all work in progress before starting.
Other useful articles
Best sites to download free music
Best programs for making music