Best apps to translate. A selection of apps that will help you translate sentences or words into any language.
Have you already booked your holiday abroad but are you worried because you don't know the language? Have you ever found yourself in a foreign country in the past and found it difficult to ask for information or chat? Don't worry, if you have an Android, iOS or Windows Phone / Windows 10 Mobile smartphone you can turn it into a voice translator to communicate fluently in all the languages ​​of the world.
If you have five minutes of free time, read carefully what I am about to tell you, because I want to show you tools for languages ​​by revealing the best apps to translate with Android, iOS and Windows Phone mobile devices.
The best translation apps are the ones that will help you translate any sentence you pronounce. And if while you are walking the signs appear incomprehensible to you, just frame them with your mobile phone to translate them on the fly.
Best apps to translate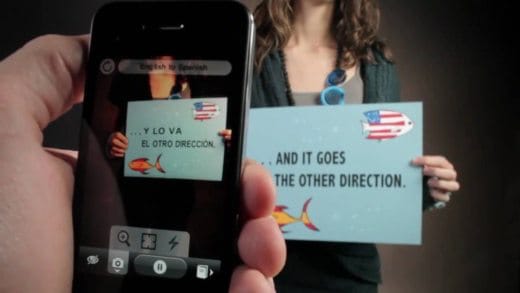 Below you will find the best real-time translation apps chosen for you by SoulTricks, evaluate the best free language translator that you consider most useful for your travel abroad.
Google Translate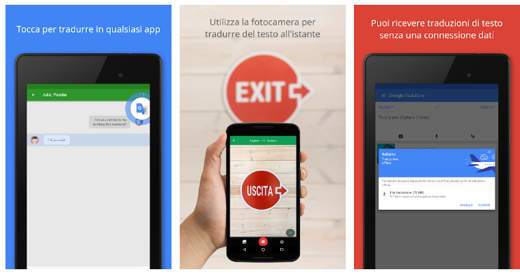 1. Google Translate, free app for android, iOS, is a real free voice translator. It is capable of translating not only any text but also advertising signs, street signs or restaurant menus into 90 languages. By framing the text with the camera of the device, the words will appear on the display translated into the language you want (we speak of 26 languages ​​translated simultaneously). To converse you can start the simultaneous voice translator capable of recognizing speech in 40 languages. It needs data connection to work but in the Android version you can download language packs and use it as Google Translate offline. For further information on the Google translator app take a look at: Google Translate: here is the app that automatically detects the language in voice mode.

2. Reverso Translator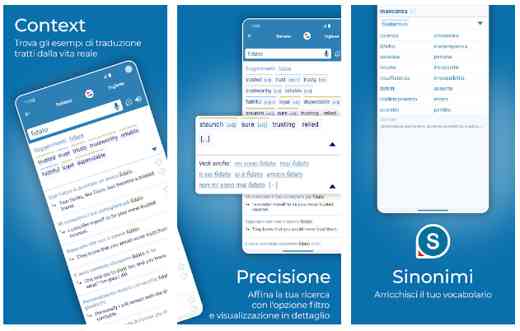 Reverso Translator Dictionary is an app available for Android and iOS, as an online service and as a browser extension. It is a partly free solution that allows you to instantly translate 12 different languages. It has a search engine that draws from different sources with examples of use on websites, movies, magazines, newspapers and so on.
If you want to eliminate the annoying ads in the app, you have to upgrade to the Premium version which costs from € 1,99 per month.
3. Microsoft Translator (Android / iOS / Windows)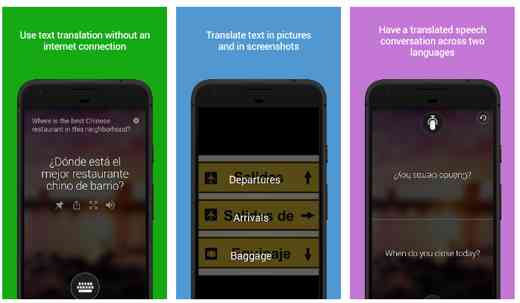 If you are looking for a good translator from Spanish to Spanish or vice versa, Microsoft Translator might be right for you as it is a free app available for Android, iOS and Windows 10 Mobile. With this app, you can use your camera, voice or keyboard to enter text and translate into 45 different languages. You can frame a text or say a sentence to have it immediately translated into the desired language.
4. iTranslate Free Translator (Android, iOS)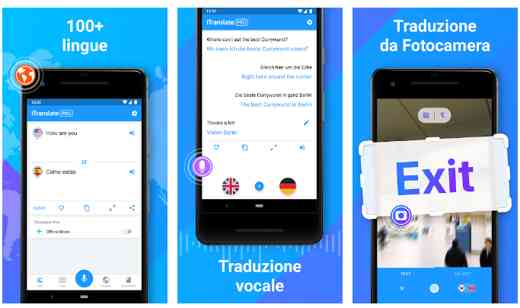 iTranslate Translator Free, is an app for Android, iOS that to translate is also equipped with the Text-To-Speech function with which you can know the correct pronunciation of a sentence in a foreign language, and voice recognition, so you can speak and automatically translate your voice. It supports over 90 different languages.
5. Babylon Touch (iOS)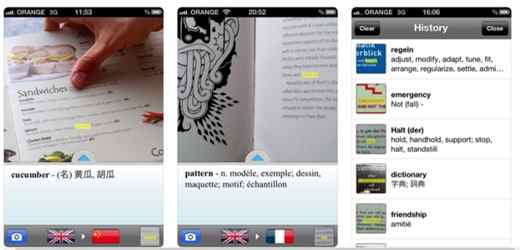 Babylon Touch, available for iOS, is one of the most popular translators for PC. With this free app, Babel brings all its experience to mobile devices as well. With it you can use the device camera to frame a text and have it translated immediately. Unfortunately it is not an iPhone offline translator but to use it you need a data connection.
6. iTranslate Voice Translator (iOS)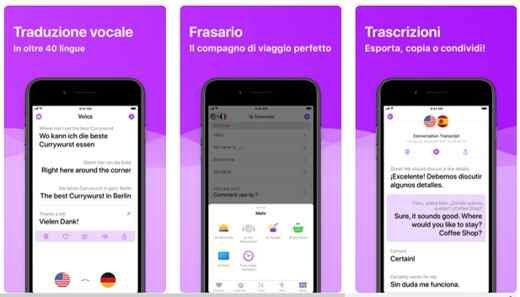 iTranslate Voice Translator, is a free app for iOS. To hear your voice translated into 42 different languages, all you have to do is speak. Excellent for making yourself understood when traveling to a foreign country.
7. Sayhi Translate's Voice Translator (iOS)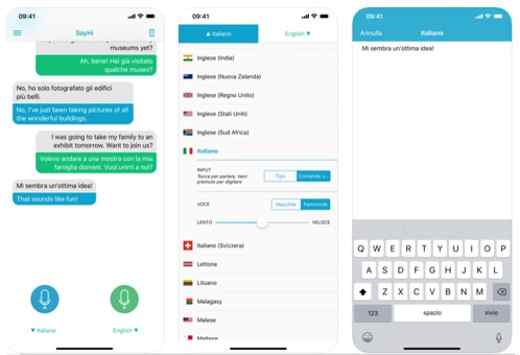 Sayhi Translate Voice Translator, available for iPhone, offers the possibility to overcome all language barriers. It is equipped with an excellent voice recognition system to translate speech into 41 different languages ​​in real time. By purchasing the Premium version you can add additional languages ​​and dialects. The interface is well made.

8. Advanced Voice Translator (iOS)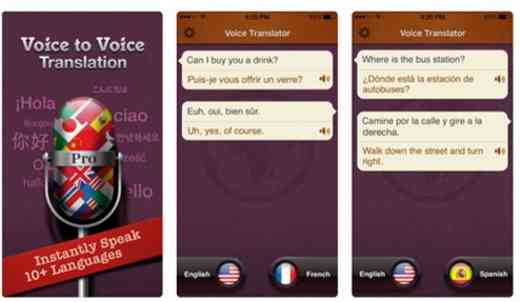 Advanced Voice Translator, iPhone compatible app at a price of 4,49 €, perfectly translates more than 100 different languages. It is enough for you to speak to translate what you say in a perfect way. You will be able to travel without having to learn a language. In this way you will not have difficulty in ordering in restaurants or in asking for information.
9. Vocre Translate (Android, iOS)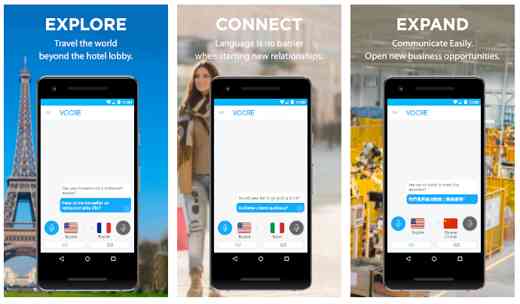 Vocre Translate, available for Android and iPhone for free but with in-app purchases. It is a precise translator that in addition to translating the voice is equipped with a particular interface to be used simultaneously by two people facing each other. When someone wants to say something to the other, just touch the microphone, say the sentence and the application will translate it into the language of the interlocutor.
10. Dict.CC. Dictionary (Android)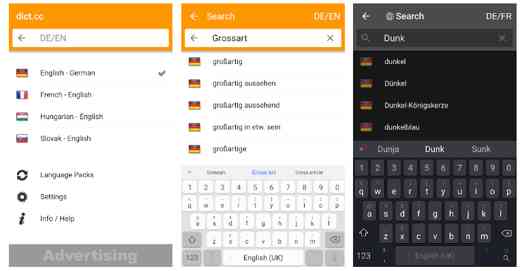 Dict.CC. Dictionary, available for free for Android, is a free offline translator but does not translate the voice. Simply download the dictionaries by choosing from 51 different language combinations. It also offers the possibility to listen to the pronunciation. For travelers it is essential due to roaming costs.
11. Speak and Translate (iOS)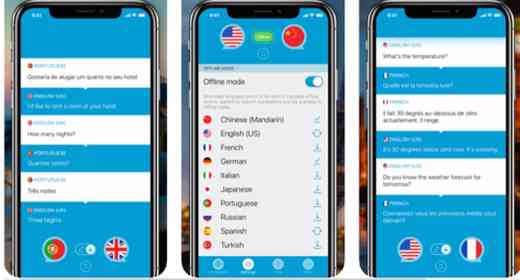 Speak and Translate, a free app for iPhone, is a voice and text translator that can be appreciated for its well-finished interface. It supports 72 languages ​​for text-to-text translation, 40 languages ​​for text-to-speech and 32 for speech-to-speech. Translations can also be saved and used offline.
Other useful articles