Here is a collection of best apps to download videos from YouTube on Android. These are real MP3 and video downloaders and apps for Android that you won't find on Google Play but that integrate advanced functions.
With the following guide, using an Android smartphone, you will be able to download and play videos and music from YouTube even with the display off and without advertisements.
How to install APK on Android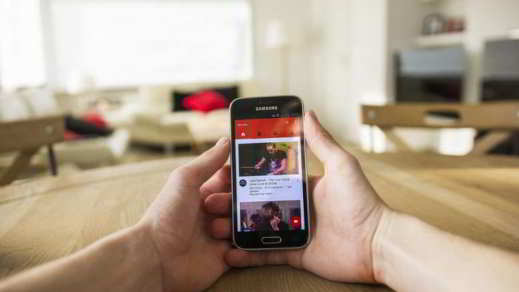 I remind you that since these are APK files, to install them on your Android smartphone you will have to activate the option Unknown origins.
Then go on Settings to enter the smartphone settings. Scroll to locate Additional settings. Keep in mind that each mobile has different settings and not similar paths. Then go on Privacy and finally on Safety.
In this section you will find Unknown origins o Sources Unknown. Activate it by tapping on it and accept when the warning message is shown. By accepting the activation of Origini Unknown allow the mobile device to install non-Play Store apps.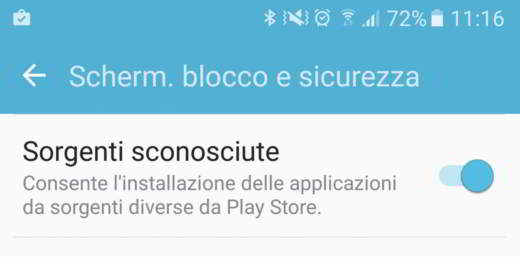 Su Android 7 Nougat, find the Unknown sources da Settings> Screens Lockout and Security> Unknown Sources.
After downloading the APK, search for the folder Download of your device by entering the File Manager and click on it to install it. In case you don't have a File Manager, you can find one in the Google Play Store.
Read also: Sites to download music from YouTube
Best apps to download videos from YouTube on Android

There are many apps that allow you to download videos from YouTube for free. Certainly how to download youtube videos on android or how to download music from the Tube, are the most frequent searches that users make on Google.
That's why if you are faced with a video that you like a lot and you want to download it from youtube and then send it to a friend, I advise you not to hesitate and read carefully how to download movies from YouTube with the best app.
1. YouTube Vanced
YouTube Vanced is a video download app for Android modified by XDA-Developer which allows you to listen to YouTube music and videos even in the background and with the display off. Basically it works like the version Premium on YouTube but without paying anything.
The app was developed starting from the official one and is ads free. In addition to the ability to use it with YouTube installed, you can take advantage of various features, such as playing videos with maximum resolution, zooming in on movies, using swipe for volume and brightness control and much more. To log in from the app you must also install the microG modded component.
2. Dentex YouTube Downloader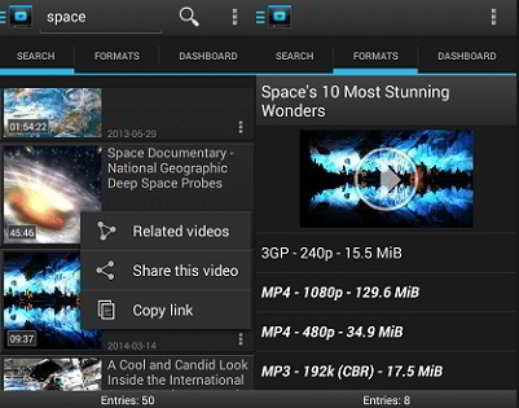 Dentex YouTube Downloader is an Android app (APK) that allows you to download youtube videos online. From its interface you can start the search for videos in Youtube and choose the quality and format. The section Dashboard instead it shows the list of all the downloaded videos from which you can extract the audio to encode it in MP3 (you will need to download a plugin).
SkyTube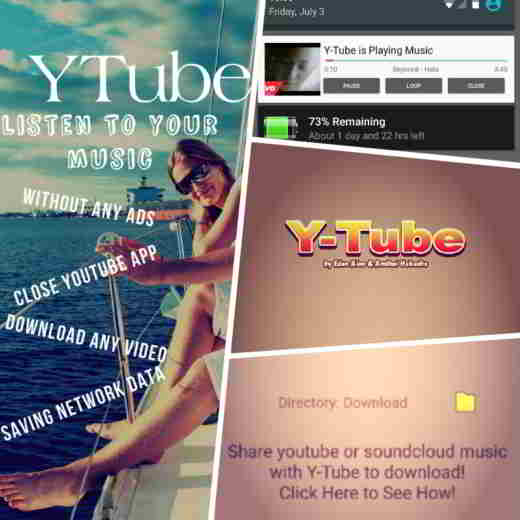 SkyTube is an open source client without advertisements suitable for those who do not want to participate and comment on YouTube videos, but only watch or listen to music (even in the background) and then download them to their smartphone. The app is available in open source mode or in an extra version with additional features and official Youtube support. You can access the contents of the tube without logging in and view the videos for reading only. In addition to downloading, you can also search for videos via URL, create White or Black lists, mark favorites with bookmarks, filter videos by country and language, swipe and much more.
4. KeepVid Pro Mod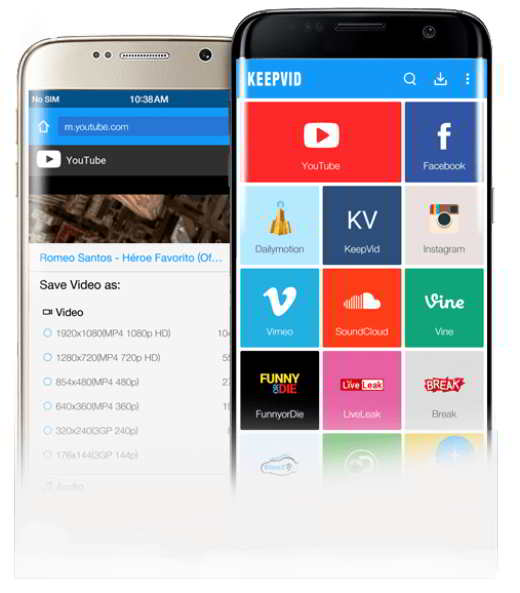 Keepvid Pro Mod per Android is a modified version of the famous Keepvid, where you can download videos for free and view Youtube videos without advertising. The download can be performed with multiple videos simultaneously HD, 2K, 4K / UHD and also allows you to extract MP3 files from Youtube.
In addition to choosing the site for downloading videos from youtube, you can choose the quality with which to download the video, check the progress of the video or audio download and paste a link directly by pressing on blue button +. At the top you have several sections available: Search, Download windows e Settings.
The Download section is made up of tabs Downloading, to view the videos you are downloading, and Downloaded, for videos that have already been downloaded. Here you can interact with the downloaded videos by starting them with the command Play, delete, with the command Delete, open the link you downloaded it from with Go to website and share it with Share media to.
Read also: Download movies
5. TubeMate Youtube Downloader
TubeMate YouTube Downloader allows you to quickly access YouTube to share and download video and audio. It is the best program to download videos from youtube and it also works perfectly on Facebook, Instagram e Vimeo. To download videos, in addition to accessing the services mentioned above, just tap on the arrow of each service and download in the background by setting the fast mode, with multiple connections for download, and customize the resolution. The app supports resuming interrupted downloads and converting the video format to MP3. For the latter feature you will need to install the MP3 Media Converter app.
6. NewPipe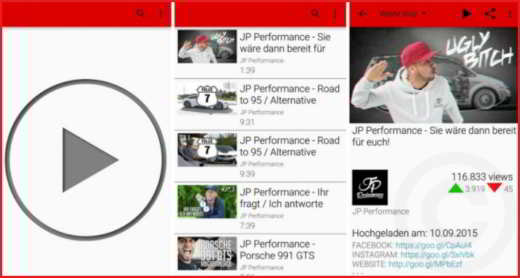 NewPipe is an open source ad-free app that allows you to watch and download videos from Youtube or extract audio tracks from them to MP3. Youtube videos can be downloaded in MPEG, 3GP, WebM formats. Plus you can add them to playlists and play them in the background. To download music there is an integrated player and the ability to swipe.
7. YMusic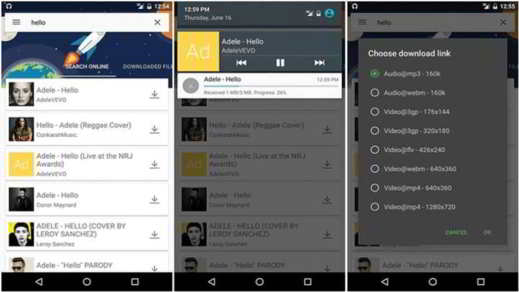 YMusic is one of the best YouTube music downloaders. In addition to being ad-free, YMusic integrates Jockey, an excellent open source music player that not only plays the audio of YouTube videos in WebM or MP3 format, but also allows you to download them for offline listening, store them in playlists and view songs trend in your region.
8. Videoder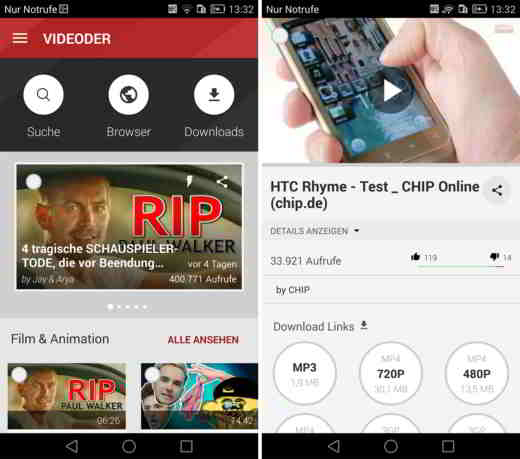 Videoder for Android is among the most interesting apps to download videos from YouTube Android. Unfortunately it is not present in the official store but you can find it on this page. The light and fast app allows you to download videos (MP4, FLV, 3GP formats), in HD, Full HD and 4K quality, but also audio files.
Read also: Download free movies online
9. Peggo
Peggo, is another of the best apps to download videos from YouTube and instantly convert them to audio format. All you have to do is copy the video address you want to download to YouTube and paste it into the text box on Peggo's screen, or search for the video using the app's search engine. Once you have chosen the movie, just press the Record MP3 button to start the conversion and download. Before conversion and download, Peggo also offers the possibility to select the video fragment with the part of the audio you would like to download, to customize the tags, to specify the audio quality and to choose the default folder where to save the downloads on smartphone.
10. Snap Tube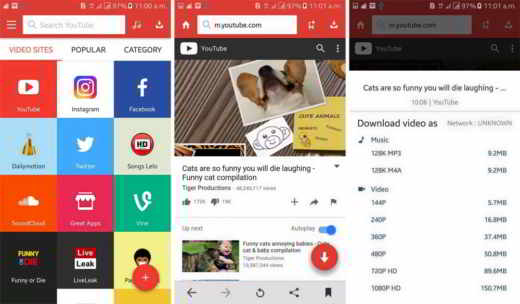 snaptube it's a downloader video YouTube and not only. Allows you to download videos and music from your social number. It has various search options and once you have chosen a specific movie, you can choose whether to play it or download it to your device in MP4 / MP3 video or audio format by setting different resolutions.
Other useful articles
Download to download music
Program for downloading videos
Android app to download music