It has finally been announced, theiPhone X it will cost 1189 euros (999 dollars) and will have a 5,8-inch display and facial recognition. Not only Apple presented, also at the Steve Jobs theater in the Cupertino headquarters, also theiPhone 8 e 8 Plus and the third generation ofApple Watch.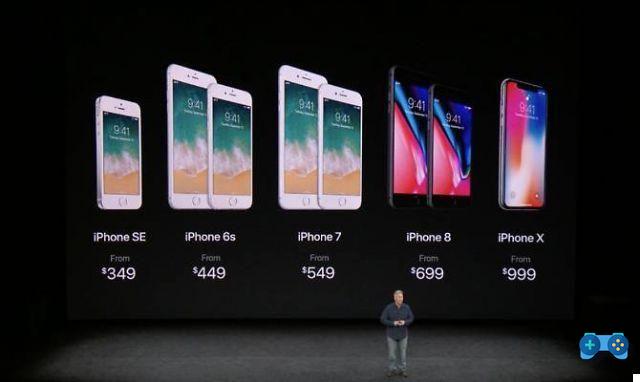 IPHONE X
THEiPhone X, which celebrates 10 years of the iPhone, paves the way for a new generation of smartphones and comes with a glass body and steel edges, the processor is 6-core with A11 Bionic chip, and is equipped with a SuperRetina display ( Oled) 5,8 inch with a resolution of 2436 * 1125 pixels; it does not have the famous Home button that characterized the previous iPhone.
Facial recognition, also called Face ID, it will be more secure than Touch ID, and is able to understand how the face changes and scan it in 3D both day and night. Through the biometric security level it will be possible to unlock the iPhone by looking at the screen, face and expressions will become an effective solution to interact with the phone.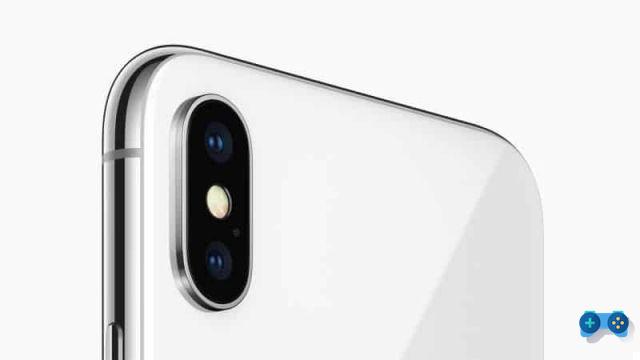 Also in collaboration with Snapchat, animated animojis and emojis have been launched that, like in the favorite social network of teenagers, move with the face.
La TrueDepth camera allows not only face tracking but also thick selfies with the addition of masks, decorations and animated emojis. At the rear, the 12 MP double camera consists of a sensor with a wide-angle lens with an f / 1.8 aperture and a sensor with an f / 2.4 aperture. Videos can be shot in 4K at up to 240 frames per second. In addition, the iPhone X can be charged with wireless technology, just place the phone on the base and wait for it to be recharged.
IPHONE 8 E IPHONE 8 PLUS
This novelty also concerns the other two smartphones presented: the new ones iPhone 8 e 8 iPhone Plus. Also for them we have glass and aluminum and wireless charging with a notable upgrade but not the Face ID.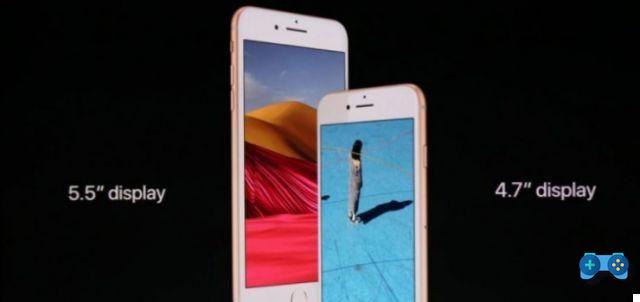 Both represent the continuation of the iPhone lines launched 3 years by Apple. They are equipped with a 4,7 and 5,5 inch display. Both mobile devices are resistant to water and dust and feature Retina HD displays with a 6-core 64bit processor and the A11 Bionic GPU, developed directly by Cupertino.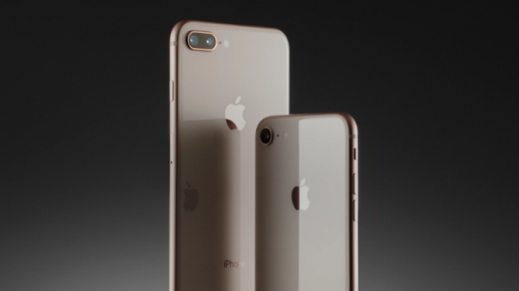 While the iPhone 8 has only one 12MP camera, the iPhone 8 Plus has two 12MP cameras: one wide-angle with f / 1.8 aperture and one with f / 2.8 aperture. Both have 4K video recording at 60fps with video encoding system. They also support 1080 240fps recording.
PRICES AND AVAILABILITY
The iPhone X will arrive in Spain on November 3 (with pre-orders starting October 27) in the 64GB and 256GB versions. The price starts from 1189 euros.
While the iPhone 8 and iPhone 8 Plus will arrive in Spain on September 22 (with pre-orders starting from September 15) in 3 colors: Space Gray, Silver and Gold, and in the 64GB and 256GB versions at the price of 839 euros and 949 euros. .
APPLE WATCH 3
Alongside the iPhones, Apple also presented the Apple TV 4K and the Apple Watch series 3. The latter presents support for LTE and UMTS networks, the ability to listen to music through Apple music and new technical features: dual core processor and news in the WatchOS4 operating system.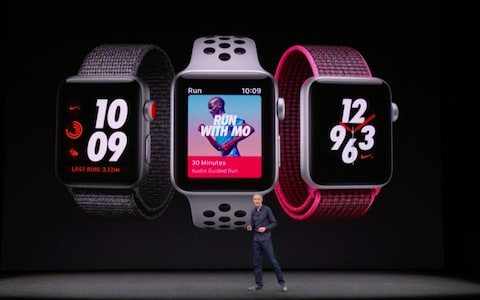 Apple Watch 3 will arrive on the market on September 22 in two versions, one without telephone functionality for $ 329 and one with support for telephone networks from $ 399 which however will not be available in Spain.