Best Temporary Email Services. A selection of the best sites to send temporary emails or disposable fake mails for free.
You want to subscribe to a web service but are concerned about providing your email address for fear of receiving spam or newsletter in your inbox? Do you need a contact email address to create an event? Instead of providing your personal or business email address, one of the best remedies is create a temporary email which will remain active for a certain time, since it will cancel itself after a few hours and then self-destruct.
Best Temporary Email Services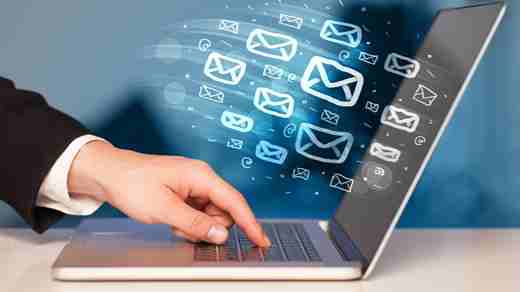 In this article, you will find services to send and receive temporary emails, available online and that offer different functionalities with free or paid services. They are capable of deleting spam and unwanted stuff from the inbox. I advise you to select the required service according to your needs taking into account that many registration sites are able to block temporary emails, also called fakemail.
Read also: How to send self-destructing emails
1. Mailinator (Online)

Su Mailinator, you can use as many aliases as you like to receive emails. This single-use email service is in the public domain and the emails are publicly available. The alias you decide to choose can also be used by other people. The e-mails you receive are automatically deleted after a few hours. The paid premium plan gives you your own personal alias that no one else can access.
2. YOPmail (Online)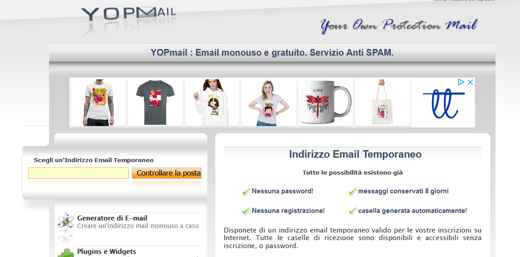 YOPmail provides an 8-day storage duration for received emails. Users can delete emails at any time. It supports several languages, including Spanish and the user interface is very clean and intuitive. It is not possible to compose e-mails and send them to any other service provider. Users can only send anonymous emails to domains used only by YOPmail. Additionally, a browser plug-in is available for quick access to disposable email.
3. TempMail (Online, Android, iOS)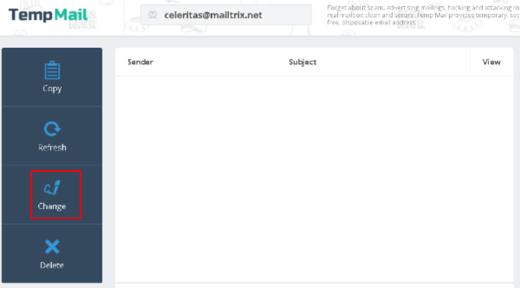 Tempmail is another service to send instant emails. This means that if two people choose the same alias, they both get the same emails. This disposable email service doesn't quite fit the privacy policy. A unique feature that TempMail offers the user is that of being able to change the domain name of the disposable email. To change the domain name and alias click on the "Change". Never use this type of email when signing up for any service as it could be hacked if someone else gets their hand on your alias and domain.
4. Nothing (Online)

Nada is a temporary email generator from the creators of AirMail. This temporary email service is useful for subscribing to Internet services. Nada provides permanent temporary emails to its users. Inbox is valid as long as the domain remains active. You will be notified by the service one month before the domain is updated. With Nothing Email Service, you can create multiple aliases and domain combinations by clicking on the "Add Inbox". You can delete the alias manually after use. Nada it also works like plugin per Chrome.
5. E4ward (Online)

This temporary email service allows you to create multiple aliases. E4ward forward all emails to your primary email address from assigned aliases. A free user can only have one alias. You can opt for the premium service with multiple aliases. With this disposable email service, the user can also have more cloud space to store emails. Also, you can customize your quick email on "alias@tuodominio.com"By adding your domain.
6. 10 minute mail (online)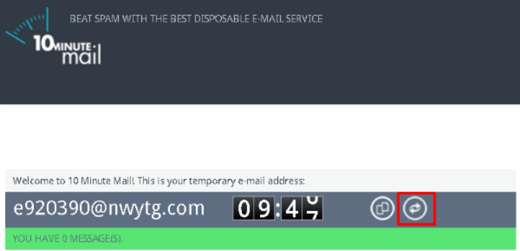 With 10minutemail or ten minute mail, you will receive a disposable email address which will disappear after 10 minutes. In practice you will have an email available for 10 minutes but you can extend or reset the timer by clicking on the "Get 10 more minutes". This reset the deadline with another 10 minutes. Email addresses of this type are useful when you are planning to check out a new service. You can even temporarily sign up for a service using this email address. This disposable temporary email service is easy to use and very reliable in terms of privacy.
7. Guerrilla Mail (Online)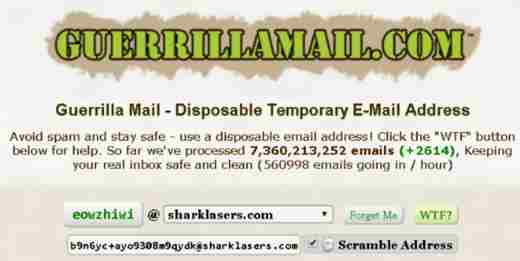 All emails received in this mailbox they are eliminated after 1 hour. Registration is not required to use this service. Guerrillamail gives users the ability to choose an alias and desired domain. Another feature that Guerrilla Mail provides its users, is to compose e-mails. The user can send quick emails to any address on the Internet. The sender's IP address is automatically embedded in the email subject to prevent any misuse.
8. MohMal (Online, Android)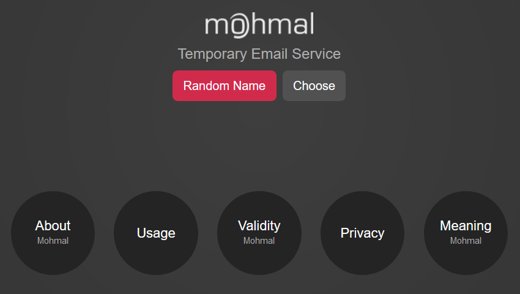 MohMal in Arabic it means "mail unsolicited". Users of this service will receive support in multiple languages. With MohMail, the dummy email you create it will automatically delete itself after 45 minutes. This is to ensure protection against other users. It must be updated periodically to prevent deletion. You can also create your own alias and choose the desired domain name by clicking on "Choose"Or"Randon Name".
9. EmailOnDeck (Online)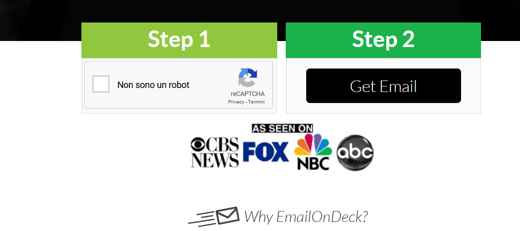 EmailOnDeck is a temporary email service that provides a unique email address. You can use it to subscribe or receive other emails. In this service, users can retrieve their email address after deletion using a token restore. Emails cannot be recovered after deleting them. There is no specific time limit for which the email will remain in the Inbox as the service periodically deletes them from their servers. Furthermore by taking advantage of the premium paid service, you will be able to have more disposable emails with access to some exclusive domains and the option to save emails locally.
10. ThrowAwayMail (Online)

Su ThrowAwayMail, is among the best temporary email services where users get a unique disposable email ID. The service is valid for 48 hours. To make it a permanent address you need to visit the email page before completing 48 hours. Make sure that cookies are enabled in your browser to ensure the proper functioning of this service.
Other temporary email services
In addition to the services mentioned above, there are other sites that offer the possibility of sending and receiving provisional emails that are equally valid.
Tempr.email: it is in Spanish and can be used on most sites where registration is required. You can have a temporary email by choosing: alias and domain of the mailbox.
MyTrashMail: another temporary email service with many active domains. You can get one by filling in the fields in the "Temporary Email Private Accounts"Specifying alias, username, password, and then click on the button Get Secure Email.
20 minute mail: valid alternative to Mail 10 minutes, offers an e-mail box with a duration of 20 minutes. You can create a temporary email address by simply pressing on Create email.
MyTempEmail: requires registration, but allows you to pass the checks of sites that require registration and reject temporary emails. You can create your disposable email by pressing the "Random Temp Email"Or"Custom Temp Email".
MailStop: is a Spanish service that offers a valid fake email to receive emails and which will then be destroyed. It does not require registration and is completely anonymous. To get a temporary email you have to press the button Create an anonymous email address now.
App to send temporary emails
Even via mobile with the Android and iOS operating systems it is possible to create temporary emails to send or receive disposable emails like a real email generator.
The best temporary email services for mobile devices include:
Tempmail (Android, iOS): in addition to being available online, it can also be used on your Android phone or iPhone.
10 minute mail (Android): Another service for Android mobile devices.
Instant Email Address (Android, iOS): The latest app on this list that creates disposable email addresses for free. Like any service, this one also has an expiration even if the addresses can be used permanently. It offers tons of features for you to try.
Mohmal (Android): Use the mobile version of Mohmal to keep your original email clean and create an email for temporary use.
Other useful articles
How to send self-destructing emails with Gmail
Best random password generators