You bought a DVD overseas and when you got home trying to play it you got a DVD read error on Windows 10? You need to know that movie or video game DVDs are often protected by copyright and have control systems that block the possibility of using them.
One of these blocks is called regional block. If the DVD does not play on Windows 10 the cause is precisely this block, the system of which prevents most devices in other regions from reading DVDs encoded precisely according to the region code. The reasons for this block are related to the marketing of DVDs between different geographical areas at advantageous prices.
The geographic regions are:
USA, US territories and Canada
Europe, Japan, the Middle East, Egypt, South Africa and Greenland
Taiwan, Philippines, Indonesia and Hong Kong
Mexico, South America, Central America, Australia, New Zealand, Pacific Islands and the Caribbean
Russia, Eastern Europe, India, Africa excluding South Africa, and Mongolia
China
Not yet defined
Special locations such as airplanes and cruise ships.
In this regard, there are programs that, when copying DVDs, allow you to remove the regional block. The best on the market is WinX DVD Ripper Platinum which not only contains all the regional codes but also allows copying of DVDs protected with an anti-copy system.
How WinX DVD Ripper Platinum works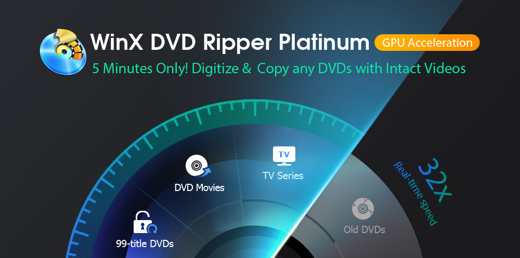 WinX DVD Ripper is a free DVD decoder supported by Windows 10, Windows 8 / 8.1, Windows 7, Vista, XP, 2003, 2000 operating systems | (32 and 64 bit). It converts a disc in just over 5 minutes, to audio and video formats, for playback on Microsoft, Android, Apple and Sony devices with super speed and no loss of quality.
You can copy Disney DVDs even if they are protected by X-protect, the anti-copy system used in optical discs to try to hide the DVD inside 99 different titles in a space of 40 GB. Furthermore, its conversion process does not exploit the power of the CPU but that of the engine of the But by the full GPU acceleration tech (graphics) achieving conversion speeds of up to 32x.
It is a software suitable for those who have a large collection of DVDs stored on their shelves but also for those who have just bought a DVD and, to avoid damaging it, prefer to create digital copies and then physical copies of the original DVD to review it all. as many times as he wants without consuming the disc of the collection.
Features and benefits of WinX DVD Ripper Platinum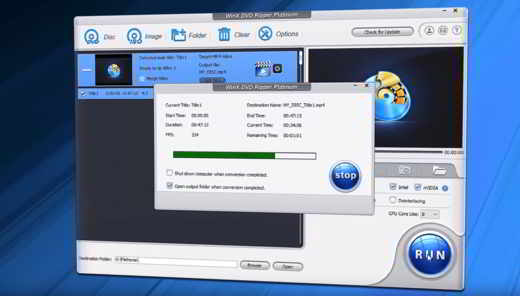 Why should you use WinX DVD Ripper? Here is a summary of its features:
Supports all types of DVDs both old and new. Through a new analysis and title control mechanism, it is able to access and copy DVDs with 99 titles, training DVDs, music DVDs, films, TV series and much more. In case your DVDs are scratched or damaged and therefore unplayable, Digiarty's software is able to recover them.
Supports theacceleration hardware level 3 using fully Intel CPU and nVIDIA graphics card. Speed ​​up DVD ripping by 50% while maintaining maximum video quality and reduce excessive CPU consumption. This way, even a low-end PC would be able to convert a DVD in just over 5 minutes.
La interlaced scan mode DVD improves the quality of the output video by avoiding: data loss, audio not synchronized with video, FPS drops and aspect ratio errors. Also, you can balance and master the video quality and file size according to your needs.
Convert DVD to AVI ((DivX / Xvid), MP4, H.264, HEVC, MPEG, WMV, AVC, TS / MTS / M2TS and other general video to PC, DVD to MOV and M4V accepted by Mac and DVD to FLV and more for sharing to YouTube, Facebook, Vimeo and other websites with over 350 profiles. Also rip formats for playback on Apple, Android mobile devices, TV, PC, etc.
Simple built-in video editor with different features, such as inserting subtitles, adjusting the volume, video cropping and much more.
Removes copy of DVD protected with anti-copy system and bypasses the regional code, CSS encryption, Sony ArccOS, UOPs, APS, RCE.
How to convert DVD to MP4 format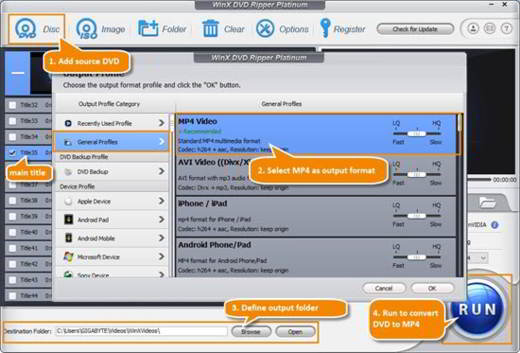 In this little guide on how to rip DVD to MP4, I will reveal to you the ease of use of WinX DVD Ripper Platinum thanks to its graphical interface that allows you to transfer the contents of your DVD to your hard drive in five steps.
Insert the DVD into your PC's DVD drive
Open WinX DVD Ripper Platinum and click on the icon on the top left Disc. A dialog box will appear in which you will need to select the source disk.
Select MP4 as the output format. After a few seconds you will see all the DVD titles listed and a window Profile di output. Search for the category General profiles and select MP4 Video as the output format.
In the Output Settings, click the button KATEGORIEN to select the destination folder in the dialog box that appears.
Click on the button RUN to start the DVD to MP4 conversion process without quality loss.
Conclusions
WinX DVD Ripper Platinum it is definitely one of the best software that decode DVD. It is available in version freeware but with limited functionality or with a paid license, at the cost of $ 29.95 instead of $ 59.95. This latest Premium version includes future updates, free support and full functionality.
Giveaway: Free Licenses of WinX DVD Ripper Platinum
The manufacturer Digiarty has seen fit to reserve a special for all users Limited time giveaway which consists in distributing free authorized copies of DVD Ripper Platinum until reaching 9 million downloads. By participating you will have the chance to win a Epson projector free simply by sharing this campaign.
Hurry up and connect to pagina del Giveaway, type your email and press the button Get Free License and good luck!