You have old videotapes that you care a lot about and want riversale su DVD? Quiet it is not difficult, read on and you will understand how to convert videotape to DVD (VHS to DVD).
convert DVD video tapes you must have a grabber video (One capture card laptop that digitizes VHS cassettes and analog camcorder tapes).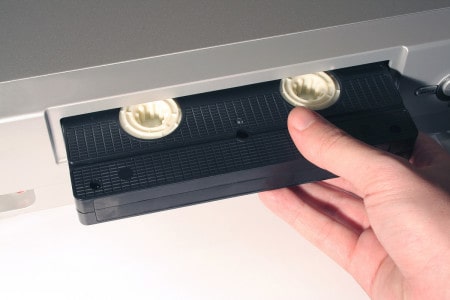 Il video grabber it will help you to acquire the audio / video signal from the VCR and transform it into a digital signal in order to send it to the PC. You will then need to connect the USB cable of the video grabber to the USB port (2.0 or 3.0) of the PC and RCA composite cables (yellow, white and red) or S-video cable to the VCR. Check that the purchased device fits the Windows or Mac version of your PC.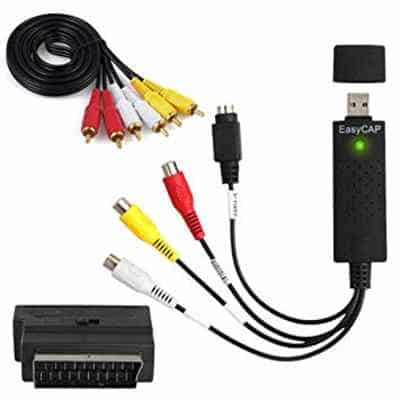 To connect the video grabber to the PC, there are also SCART adapters which have both inputs RCA than that S-Video.
Below, you will find a series of products to buy on Amazon to be used for VHS to DVD conversion.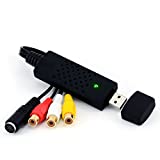 CSL - Video Grabber - USB Video Acquisition Card - Analog Digital Acquisition Converter
22,85 EUR Buy on Amazon
aplic - USB 2.0 Audio Video Capture - New Version Compatible with Windows 10 - VHS to PC Dvd - USB Analog Digital Converter
25,85 EUR Buy on Amazon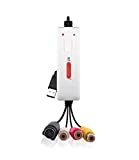 MyGica EZ Grabber Box USB Video Capture Card to Pass VHS to DVD, Complete with Video Editing Software 35,90 EUR Buy on Amazon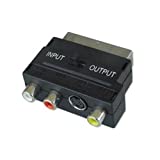 Lindy 35570 - SCART to SVHS + 3xRCA adapter
4,98 EUR Buy on Amazon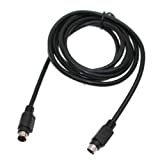 ITB Solution S-Video cable 5 Mt
Buy on Amazon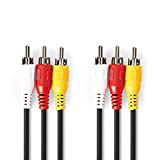 KnnX 28134 | Composite video and audio stereo cable | 3 x RCA Phono Male to Male | triple connector red, white, yellow | Length: 3 meters
6,99 EUR Buy on Amazon
How to convert videotape to DVD from VCR to computer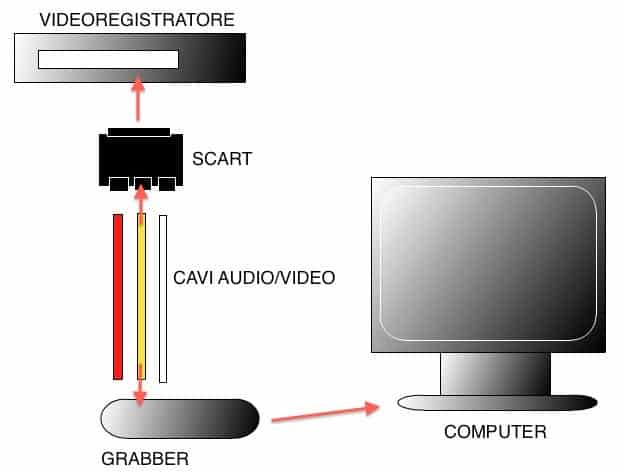 A valid solution for
convert videotape to DVD
it is via VCR and computer. Let's see the steps to follow:
Open the CD / DVD player of your computer (if you don't have it, I suggest you buy an external burner on Amazon) and enter the Driver installation CD taken from the package video grabber.
After this, connect theSCART adapter to the TV VCR socket of the VCR and immediately afterwards set the switch to Input.
After this procedure, connect the RCA audio / video cables to theSCART adapter and at the entrances to the video grabber and connect it to one of the available USB ports on your computer.
Start the video recording program on the CD video grabber, Choose DVD through the appropriate menu and press the button Play of the recorder to start converting the movie.
Each software has its own steps and it is not easy to list the exact conversion phases, for this reason I advise you to always carefully read the manual attached to the video grabber purchased.
You will need to set the video grabber as your audio and video source and choose the video capture mode you prefer.
convert and copy VHS videotapes to DVD you have to start a video recording program on your PC, the most famous are AVS Video Recorder o Pinnacle Instant DVD Recorder, and select the recording DVD by playing the VCR.
Usually video recording programs come with the video grabber and allow burning directly to DVD, if this is not possible just download AVS Video Converter.
Here with a video tutorials very interesting that will help you to apply what has been explained so far.