Are you trying to use the Windows Defrag program but have you noticed that it hasn't worked for a few days? Defragmenting the hard disk of your computer is a very important operation and serves to compact and restore order to the files on your hard disk to optimize and speed up the opening and closing times of programs and files.
If you have difficulty defragmenting your PC's hard drive with Windows 7 or Vista, then you absolutely must continue reading this guide because in a few simple steps I will reveal how to solve the fact that the Defrag does not start, so make yourself comfortable and carefully read the information contained in the following paragraphs.
How to fix the Defrag not starting problem
The defragmentation utility can be either manual or automatic and is tied to the Windows registry. If the latter component is damaged, then the hopes of starting the Defrag are almost nil. To solve the problem of the Defrag not starting with Windows, when it is included in the scheduled operations of the system, it is necessary to go to the Control Panel and enter the menu System and security. Then go in Planning tools and then Scheduler.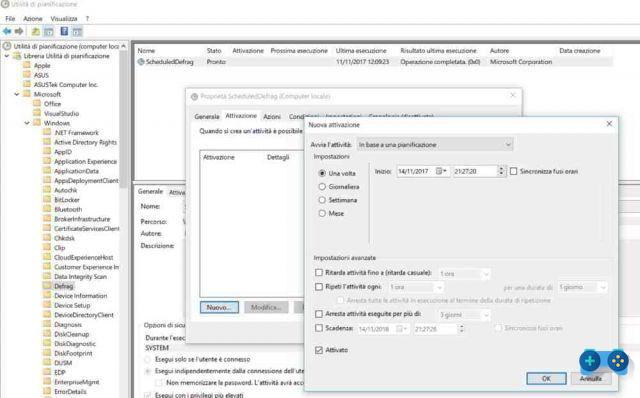 Expand the folder in the list on the left and follow the path Microsoft > Windows >Defrag. Under the column Your name the wording should be shown ScheduledDefrag and State the function Pronto.
By doing this you will be able to see the last time the defragmentation was performed. If you don't see any information, click on ScheduledDefrag and move to Activation indicating the time specifications.
If that still doesn't work, just start Run with WINDOWS + R, digita services.msc I awarded Submit.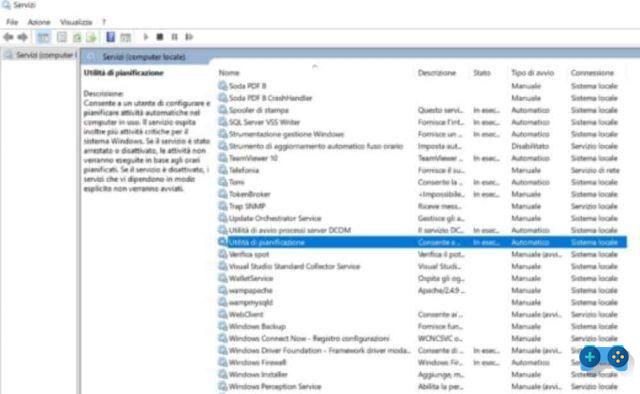 In the window that appears, the Services window, select, in the Name column, Scheduler, right click to open the pop-up menu and press Stop. Wait for the service to be blocked and at the end, select again Scheduler and right click on the pop-up menu, starts. You should solve.
Attention to stop and start a service you must of course be an operating system administrator, in this regard I suggest you learn more by reading these articles:
How to log in Windows 10 administrator
How to become an administrator of Windows 7 and Windows 8
How Defraggler Works
If not, I suggest you download Defraggler. This is a free defragmentation program from Piriform, the same company that owns CCleaner, the software for cleaning the operating system.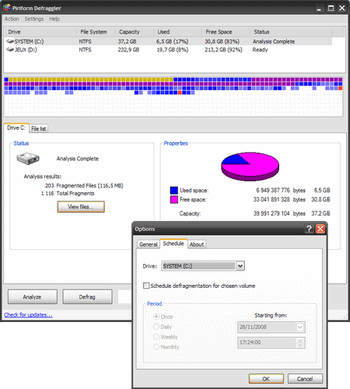 Defraggler superbly replaces the classic Windows Defrag and allows you to set the automatic defragmentation of disks optimizing free space to make it compact and portable. Defraggler's disk map illustrates empty blocks that need defragmentation.
You can perform quick and automatic defragments, organize empty disk space, set Defragger to start every day, every week, every month, and run system file startup defragmentation.
Defraggler is available in Spanish and 36 other languages ​​and can be downloaded from this page.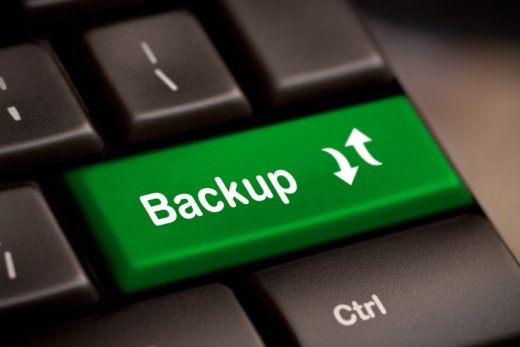 How to back up your data