In this article we will analyze the best Chinese sites for online shopping insecurity.
Reliable Chinese sites are an excellent opportunity to shop on the Internet at bargain prices. They have a vast and well-stocked catalog of any technological gadget, but you can also find clothing, objects for the home and much more.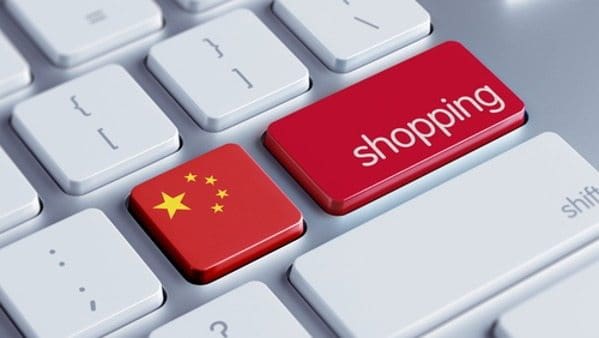 However, there are some aspects to consider.
Delivery times range from 20 to 40 days;
it may happen to find a product of poor quality or without Community certification and therefore potentially "unsafe":
there may be customs fees to be incurred if the declared value exceeds $ 20.
Some Chinese Chinese sites, however, like Banggood e Myefox they also have warehouses in Europe (the catalog can be browsed in special sections of the site), which allow you to purchase without customs fees and to have the goods delivered within a few days.
In any case, all these sites allow you to make safe purchases by paying with Paypal. The only one that doesn't accept PayPal is Aliexpress, because it uses a proprietary system by name AliPay.
About Chinese e-commerce AliExpress however, you can safely buy using a prepaid card. The seller, in fact, will not be paid until you confirm the receipt of the goods. This way you have all the time and peace of mind to open a dispute if you are not satisfied with the goods.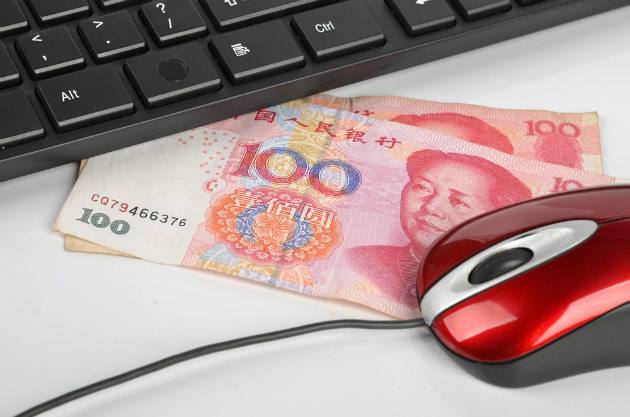 The best Chinese sites for safe online shopping
When shopping in China from recommended sites such as those listed below, always remember to make a video while you open the package (framing well the recipient's data, the integrity of the package and the content). You will be able to use it like that the unboxing video as evidence in case of dispute via PayPal or Aliexpress.
For shipments you can rely on that participation, the cheapest, which however does not offer guarantees on the receipt of the package and the estimated times are from 20 to 40 days. Signed for with tracking number through the Poste Spagnane website, the estimated times vary from 20 to 40 days. Express courier (TNT, DHL, UPS, etc ..) is the most expensive form of shipping but also the fastest, estimated times from 5 to 7 days.
All products outside the European Community are subject to customs checks and inspections. Once the famous customs duty has been applied, 20/25% of the total amount will have to be paid (import costs). Courier shipments almost always do customs, while Chinese express couriers like Yanwen e Euexp they promise to avoid Spanish customs but offer a partial guarantee.
Is it the guarantee on Chinese products? So let's say that the Chinese stores offer a form of guarantee but to assert it you need to send the defective product back and unfortunately the shipping costs and resolution times could make everything really inconvenient.
AliExpress

AliExpress is a Chinese online store like ebay where you can buy anything. The site is safe and reliable, and allows payments with full or partial refund. Before buying any product on the Aliexpress site, always take a look at the seller's feedback, avoiding those below 85%, and of course the best prices. If you buy products over € 150 you will have to pay duty + VAT, while for products of little value you should not have problems unless the value of the product exceeds € 25, in which case you could find yourself VAT applied.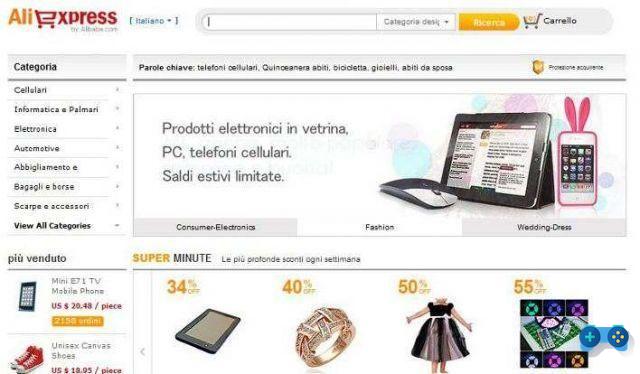 Payable shipments with DHRL, FedEX and UPS are the fastest ones (about 10 days) and, like the free ones, they are easily traceable and safe. The free ones have a much longer shipping time ranging from 30 to 60 days. A tip if the product is defective, avoid the return and the request for repair, it could take months and months; instead try to get a refund or send the same product without having to return the defective one, then if the seller does not respond you can always open a report and take a look at this article: What to do when the package does not arrive with AliExpress.

Banggood
Banggood is among the sites like Aliexpress, and is a Chinese online store that offers many products with fast and low-priced shipping. It has a very large catalog and the articles cover not only electronic products but also clothing for men and women, jewelry and watches, shoes, bags and much more.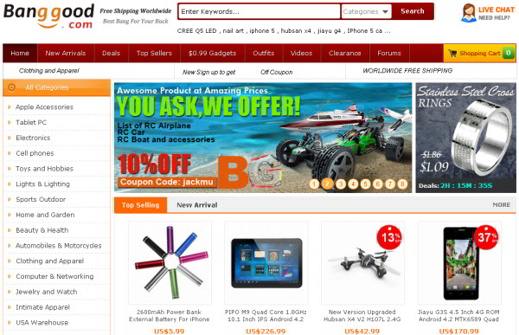 The prices are very affordable and already include shipping costs at no additional cost. Unfortunately, as I have already explained before, free shipping is very slow, by paying a little more you can choose shipments with express couriers such as EMS or DHL which guarantee shorter times and parcel tracking. For the payment you can easily use PayPal, but I recommend you spend at least $ 20 to get the registered, with parcel tracking number throughout the journey. For products under $ 20, you just need to spend $ 1,70 to still get the tracking number. Some items are shipped from UK or US warehouses and this allows you to avoid paying customs duties or additional fees to get them quickly. Select the warehouse by choosing the UK warehouse and that's it.
Lightinthebox
Lightinthebox is one of the best Chinese clothing sites. It has a huge catalog with a wide selection of clothing with shoes, bags, beauty and health products and much more. It offers many discount codes for optimal savings and offers offers on product categories or in the context of shipping by express courier for amounts above a certain range.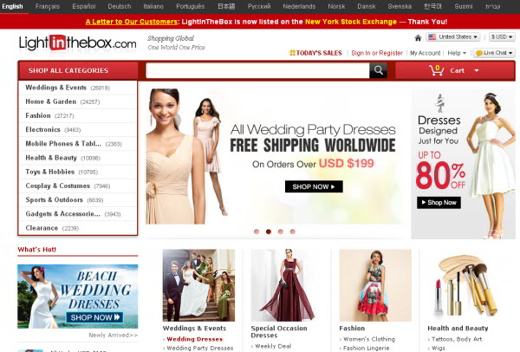 As with all Chinese sites, with the exception of Aliexpress, it is possible to make online payments with PayPal or credit card, or even with prepaid cards. Shipments can be free, standard or by express courier. In its product catalog, many items are offered by a sister store called Miniinthebox.
MinIntheBox
MiniInthebox is a great Chinese shopping site, with lots of beautiful and interesting gadgets. It has many particular products (modeling, PC accessories, lighters, key rings and more) whose prices are higher than other Chinese ecommerce. It's a rib of Lightinthebox, reliable and with free shipping thanks to products of small weight and volume. The catalog is very large and payment can be made by credit card, including Postepay, or PayPal.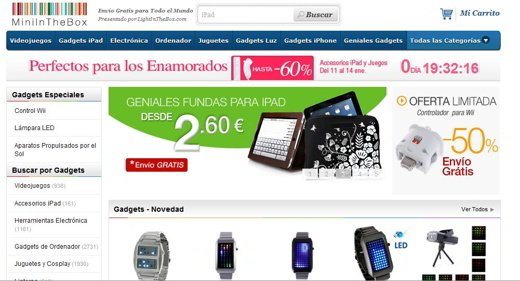 As for shipments beyond the free one, whose expected delivery times are approximately 25 days, without a tracking number, there is PostNL, a priority mail that uses the Dutch channel to avoid customs fees and allow faster arrival times, or the paid express courier, with tracking number and delivery times of approximately 7 days.
GearBest
GearBest it is among the most famous Chinese sites online and includes a wide choice of mid-to-high-end mobile devices. The catalog also offers modeling items, watches, clothing, objects for the home and for sports, and much more. The payment as for the other Chinese stores, can be made with PayPal or by credit card. The shipment of GearBest products is free and takes place with China Post, HongKong Post or, for a small amount, with Singapore Post. The expedition signed for, with signature upon receipt of the goods, it is traceable and is free for orders over $ 20, otherwise you pay a small surcharge.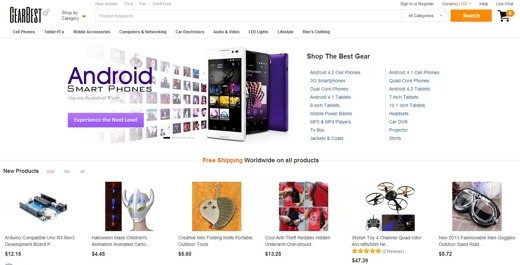 Delivery times range from 15 to 20 days. To have greater delivery security you can also rely on couriers All espresso brewing methods (usually DHL) with arrival times from 5 to 10 days and whose costs vary according to the weight and volume of the product with related customs fees. As with Myefox products, GearBest also allows order insurance to avoid receipt problems.
DHgate
DHgate is a platform dedicated to wholesalers very similar to eBay, which allows you to buy items at remarkably low prices. The higher the number of pieces to buy, the lower the price. The product catalog is very extensive and ranges from clothing to electronic products. There are many categories and sub-categories to consult. Like eBay, DHgate has a positive, neutral and negative feedback rating system. In this way a customer can check the level of reputation and reliability of the seller, to avoid possible scams or online scams.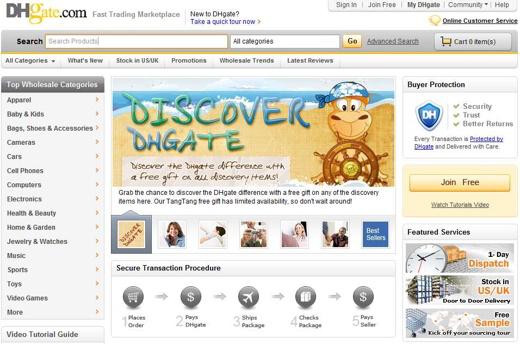 As for the forms of payment, it is possible to pay by credit card (no PayPal) with the addition of the payment block: in the sense that the money is withheld and given to the seller only when the buyer does not confirm to DHgate that the ordered goods have been delivered (Escrow payment system). In case of defective goods, the customer can make a report and request a refund. There are also special bonus credits in case the seller does not send the goods on the requested date.

Myefox
Myefox is a Chinese store dedicated to Spanish users with prices described in Euros. Its catalog includes smartphones and tablets, technological accessories, GPS navigators, clothing, bags, shoes and much more. The prices are very attractive and for payments, in addition to bank transfer, you can use PayPal. There are two types of shipment for products that are sent from China: one by express courier with tracking number and standard mail with international registered mail, always with tracking number. Costs vary according to the weight and volume of the chosen item. Myefox also offers, for those who want, insurance (equal to 8% of the amount) to obtain compensation for any customs fees incurred.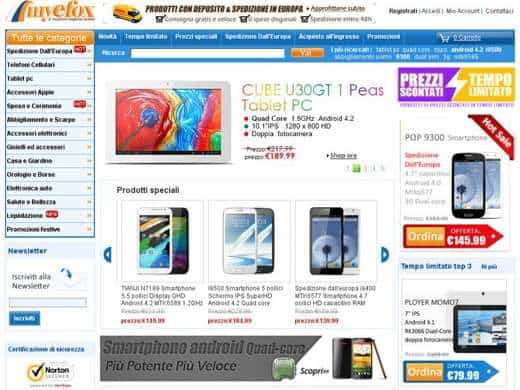 For products sent from warehouses in Germany, available only in limited numbers, the shipment takes place with DHL and are delivered within a few days without additional costs or duties.
Also take a look at: The Best Chinese Android Smartphones - Pros and Cons