You are looking for programs to delete duplicate files? Here are some free applications that may help you remove duplicate files.
There are computer problems that can resurface depending on the evolution of the hardware components. Searching for and removing duplicate files stored on your Windows 10 computer is one of them.
In the past, hard drives were quite expensive, especially larger capacity ones, so people tended to buy lower capacity ones at decent prices to save money. This meant having to keep an eye on the free space available and do regular cleaning for delete duplicate files, useless and unnecessary, stored on your hard drive.
Over time, however, larger hard drives have become more accessible to the masses, and the need to free up space has become a thing of the past.
Now that solid state drives (SSD) are starting to replace old mechanical drives, free space is once again a common problem. For this reason, freeing up memory by removing duplicate files may over time become a necessity.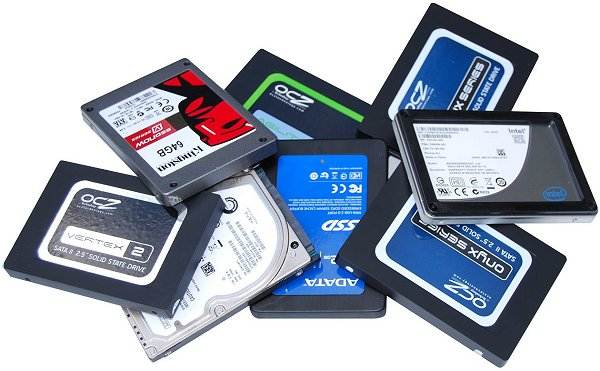 Best SSDs 2021 for your PC: buying guide
Programs for eliminating duplicate files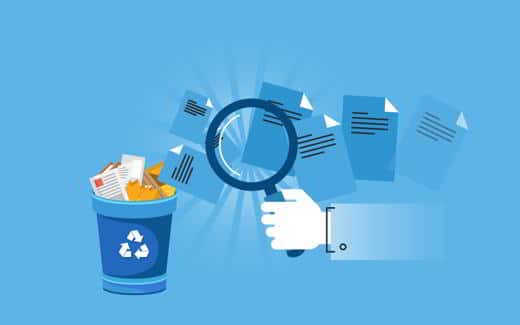 In this article, I will list some Windows 10 and macOSX compatible applications that you can use to find, compare, and remove duplicate files, freeing up valuable storage space in the process.
Please note:: if you find files that you know nothing about, located in the program folders or in the system folders, I advise you not to delete them, you could seriously jeopardize the stability of the system!
1. Duplicate Cleaner (Windows)
Duplicate Cleaner is a useful program that allows you to say goodbye to duplicate files. It comes with a simple and intuitive interface that makes it much easier to start searching for duplicate files on your PC.
You can customize your search based on file type, size, dates and more. You can also specify in which drives and folders to search, as well as for zip archives.
Once the software has identified the duplicate files to delete, you can view it and select the files by date, drive, folder and more. You can even select a favorite folder and remove duplicate files contained in it, or select smaller duplicate images or lower quality MP3s and then delete them.
Duplicate Cleaner it can scan even the most popular music formats to find duplicates by artist, song title and list their details, including bit rate, sample rate and length. It supports formats like MP3, OGG, WMA, M4A, AAC, FLAC and WAV.
You can compare "clean" sectors (archives, cd's) with other sectors without generating unnecessary lists of duplicate files. You can also save scan profiles (just like presets in Winamp) and reuse different settings for different jobs.
Duplicate Cleaner gives you the ability to manipulate your duplicates: you can delete them (optional trash can), you can move or copy them, and you can rename them.
For system files you can rest assured, they will not be touched in the slightest.
2. CCleaner (Windows, MacOSX)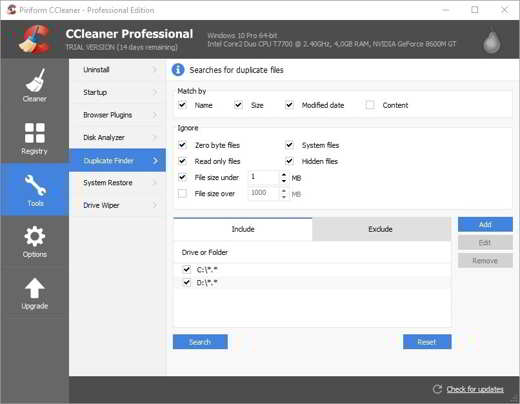 CCleaner is the best application for Windows when it comes to deleting unnecessary files from your computer. But perhaps what you don't know is that this software is also capable of scanning to remove duplicate files in Windows 10.
To search for duplicate files in CCleaner you have to start the program and select the item Instruments and then Research duplicates, in the left sidebar. Click on the button Add to select the folders in which to search for duplicate files and press on Research to start the search for duplicates. Wait for the process to complete.
If you prefer, you can customize your search by ticking the item Types of files and indicate which type of file to search (for example MP3, JPG, etc.). In the main program window, under the heading Correspondence, you can indicate whether to search for duplicate files by name. size, modification date and / or content. Under the heading Ignore, you can choose instead not to consider other types of files in the search.
Once the search is finished, to delete duplicate files, place the check mark next to the names of the duplicate files you want to delete and press the buttons Delete selected and OK.
3. dupeGuru (Windows, MacOSX)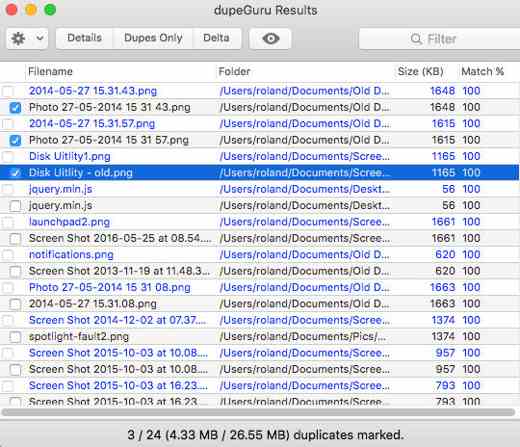 dupeGuru is a great program for deleting duplicate files on MacOS e Windows. It is a free software that offers an unintuitive but very effective interface.
After downloading and installing it, go to Mac you have to drag the icon of dupeGuru in the folder Applications and start the program, select the tab Standard and drag and drop the folders to be scanned to the main screen. in the drop-down menu Scan type, select the voice Contents and press pulsating Scan to start the search for duplicate files.
Once the scan is complete, check the names of the files you want to delete and press the gear icon, at the top left, to select the item Move the marking items to the trash from the menu that appears. press on proceed to confirm their deletion.
DupeGuru is offered in three versions: Stardard, Music Edition e Picture Edition.
That Standard is the default and allows you to search for all types of files, both by name and by content.
That Music Edition is dedicated to finding duplicate music files and in formats: MP3, WMA, AAC, OGG and FLAC. It can scan file names, tags and even the content of music files. The main advantage of this edition is the fact that it can detect duplicate music files even if they use a different encoder or are saved at a different bitrate, giving you the ability to locate and keep higher quality files.
The third version is called Picture Edition and, as the name suggests, it can be used to find duplicate image files that use the JPG, PNG, TIFF, GIF, and BMP file formats. The search engine in Pictures Pictures can match image files even if they use different file formats or have been resized or rotated.
4. CloneSpy
CloneSpy is a historical and free program whose sole purpose is to delete duplicate files. After downloading it from the official site and installed on your PC, start it and select the folder or folders and drag them into the box Pool 1 or click on the button Add folder.
Check that Compare files with Pool 1 and Duplicates are selected in the drop-down menus at the top right. Check that the Ask user item is checked and click on Start standing, to start the scan for duplicates.
Once you have identified the duplicate files, select them and choose which ones to delete by clicking on the button Delete all marked files.
To automatically select dated or recent files, open the drop-down menu Preselect files and choose the item Mark never files (for recent files) or Mark folder files (for dated files).
CloneSpy is also available in a portable version.
5. Duplicate Files Finder (Windows)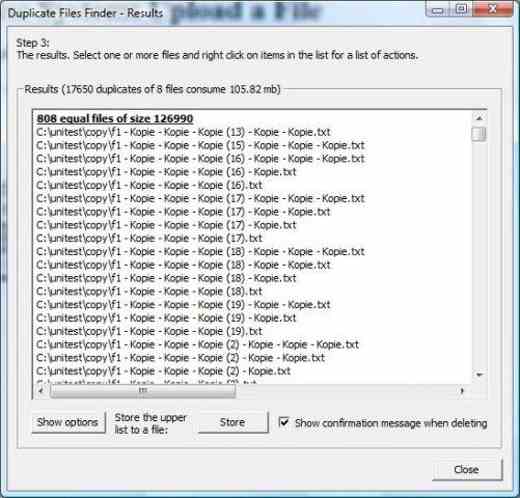 Duplicate Files Finder is an application whose purpose is to search for duplicate files (files with the same content, but not necessarily the same name) by allowing the user to remove them, by deleting them or by creating links. The search is very fast compared to other similar programs that use hashing algorithms.
The algorithm is as follows: First, all files are sorted by their size, since files can only be the same if they are the same size (logically).
The files are then compared with each other to determine which ones are the same. If two files are not equal from a certain point on, the reading is stopped; it is no longer necessary to read to determine that these files are not the same.
In this way the results are obtained faster than programs that use hashing algorithms, for which all files must be read completely.
Additional caching of file content further improves performance.
Overall it is a lightweight tool that has been around for a few years and is also compatible with previous Microsoft Windows versions (Windows 95/98).
It does its job very well quickly and does not require any updates to be used even on Windows 10. It is the ideal program for removing duplicate files in folders for music, photos and documents.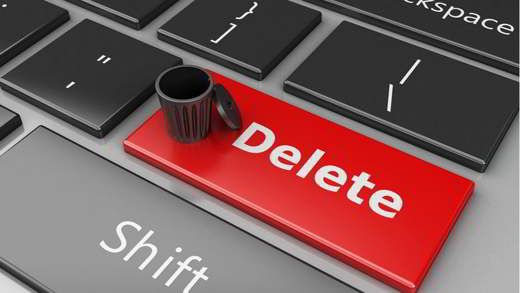 Programs to delete undeletable files
Programs to permanently delete files