Programs to delete undeletable files. A selection of the best software able to intervene on files locked by Windows or Mac and that you cannot delete
Can't delete unnecessary files on Windows? How to delete non-erasable locked files and folders on Windows 10? Sometimes there is another program that "locks" or keeps a file busy, preventing it from being deleted, for example Photoshop locks all those files that are running on Adobe Photoshop.
Usually a simple restart of the PC solves this problem. But if you don't want to restart or you have noticed that restarting the file continues to be locked, you can use programs that can unlock undeletable files. Usually the error messages are as follows:
Unable to delete file: access denied.
There has been a sharing violation.
The source or destination file may be in use.
The file is in use by another program or user.
Make sure the disk is not full or write-protected and that the file is not currently in use.
Cannot delete file because it is in use by another process.
Unable to proceed with cancellation.
System protected file.
File deletion failed.
Programs to delete undeletable files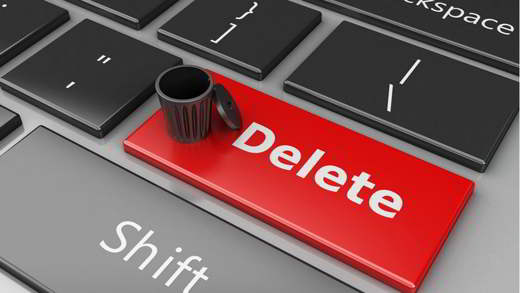 Do you want to find out which processes are holding the files you want to delete hostage? There are several applications that are able to delete undeletable files quickly and easily, let's see which are the best.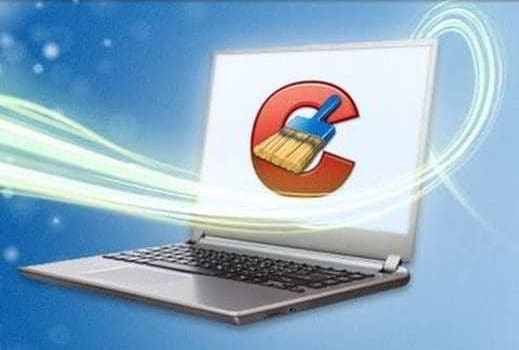 Programs to delete unnecessary files
1. LockHunter (Windows)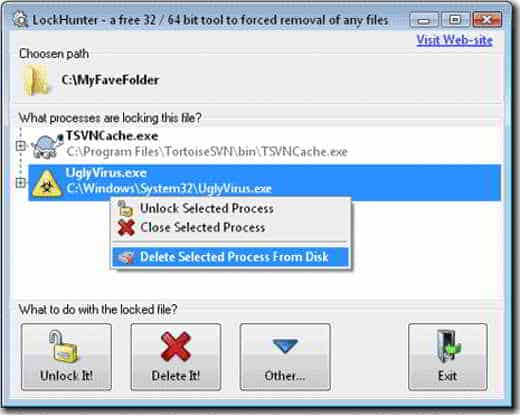 LockHunter is one of the best programs to delete undeletable files. LockHunter is also useful for fighting malware and other programs that lock files without a reason. Unlike other similar tools, it deletes files in the recycle bin so you can restore them if deleted by mistake. Works great on Windows 10 and Apple's MacOS.
Show processes blocking a file or folder.
Provides detailed information on the process.
It allows you to unlock, delete, copy or rename a locked file.
It can delete a file on the next reboot of the operating system.
Allows you to terminate the blocking process.
Removes blocking processes from the hard drive.
It can download DLLs from processes.
It integrates in the Explorer menu.
Delete the files in the recycle bin, then you can restore them if deleted by mistake.
Supporta Windows a 32 e 64 bit.
2. Malwarebytes FileASSASSIN (Windows)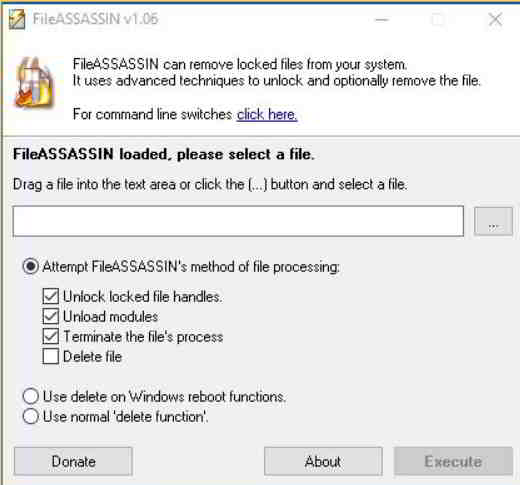 FileASSASSIN it can eradicate any type of locked file from your computer. These messages "blocked"Are usually displayed when trying to delete files affected by malware, although occasionally a file crashes. Whatever the reason for the file, FileASSASSIN can remove it. The advanced programming techniques of this software unload modules, close remote handles and terminate processes to remove the particular locked file.
3. IObit Unlocker (Windows)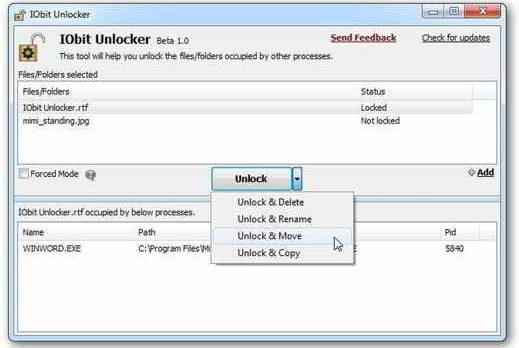 IObit Unlocker is a lightweight but powerful tool designed to solve problems "Can not Delete"Or"Access Denied". Can "Forcibly"Terminate all related processes that prevent you from deleting or accessing the files or folders you need.
IObit Unlocker also offers several useful options to simplify your work, such as "Unlock & Delete","Unlock & Rename","Unlock & Move"And"Unlock & Copy".
You will no longer be bothered by messages like "Unable to delete file: access denied","files not deleted","the file is in use by another user or program"Or"there has been a sharing violation.
Below is the solution to the problems: "Can not Delete"Are Windows.
No more problems with "Cannot Delete" or "Access Denied".
Useful post-unlock options.
Guaranteed data security and disk stability.
Lightweight, easy and FREE.
4. NoVirusThanks File Governor (Windows)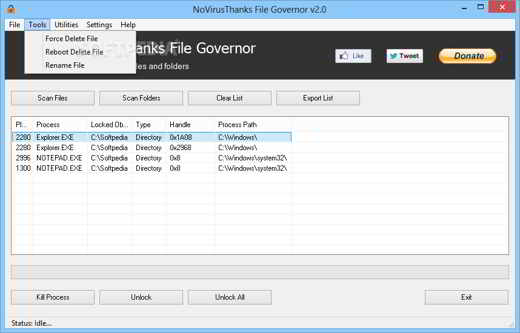 NoVirusThanks File Governor is an advanced program that allows you to unlock files and folders within the system so that normal file I / O operations can be completed, without operating system restrictions for the files currently in use. Once a file or folder is unlocked, it will be possible to force close the handle, rename, delete the file, etc. In this case you need to know these messages:
Unlock locked files - Securely unlocks files that cannot be deleted or used by other programs.
Unlock locked folders - Securely unlocks all files within a folder so you can delete the folder.
Search for locked files - You can scan files and folders for locked files from the program interface.
End processes: Processes that use locked files or folders can be stopped.
Unlocker Alternative - This is a great free alternative to Unlocker, the popular file unlocker.
Chiudi Open Handles - Securely closes all open handles and unloads loaded DLL modules.
5. DeadLock (Windows)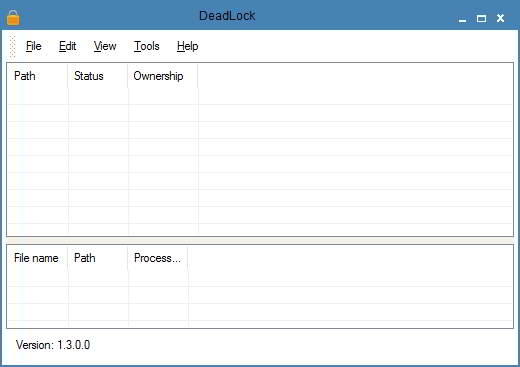 Deadlock is a free file and folder unlock utility provided by CodeDead. It can help you unlock files or folders that you cannot delete, copy, rename or move. Starting with version 1.3, DeadLock can even take ownership of files and folders! It can help you unlock files or folders that you cannot delete, copy, rename or move.
Unlock files / folders
Take ownership of files / folders
Remove files / folders
Move "locked" files / folders
Copy "locked" files / folders
Command line arguments
Automatic updates
Integration with Windows Explorer
6. EMCO UnLock IT (Windows)

Emco UnLock IT is a free program that helps you unlock files and folders and such delete undeletable files. It allows you to take control over the resources blocked by a system, applications and services. For a locked resource, the application detects a list of locking processes and allows you to unlock the resource by closing file and library handles or ending the locking processes. The application offers Windows Explorer integration which makes it possible to unlock folders and files with a single click, in the context menu.
Force Closing File Handles- The application unlocks a file by closing the file handles in this file. This unlocking approach can be used to unlock files that are open for editing. This approach is safe to use, in most cases, as it does not require closing a process that contains a lock.
Force Closing Library Handles - The application makes it possible to unlock the file DLL currently used by other processes. In this case, the open handles to the DLL are forced to close to release the locks. This approach also does not require closing the process that uses the DLL. In most cases it can continue to function properly.
Termination of Protected Processes - If the file cannot be unlocked by closing file and library handles, the application allows you to unlock it by killing the processes that lock it. Processes protected by termination can also be terminated successfully, so you can use the approach when you need to remove resources blocked by viruses.
7. ThisIsMyFile (Windows)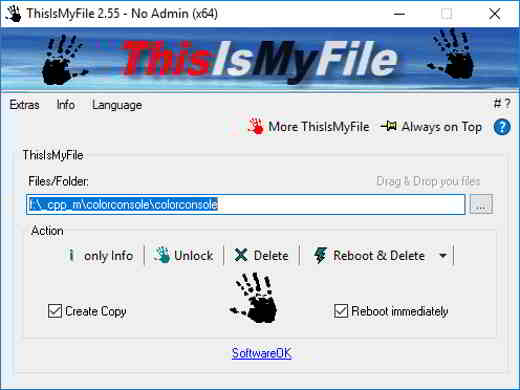 ThisIsMyFile is a quick and small tool to quickly unlock and delete locked or protected files on Windows. It is useful for those times that Windows locks a file and does it so that it cannot be removed. Sometimes a simple restart solves the problem, but this little application is able to erase undeletable files without having to resort to reboots of the operating system.
8. Wise Force Deleter (Windows)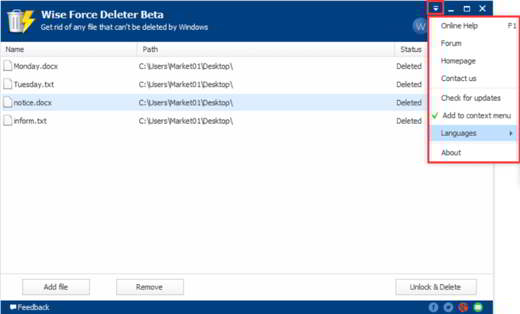 Wise Force Deleter is a freeware program that allows you to delete files on your Windows operating system (64 and 32 bit). It has been developed and tested to work flawlessly on Windows 10 and other Windows operating systems, from Windows XP and later. It doesn't matter what you own: a desktop or a laptop.
Wise Force Deleter is designed to solve all those "block of files"By terminating processes that use a file or by removing file access restrictions by preventing its deletion. With Wise Force Deleter, you can unlock and delete any file without frustration on Windows PC.
9. Free File Unlocker (Windows)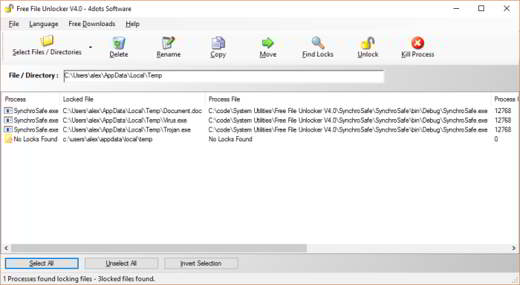 Free File Unlocker is a free program for deleting currently used, locked, non-erasable, busy files. Works with all 32-bit and 64-bit versions of Windows and Windows Server. Unlock files or folders and prevent error messages from appearing when trying to delete, move and rename them. It can also be used to block malware, which is difficult to remove, and to remove viruses and Trojans. It integrates seamlessly with Windows Explorer.
How to delete undeletable files on Mac
It was arranged di Mac OS X, the ideal solution for delete undeletable files is to use the Terminal, the equivalent of Command Prompt of Windows.
terminal, find it in the folder Other of Launchpad i OS X. To unlock an undeletable file, enter su terminal the command:
sudo rm -rf [path to the file to remove]
Before applying this command you can try these solutions:
Restart the Finder by clicking col right mouse button + alt, on its icon visible in the bar Dock, and select the item Reopen from the menu that appears and close all applications currently in use. To do this, just select the application and press on cmd + q or click with the right mouse button on the icon in the bar Dock and choose the item Logout give the menu that appears.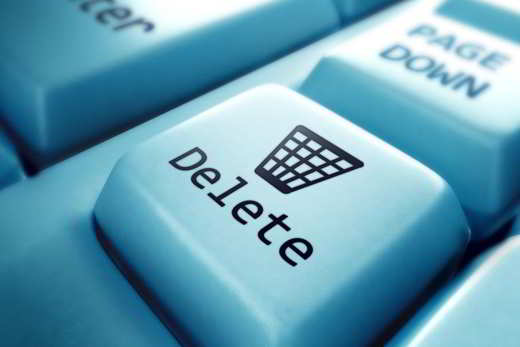 Programs to permanently delete files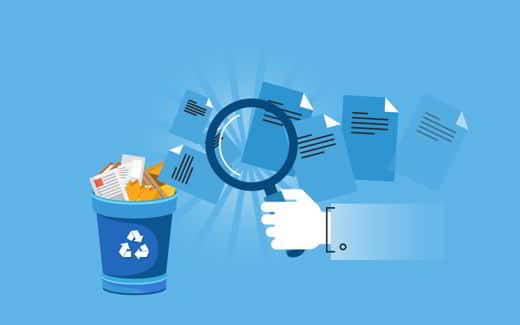 Programs for eliminating duplicate files