If you are a student or a worker I am sure that you will have had to deal with documents in PDF format. Reading such files, editing them by inserting annotations, evidences or other on Android could be a good solution for your work or study.
On the market there are many apps full of features and tools whose intent is to edit and manage a PDF document, among them PDFelement di Wondershare it is the one that convinces the most, especially as regards its productivity tools on mobile.
Index
What is PDFelement
How to configure PDFelement
How do you use PDFelement

Managing a PDF document
How to convert PDF to Word with PDFelement

Conclusions
What is PDFelement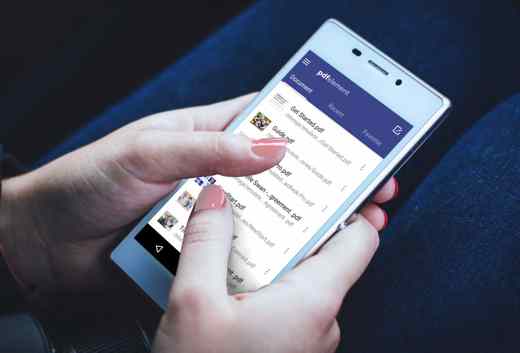 always Adobe Acrobat Pro is the go-to tool for PDF creation and editing, but version 7 of PDFelement (for Windows, macOS, Android and iOS) and its powerful editing and conversion tools are bringing to the fore a product capable of:
Create PDF files with form fields
Edit any PDF file
Convert PDF to all popular formats, such as Word and HTML
Annotate and print PDFs
Protect PDF documents
Digitally sign documents
Perform OCR on images with text
Batch processing of documents for conversion
But let's take a closer look at this complete toolset of the free PDFelement editor for mobile devices Android.
How to configure PDFelement

PDFelement for Android is compatible with Android phones and tablets and requires Android 4.1 or higher to work. To start using it, you must first connect to the official page of PDFelement for Android and iOS, and download and install the version for Android on your mobile device.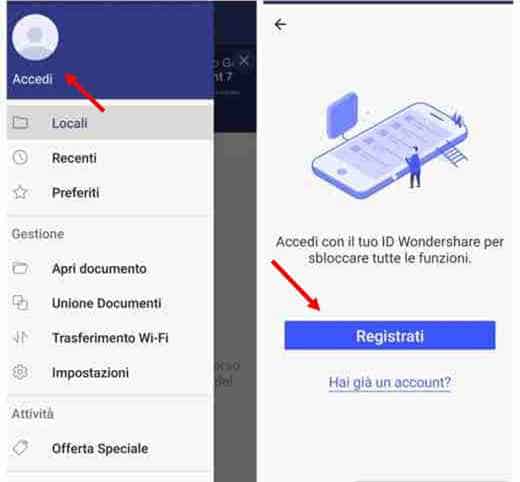 Once the download is complete, you will need to register a ID Wondershare to unlock all features and enjoy a significant discount on the desktop version. Launch the app and, from the screen Locations, press the top left of the menu (three horizontal lines) and then up Log in. On the next page click on Sign Up and create your Wondershare ID by entering Email address, Password, Nickname (optional), Your name e Last name. Finally press the button Create Account.
To ensure account security, an email will be sent to you with a verification code. Enter it in the required field and click on Verifica to complete the registration.
After this step, when starting the app it will ask you to specify an accessible path for storing the device. Press the button Configure and then Allow access to Downloads. This way PDFelement will have full access to the PDF files stored in this location.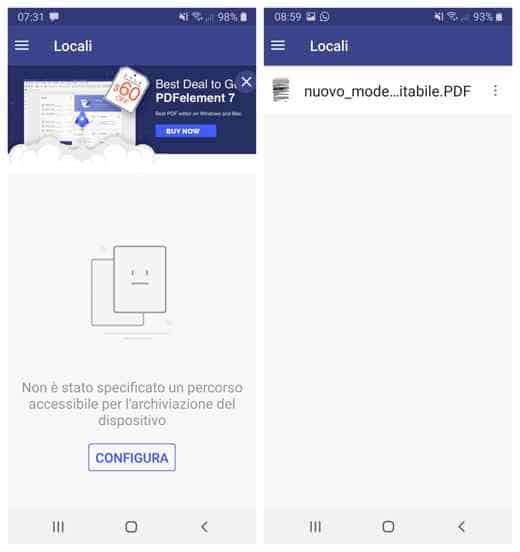 Once the path configuration has been created with the option Locations, you will be able to view the PDFs present in your local memory, those Recent and those Add to Wishlist.
How do you use PDFelement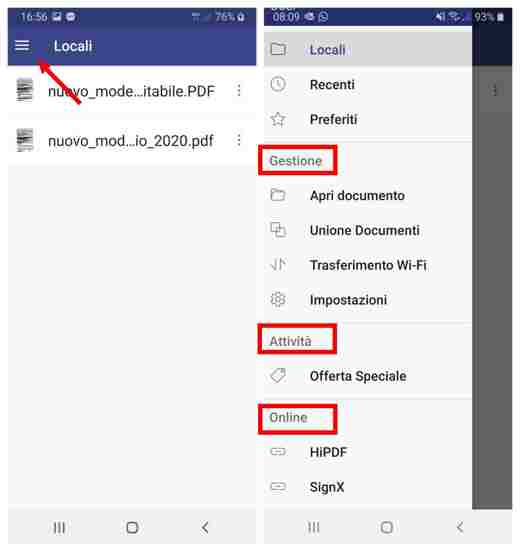 The PDFelement for Android menu consists of three sections:
Management: here you have the possibility to open a document, merge documents, take advantage of the Wi-Fi transfer, access the Settings.
Activities: contains special offers to have PDFelement 7 on Windows or Mac.
Online: presents the features HiPDF e SignX. With HiPDF access via browser to all the functions of conversion, modification, unlocking, protection and so on of PDF documents, with SignX you can apply your signature on all PDF documents for a trial period, or by purchasing the Premium version at a cost of $ 6.99 per month.
Managing a PDF document
PDFelement is a PDF editor which allows you to edit a document through a series of tools.
After clicking on Open Document, select the PDF document you want to open and that you have previously downloaded in the folder set on PDFelement and let's see how to operate.
This page consists of a series of commands. At the bottom right by clicking on the circular icon with pencil and Blue background, a toolbar with the tools will open: Highlighter, Edit text, Pencil, Form, Notes, Stamps, Handwritten signature.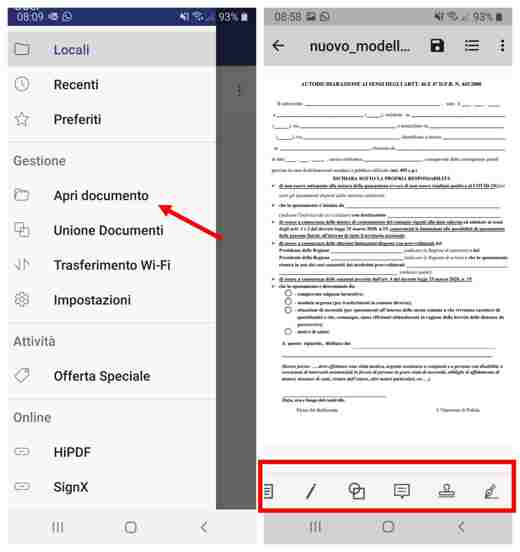 You will be able to work on the document with PDFelement as if you had a integrated editor where you will be able to add text, insert notes, delete parts of the document that do not interest you, insert stamps or sign using the touchscreen to apply your signature on the document.
Also very interesting are the tools to change the size and color of the text, select lines or paragraphs to move them, delete them, cut them, copy and paste them in the different parts of the document. You can also fill in pre-printed forms, draw freehand, add text boxes and still highlight or underline texts that you consider important.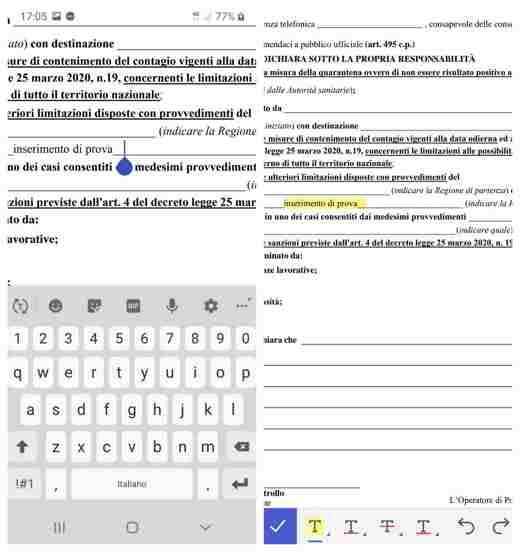 For each change you make, you will have to confirm by pressing the icon with check blu. Furthermore, after choosing which tool to use by pressing on it for a few seconds, you will be able to see other options or forms of use available to it.
At the top you can save the edited document by pressing onicon rescue, view the Catalog and press the icon with i three dots vertical to access the menu with the commands: Search, Save eat, Page (to have a view of the pages of the PDF document), Reading mode (Continuous Vertical, Single Vertical, Continuous Horizontal, Continuous Horizontal), Other (Favorites, Copy, Upload, Share).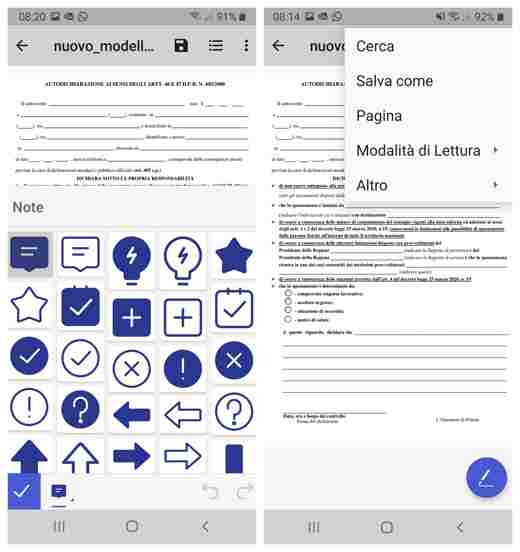 After closing the document by going to Locations and holding your finger on the created document will open a toolbar with a series of tools, including the ability to upload the PDF file to the cloud: Google Drive, DropBox, OneDrive e Box.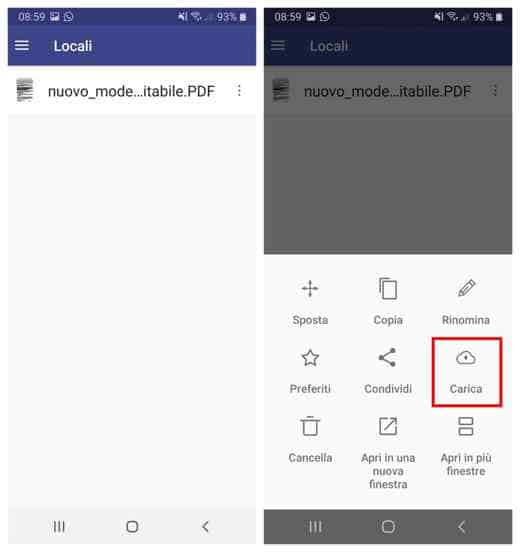 The PDFelement app also allows you to share the PDF document created with other well-known services: email, WhatsApp and so on, and to combine different files into a single PDF file through the function Merge Documents. To use this last function, just open it and click on the icon +, at the top right and then specify a document acquisition method between: Route licensed o System.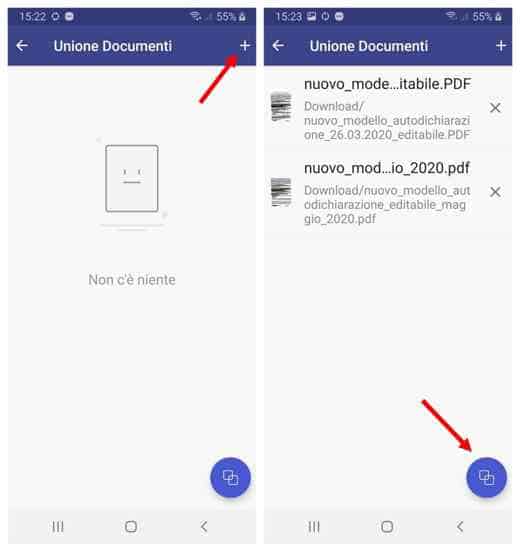 After choosing the documents to merge, click ontwo linked sheets icon, at the bottom right, and wait for the operation to complete.
The option for is also very convenient transfer documents via Wi-Fi on Windows and macOS operating systems.
As you can see PDFelement offers features that make the application versatile without necessarily having to resort to desktop PCs or other applications.
How to convert PDF to Word with PDFelement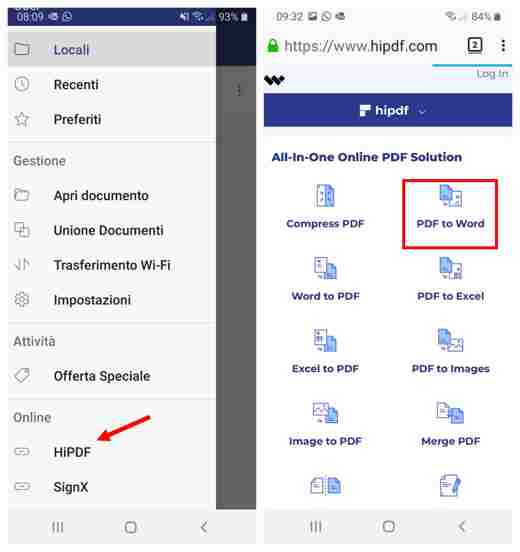 By accessing the section HiPDF you can take advantage of many other functions of converting, merging, cropping, unlocking and locking PDF files from the browser.
The main function is certainly the one concerning the conversion. PDFelement can convert PDFs to files of other formats, including Word, Excel, PowerPoint, HTML, images and so on.
To convert a PDF to Word, simply select on PDF To Word e premere sul pulsating Choose Fillet. Select the document in the folder where the PDF file resides (for example Download) and wait for the upload. Then press on Convert and finally on Download to have the Word file converted from PDF on your mobile device.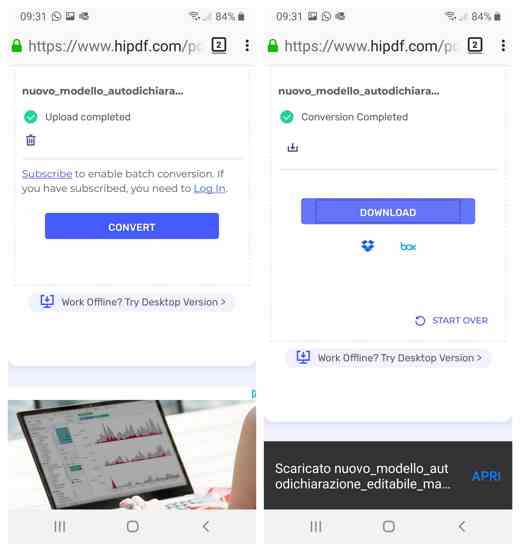 As you can see, it's all quick and easy.
The way of converting from PDF or other file formats to PDF (Word, Excel, PowerPoint, images) is always the same, as well as the one regarding cropping PDF pages, splitting PDF, setting a block and so on.
Conclusions
PDFelement is available for Android for free and without in-app purchases. All that is asked of you is permission to access certain information and the creation of a Wondershare ID. If you are an iOS user, the app is also downloadable for iPhone and iPad.
In addition to being intuitive and reliable, the PDFelement app for Android is easy to use and does not require great computer skills to use it. The interface is complete and has all the main options you need to do your professional job at best. That said, you will have nothing to envy to the desktop PC counterpart.