How to unsubscribe from newsletters or mailing lists automatically avoiding to visit all the sites you subscribed to, today it is possible, how? Through free services, valid alternatives to Unroll.me, the program to block spam and unsubscribe from unwanted newsletters.
Do you want to permanently unsubscribe from all the mailing lists, to which you are subscribed, that fill the inbox and say enough to the continuous daily and advertising emails? Do you want to get rid of unwanted emails and clean up all those spam emails that clog your email? Read on because in this article I will reveal you in a few simple steps how to unsubscribe from newsletters. All you have to do is take a few minutes of free time and pay attention to what I am about to tell you.
How to unsubscribe from the newsletters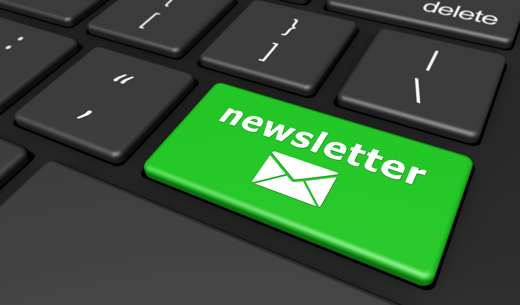 Subscribe to newsletters today it is a daily practice. Both because it is possible to receive updates on topics of interest and because it avoids constantly going to visit those sites to which you have subscribed to receive emails.
Unsubscribe from newsletters to which you have signed up, however, could become challenging if they are many. Also look for the subscription management page, log in and find the button to cancel the subscription and hope that everything goes well, it is not always as easy as it seems.
Cleanfox
After the Unroll Me online service (blocked for those living in Europe) left the scene, today you can take advantage of the free service Cleanfox. This is a program that will help you block all spam and therefore those sites that you have unintentionally subscribed to.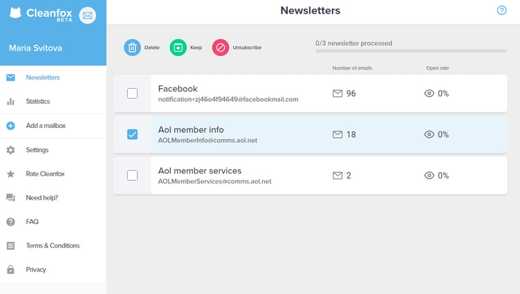 The first thing to do to unsubscribe from mailing lists or advertising emails, and subscribe to Cleanfox. Enter your email address on the registration page and click on Next and then I agree to confirm the privacy information.
If you have a Gmail account you will need to enable two-step verification. Activate it and immediately click on the button Next. Create a new password for the online service Cleanfox also enabling theIMAP. Then click on the button Done.
Enter the Cleanfox password and press the button Next. Then enter your details: name, surname, year of birth and complete the procedure.
Cleanfox will scan your inbox for a few minutes. At the conclusion presses on Clean my mailbox. The service will show you the newsletters detected and which you can select to delete them.
Then press on Delete and then Unsubscribe for the definitive deletion of junk mail.
Leave Me Alone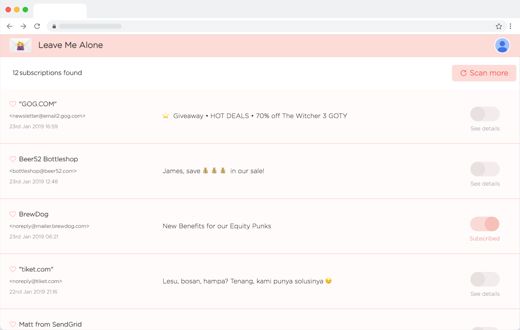 A good alternative to Cleanfox, is Leave Me Alone. It comes with a free trial period and offers different credit packs of different sizes to suit your needs.
Each unsubscribe from a newsletter has a cost. By connecting to the site you can find out how many cancellation credits you will need.
Other services to unsubscribe from the newsletters
CleanEmail: is an online service that identifies useless emails in your mailbox thanks to filters and rules that you can define.
Sanebox: cancel your subscriptions with one click. It acts effectively in cases of mailbox overload.
Gmail Unsubscribe: is a handy open source solution that can unsubscribe from mailing lists in Gmail.
My Blend- Clean up your mail quickly by unsubscribing all unwanted mailing list subscriptions.
Unlistr: it is an effective tool for eliminating all unwanted emails and guarantees control and cleanliness.
Other useful articles