Does your new PC have no DVD player? Do you need to read the contents of a DVD and don't want to spend any more money to buy an external DVD player? Don't worry, if you have an old computer with DVD player and a small home network at home then you can solve your problem e share CD and DVD player on the network following in a few simple steps what I am about to tell you.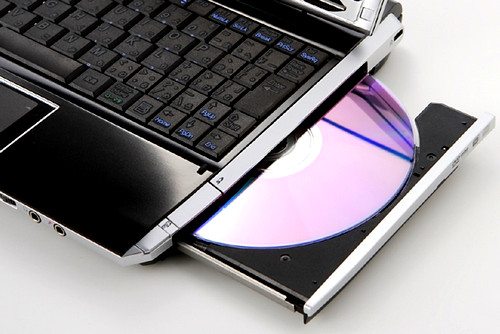 Let's say that by now the use of DVDs and CDs has significantly reduced over time due to the entry of USB sticks and SD cards. However, it may happen that you find some old DVDs that contain data to consult and do not know how to share CD and DVD player on the net with Windows 7 and 8.
The first step to follow for share DVD player on the network with Windows, is to open Explore Resources by right-clicking on the DVD drive. In the menu that appears, choose Properties> Sharing> Advanced Sharing and change the name proposed for sharing, for example with the letter of the Unit.
Click on OK and then Close. Now go to the bottom of the screen and right-click on thewireless network connection icon to choose Open Network and Sharing Center> Change advanced sharing settings.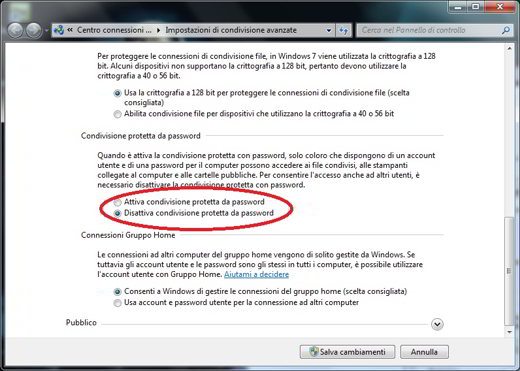 Here look for the section Password protected sharing and click on Disable password protected sharing, to avoid using passwords for access.
Now insert the media to be read into the newly shared drive.
Move to PC without DVD or CD player and boot Windows Explorer using the key combination Win + E. Click with the mouse on Network, find the name of the PC on which you shared the DVD, for example Soultricks; click on it and then on the shared drive to access its content. Or after opening Explore Resources right click on computer e scegli l'opzione Map Network Drive. In the window that appears, choose the shared DVD and assign it a drive letter. After doing so by giving theOK, you will have access to the shared DVD player in the Network.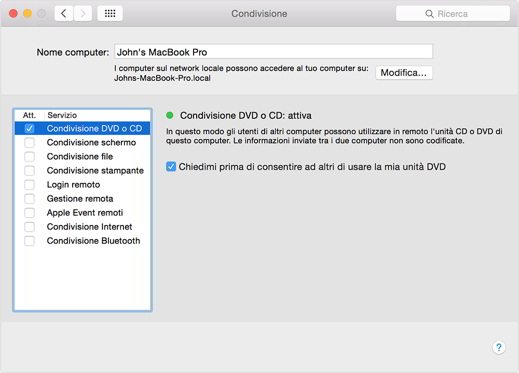 As for Apple computers, for share a CD and DVD player on the network between different Mac you can use Remote disk. This feature allows you to use, for example, the SuperDrive of an old iMac with a MacBook Air to install software. To activate it on the disk with the drive go to System Preferences> Sharing and check Sharing DVD or CD then inserting the disk you want to share.
Make sure the other Mac is connected to the same network as the first one, open a window of Finder and look for the Remote disk in the sidebar below devices. Click on it and then double-click on the computer you want to connect to.