Have you emptied your computer's recycle bin by mistake? Was a work document right in the trash and you don't know what to do anymore? I know now you are desperate because that document contained a month's work, but I want to reassure you because in this article I will reveal you how to recover deleted files for free and without necessarily turning to industry experts for hard disk data recovery.
With more and more frequent virus attacks that infect your computer by causing files to be deleted or encrypted, it becomes increasingly difficult to have software capable of recover deleted files for free. Also include damaged hard drives, system crashes or network errors, the situation becomes more and more complex.
Usually when the PC deletes a file it is never completely deleted. Its space will be reported as free by the operating system at least until the memory area in which the deleted file was present is re-allocated. When this area is written, the deleted file can no longer be recovered. The probability of total recovery of a file is basically linked to this concept.
That's why there are software like Disk Drill which allow data recovery for both Windows and MacOS.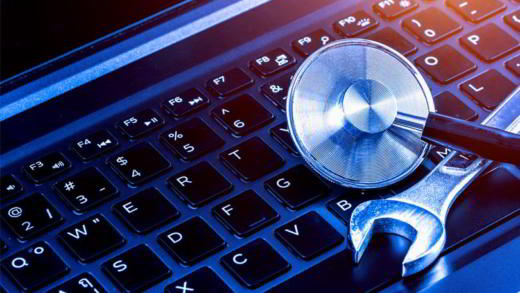 If you just emptied the trash, Disk Drill will recover files (documents, photos, videos, music files and more) that have not yet been overwritten on the hard disk, otherwise it will try to use different algorithms such as Quick e Deep scans, Lost Partition Search, Catalog Rebuild, to reconstruct those files you thought you had lost forever. With advanced filtering options and efficient recovery mechanisms, Disk Drill is a great user-friendly solution, making speed one of its most important elements.
The application, capable of restoring up to 200 types of files, is able to analyze any storage device, such as external hard drives, USB sticks, cameras, memory cards, and so on, and recover the contents even in case of illegibility. . The Deep Scan scanning method allows you to perform deep analysis to read even those unknown file system data.
If you have mistakenly deleted or formatted partitions, Disk Drill allows their recovery, taking into account that it also supports all major file systems and can recover deleted files from partitions FAT, NTFS, exFAT, HFS, HFS+, Ext2, Ext3 ed Ext4.
HOW DISK DRILL WORKS
Disk Drill 2 is free software that allows you to recover deleted files for free on Windows up to 100 MB. This version called Basic, also offers defective disk backup, unlimited recovery preview, protected data recovery and data protection Recovery Vault. The latter, if enabled, monitors for changes made to the file system configuration. In this way, every time you delete a file, Disk Drill will save invisible copies and in case you find that you have deleted a necessary file, it will allow you to recover it quickly.
To download Disk Drill for free connected to the official website and click on the button Scarica free. Download the file disk-drill-win.msi and at the end of the download click on it twice to start it. In the window that opens, press the Next button, select the destination folder and press Next again twice. At the end of the installation process the program will start.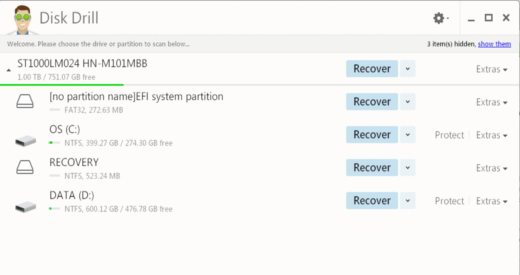 To recover hard disk data from the Disk Drill interface, you need to click on the button Recover to the desired drive (the one where you lost data) and wait for the scan to complete. Depending on the drive to be scanned, scan times may vary, so if the device you are going to scan is large, you may have to wait a few minutes.
The window listing the files that can be recovered with Disk Drill will be populated as the file system is scanned. Disk Drill during the scan process where it also determines any lost partitions, first does a quick scan, called Quick Scan, and immediately after a more thorough scan of the file system through the function Deep Scan.
During the scanning phase, the buttons at the top are clearly visible that allow you to pause the scan, cancel it or even save it to resume it later, even after days.
At the end of the operation the files recovered from Disk Drill will be visible in the interface and will be divided into different types: Pictures, Video, Documents, Audio , Archives , For weight (0 to 4 GB) and for date (up to 2 years) of files.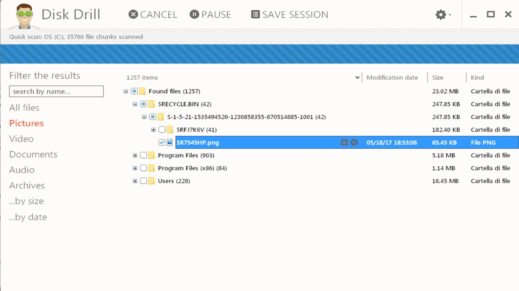 The data obtained can be filtered by type, size and modification date. Convenient is also the ability to preview the files found by clicking on the magnifying glass icon next to their names. The restoration of the selected files can be done by indicating the destination folder in Recover To e clicking on your button Recover, located at the top right.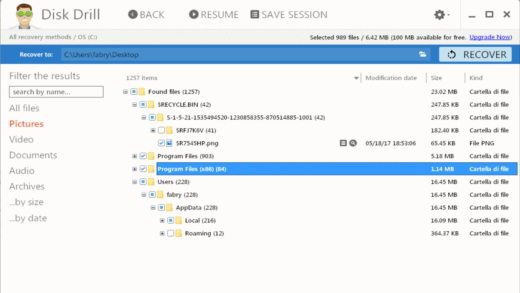 Very interesting is also the possibility to search for a file directly and quickly by typing its name in the box Search by name.
HOW TO RETRIEVE DELETED FILES QUICKLY WITH RECOVERY VAULT
I am sure that in the main window of the program you will have noticed not only the Recover button but also Protect. Clicking on it will activate the feature of constant monitoring of deleted files and changes made to the file system.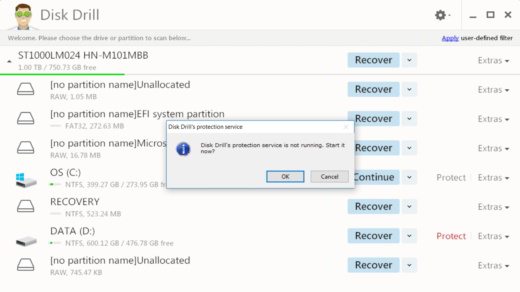 In the following screen, setting the Recovery Vault slider from OFF to ON will allow you to choose, in Choose folders to protect, which folders to protect (avoid adding files or folders used by the Windows operating system) and in Choose files to exclude from protection, which files to exclude from protection.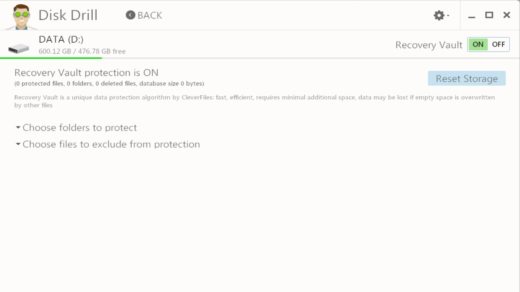 By default, the only files that the program will protect will be the user's personal files.
OTHER FUNCTIONS
Disk Drill also offers other cutting-edge features such as the ability to create files ISO / DMG (disk image file) by clicking on Extras in the main screen, specify damaged volumes, rebuild HFS + disk catalogs and, to avoid damage, mount read-only volumes.
PRICES AND AVAILABILITY
If you have already tried Disk Drill 2 free but you need to take advantage of its advanced features to recover over 100 MB, Disk Drill 2 it is also available in version For e Enterprise. The Pro version, valid for a single user, allows recovery without limitations and offers features such as, Quick & Deep Scan, search for a lost partition, all system files, and rebuilds more than 200 file formats. The purchase price is $ 89 with an additional $ 29 if you want to take advantage of the lifetime upgrade. There Enterprise version, valid for multiple users, allows recovery without limitation and offers all the Pro features, priority support and commercial license; the purchase price is $ 399 with a free lifetime upgrade.
Also, if you are a student, teacher or other representative of an educational institution, or need to recover data for a government agency or non-profit organization, you are entitled to a 20% discount on Disk Drill Pro or Enterprise. The same is true if you are the owner of a competitive data recovery software for Windows and want to exchange it for Disk Drill Pro or Enterprise, in this case you can upgrade to the same edition of Disk Drill with a 50% discount.
To conclude, if you do not fall into either of the two categories listed above, by purchasing Disk Drill for Windows immediately you will have the opportunity to get a coupon with a 50% discount for Disk Drill Mac Edition.
CONCLUSIONS
Useful, effective and easy to use application, Disk Drill 2 can safely recover Word documents, Excel, audio and video files, images and compressed archives with Windows and without any problem. Testing it for a few days we found its incredible power and versatility. The user interface is very simple and easy to use even for those who are unfamiliar with computers, who through a few buttons can quickly restore files that have been mistakenly deleted.
Of course, if you want to recover your files in the best possible way, I strongly advise you not to continue using the hard drive but to connect it to an external docking station and start the PC with another hard drive. Then connect the external drive with the lost data and scan its contents with Disk Drill.