Have you mistakenly deleted all the data of a lifetime: videos, photos, work documents and much more on your hard drive? Don't despair, I know it's a stressful time and you shouldn't have removed those files from your computer. Fortunately, the possibility still exists recover deleted files on your PC, thanks to some free software that can be downloaded online and that do not require considerable usage skills.
All you need to do is take some time and follow the advice and directions I am about to give you for recover hard disk data. It will not be a difficult operation, so read it step by step, and you will see that you will be able to restore your files or at least limit the damage.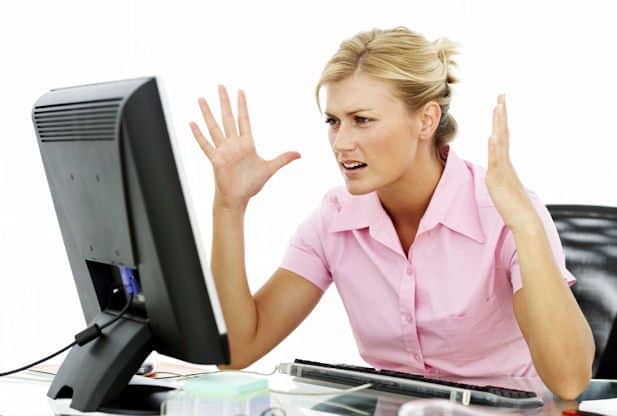 The best solution to understand how to recover deleted files on PC is called Data Recovery Wizard Free. It is a free application for Windows e Mac OS X produced by EASEUS, which allows you to restore files, videos, and many other types that have been mistakenly deleted or lost following formatting, viruses or PC crashes.
Connect to the program's website and click on free Download, depending on the operating system you are using. When the download is complete click twice on the file drw_free.exe and start the installation. In the window that opens, select the language and press OK. Then click on NEXT, To accept and in the window that opens, choose the installation folder and then click on Confirmation; immediately after click on Install e Complete, to finish the setup and start the program Data Recovery Wizard Free.
The software interface, with automatic wizard, immediately presents features of intuitiveness and ease of use. By choosing the option All files, or specific files such as videos, audios, documents, archives, emails you can recover up to 1024 MB for free (the full version Data Recovery Wizard Pro, at the special cost of 67,96, allows instead of recover deleted files on your PC without limits).
Additional 1GB will be granted to you by EASUS in exchange for sharing the software on social networks: Twitter, Google Plus and Facebook.
By pressing the link Next, you have the option to select a location, then a hard disk drive or external peripherals such as: external hard drives or USB sticks.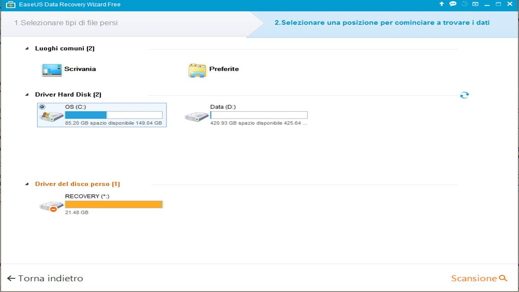 Press on Scan, at the bottom of the interface, and starts the process of data recovery. Data Recovery Wizard Free will perform a quick analysis, highlighting all those deleted or lost files that you can recover. It will be up to you to decide which one to restore. You can do this by choosing one file at a time or by restoring entire folders.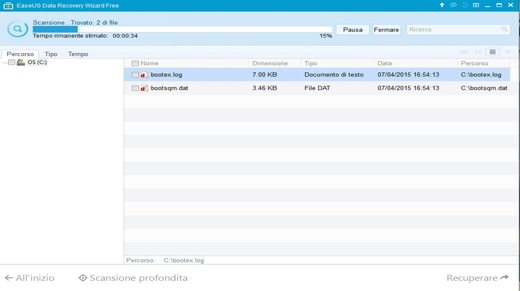 At the end of the scan, after choosing the data to recover, click on Recovery, to save the file or files in the folder of your choice.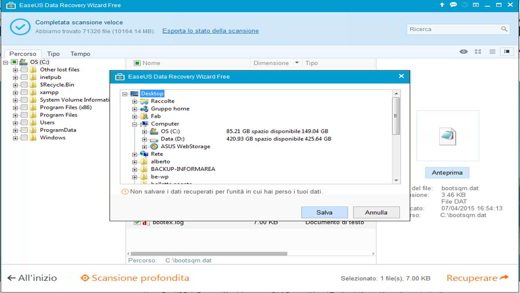 The EASEUS software also offers the option Depth scan in case some files were not found and thus recovered.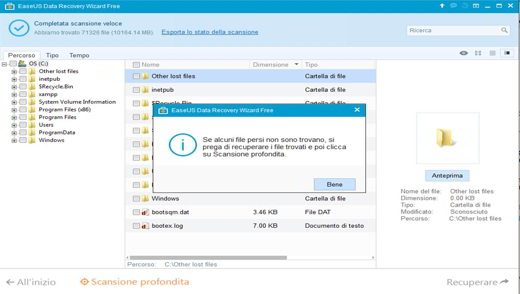 Data Recovery Wizard Free supports all the latest Microsoft operating systems, and allows the recovery of deleted files on PC on all common file systems such as FAT12, FAT16, FAT32, NTFS / NTFS5 and EXT2 / EXT3.
In short, if you are not looking for a professional solution, the ease of use and speed of execution of Data Recovery Wizard Free, are an excellent solution to help you recover, in just over 5 minutes, those data that you had by now considered lost.