Do you want to create a DVD video with all the footage you took with your smartphone during the holidays? Have you downloaded movies from the web and would like to burn them to a disc and then play them on a DVD player? Quiet, in this guide you will find out how to create a video DVD from MP4 files in a few simple steps through the use of a powerful and fast software.
How Wondershare DVD Creator works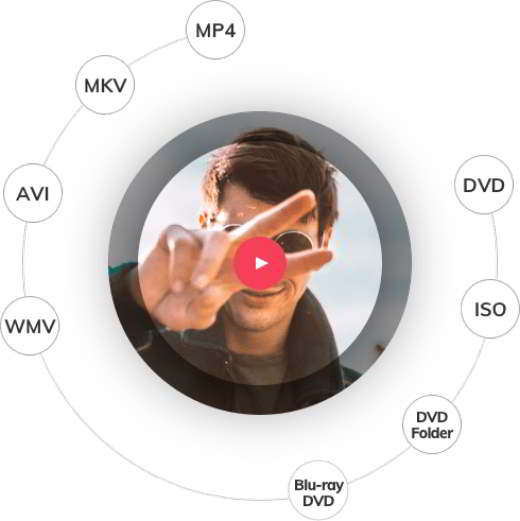 Generate DVD from MP4 video format with Wondershare DVD Creator it is simple and immediate. It is a program that can create your own movies or burn the movie collection from your computer or mobile device to DVD in 3 steps, which are:
Drag and drop videos to DVD Creator.
Customize DVD menu templates according to your needs.
Preview or burn videos or photos to DVD.
With DVD Creator you can:
Create videos in 150 formats to DVD, Blu-ray Disc, BD folder, ISO. such as MP4 to DVD or even AVI to DVD or MKV to DVD. Supports all popular disc types: DVD-9 and DVD-5; DVD-R / RW, DVD + R / RW, DVD + R DL, DVD-R DL, DVD-RAM; BD-R, BD-RE, BD-25, BD-50, BD-100.
Leverage a integrated editor with different features:

Size: delete unwanted parts of your videos.
Select: specify the size of the video to fit the screen or remove the black borders.
Gets better: adjust brightness, contrast, saturation of the video and apply special effects to improve vision.
Overlays: adds text and image overlay to the video to help you protect your copyright.
Subtitles: adds subtitles to DVD movies, including .srt, .ass and .ssa files.

Customize your DVD Menu browsing over 100 free static and dynamic templates with different themes and the ability to customize background music, images, and so on.
Create photo presentations adding background music or text and then burning them.
How to create a video DVD from MP4 files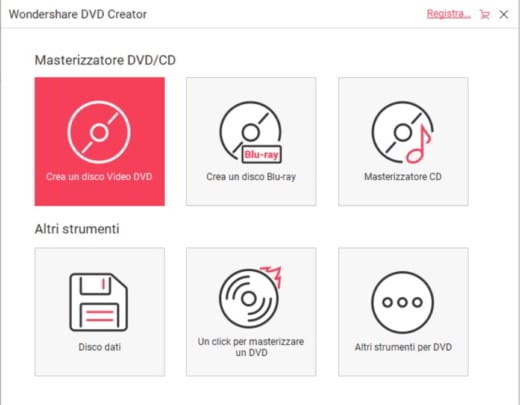 The best solution to convert MP4 to DVD is Wondershare DVD Creator. The program, available in both Mac and Windows versions, facilitates the conversion of video, image files to DVD and Blu-ray discs.
Thanks to an easy-to-use interface it allows you to create your DVD in just a few clicks with a very high speed.
The steps of creating a DVD video from MP4 files with DVD Creator are:
Download Wondershare DVD Creator on Windows (click on the button Free trial to download the .exe file).
Importing MP4 videos to the system where you want to burn the files.
Edit videos with the possibility of choosing a template for the menu.
Preview DVD and burn MP4 to DVD.
After downloading Wondershare DVD Creator. Launch the software and choose Create a DVD Video Disc to start creating a new DVD.
You will immediately see 4 tabs that make up this phase, and they are: Source, Menu, Preview e Burn.
The Source tab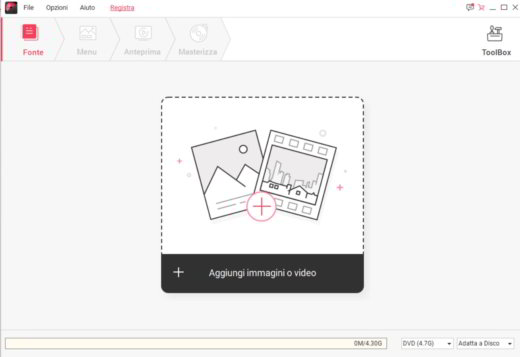 On the tab screen Source add the MP4 file to the video converter by clicking on the menu File> Open or, in the center of the page, on the icon + to add images or videos. Alternatively, you can also drag and drop the video file onto the screen.
Select the MP4 file to upload from your PC and press the button apri, to see all the uploaded MP4 videos visible on the left side of the tool. Click on the button Add Title to create chapters and use the arrows next to it to change the order of the videos.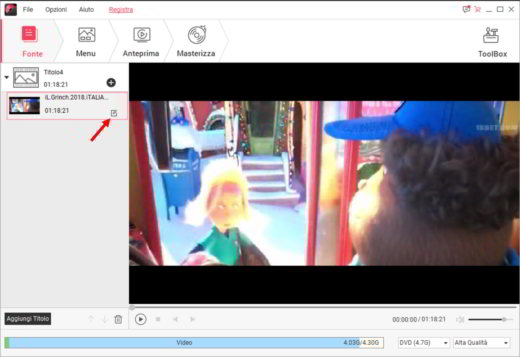 If you want to customize your video, on the thumbnail of the video you just imported, click on thepencil icon to open the Video Editor where you can rotate, crop, resize, add watermarks, set effects, edit subtitles and much more.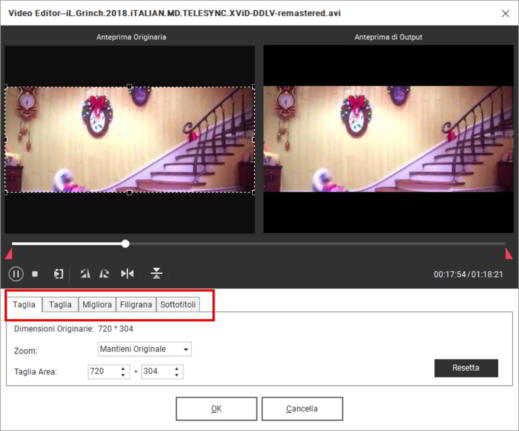 The Menu tab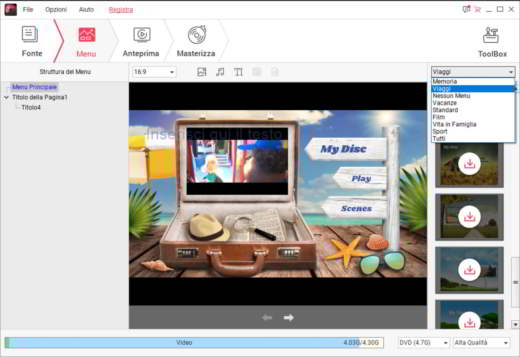 DVD Creator has 90 customizable dynamic and static styles. In this tab you can choose and customize the DVD template you want to create. Pressing on the card Menu, choose the design you prefer from the right column and press twice to apply it. For example, if it is an MP4 file on a trip you have made, select the item in the drop-down menu Travel then click on one of the proposed templates.
You can also click the icons above the template window to add background text, image or music. Also you can adjust the aspect ratio to 16:9 o 4:3 to make your DVD truly unique.
The Preview tab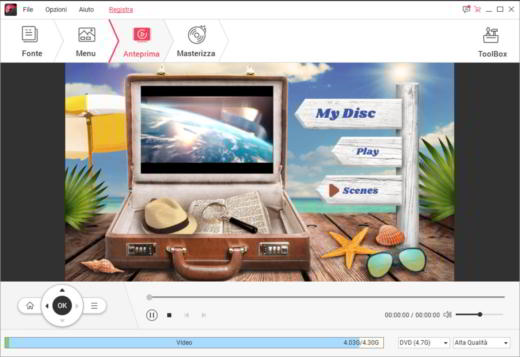 Now that you have everything set up with the card Preview you can see how your DVD will look. If something doesn't satisfy you, you can of course go back at any time and set up different solutions.
The Burn tab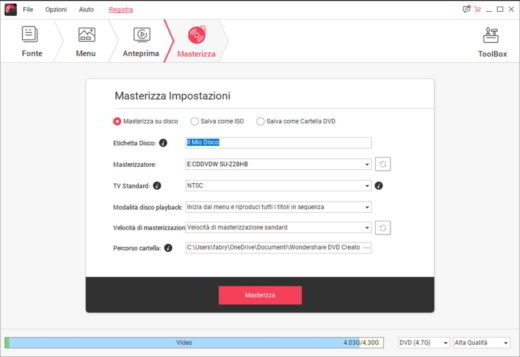 Insert a blank disc and choose the card Burn and tick the option Burn to Disc. Alternatively you can also save your work as ISO or save the whole as DVD folder.
Specify a title in Disc label, select your burner in the field Burner, set the TV type (PAL or NTCS) in the field Standard TV and finally customize the fields modality disco playback, Burning speed e Route folder (useful for the program to also save a copy of the video on your hard disk).
At the end click on the button Burn to convert MP4 video to DVD.
La scheda ToolBox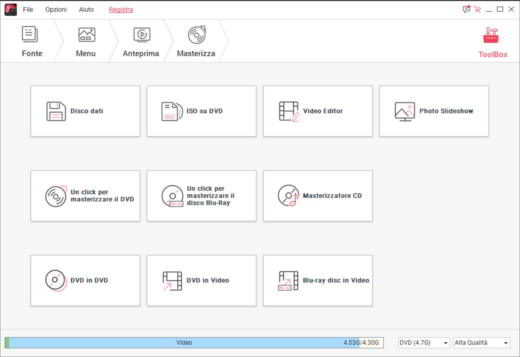 This section offers the possibility of having multiple burning modes. You can choose to burn DVD to DVD, create a Data Disc, switch ISO to DVD, burn a Blu-ray Disc or create a disc Slideshow.
Conclusions
Wondershare DVD Creator it's not just software that allows you to create a video DVD from MP4 files, but it also includes additional features to make it a complete program. You will be able to burn all kinds of video formats to DVD in a very short time and without any quality loss.
If you are satisfied with the free trial, I invite you to purchase it by choosing one of the many licenses. That Staff offers 1 year of membership for a single Windows PC for the price of 39,95 €. Lifetime license costs 55,95 €, while that Multi-User, which can be installed from 2 to 5 PCs, costs 124,95 €.