Many people choose to watch online videos / movies on portable devices. But there is still a huge amount of people today who have a large collection of DVDs and would like to watch them on portable devices.
Is there a way for them to watch those DVDs on a tablet, smartphone or PC? The answer is absolutely yes. You can find many DVD conversion software designed to convert DVD to other formats.
WonderFox DVD Ripper Pro is a great software to convert DVD to almost any digital video format. After converting the DVD, you can watch the output video on your portable devices.
Below is a simple and detailed guide on how to use DVD Ripper to convert DVDs.
1. Choose a DVD source
First, just run the DVD Ripper Pro, you will immediately notice that the software has a simple interface. You can choose between the three sources DVD. One of the DVD sources is a disc DVD. You can insert the DVD into the driver, then the software will automatically read the DVD from your PC. The other two buttons are for ISO Image e DVD Folder
After the source has been entered into your computer, WonderFox DVD Ripper Pro it will read the source at high speed and the main movie will be selected automatically.
2. Choose the output format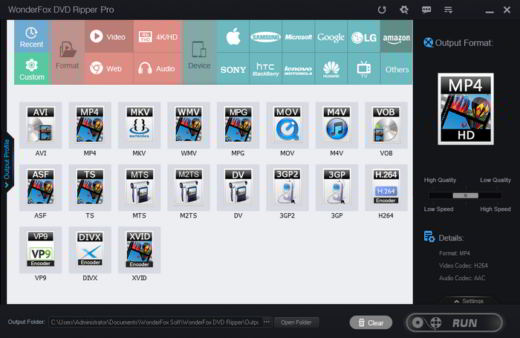 WonderFox DVD Ripper Pro comes with various video / audio formats. It is capable of converting DVD to numerous file formats - you can convert DVD to MKV, AVI, MP4, MPG, WMV, MOV, MTS, M4V, ASF, FLV, VOB, 3GP and so on.
You can extract the audio from the original DVD and convert it to other audio formats, such as: MP3, ALAC, FLAC, WMA and many others.
It is very easy to manage the software. Just click on the right corner and find the various video / audio formats. Now you can feel free to choose the format you want. After selecting the format, click on "RUN"To convert the DVD to another format with a fast speed. Also, the conversion process will not cause any quality loss to the output video.
3. Edit the video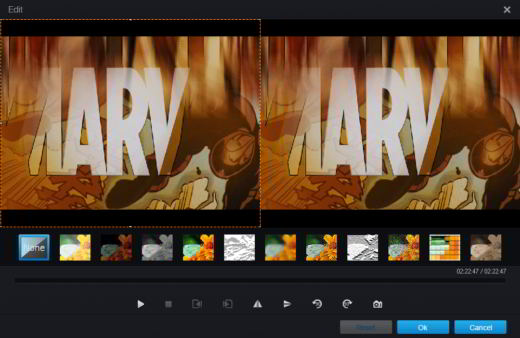 DVD Ripper Pro it also supports editing functions. You can edit the video with the many special effects it comes with, such as: crip, clipping, rotation and so on.
DVD Ripper Pro allows users to customize video settings. The settings. such as aspect ratio, resolution, frame rate, bit rate and more, can be changed as and when you want.
Furthermore, you can also add or remove the subtitles from the original DVD. Just click the "T", And add your own subtitles.