Best free backup software. A selection of backup programs to be installed on a Windows or Mac operating system.
The need for backups is never enough today. The main cause is the risk of losing all those files such as photos, music and important documents due to a computer crash or crash.
There are several backup options available. This could include copying files and folders to a rewritable CD or DVD, USB drive or external hard drive, or even using a cloud hosted solution so you can access and sync files and folders between different devices.
Using a single or multiple backup methods may be safer but at the same time make backup management difficult over time. That's why i comes into play here best free backup software, as they allow you to more easily manage and automate your backup tasks, allowing you to run everything and save in the background while you are working.
Index
Best free backup software

1. Uranium Backup Free (Windows)
2. EaseUS All Backup Free (Windows)
3. Cobian Backup (Windows)
4. Paragon Backup & Recovery (Windows)
5. FBackup (Windows)
6. Google Backup and Sync (Windows, macOS, Android, iOS)
7. iBackup (macOS)

Other PC backup programs
Best free backup software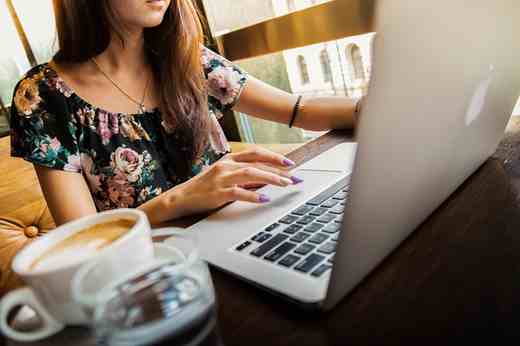 There are many paid backup software available on the internet, but there are also free versions available so you can find out which software works best for you. That is why I have prepared a detailed list for you hoping you can find the best free backup software.
It is recommended that you keep a local copy of your files, so check out the best NAS devices as well.
1. Uranium Backup Free (Windows)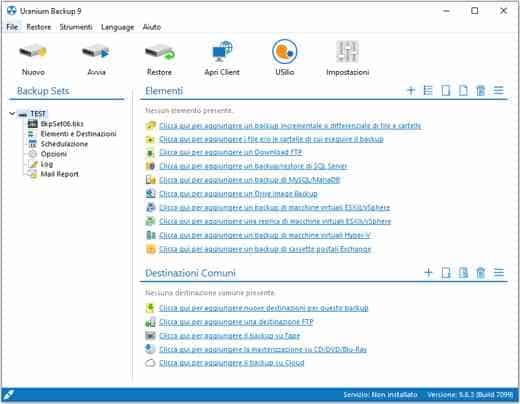 Uranium Backup is a versatile and powerful program for backing up all your personal and business data.
For
Speed ​​and ease of use
Maximum Versatility
Excellent quality / price ratio for paid versions
La free version allows the execution of backup files and folders (full, incremental and differential backup) and starting from only 80 € (license that can be used for life!) you can perform backups of disk images (Drive Image), mailboxes, virtual machines and databases on any data storage device, such as: hard disk, NAS, FTP server, Cloud and much more.
Despite being a Windows compatible free backup software, with Uranium Backup you can configure an unlimited number of backups and copy the data to different destinations. You can compress files and folders with Zip64 compression, encrypt data and thanks to the scheduling system you can schedule backups at any time. It is also possible to take advantage of a complete reporting system, configure the sending of emails to communicate the outcome of the backup operation performed and interact with ainterfaccia user-friendly which will allow you to perform full, incremental and differential backups in seconds.
Uranium Backup is a freeware also available in commercial edition: there are 6 different plans that vary according to specific backup needs. A single, non-expiring license is required for each installation, which includes free updates and technical support.
If you are interested in using it professionally, you will also benefit from 21 days of trial area of version Gold.
2. EaseUS All Backup Free (Windows)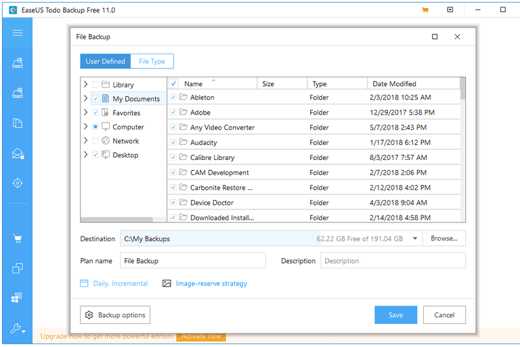 A perfect balance between automatic protection and manual control.
For
Full range of various backup types
Simple programming
Automatic "intelligent" backups
EaseUS Todo Backup Free has many features: backing up individual files and folders, entire drives or partitions, or creating a full system backup. There is also a 'smart' option that automatically backs up files to commonly used locations with the option to use cloud storage as well.
You can then schedule the backups, running them as incremental, differential or full backups as required.
The free version of EaseUS Todo Backup Free it has almost all the features of the edition Premium. You can run backups on a schedule, but lose the chance to have these backups triggered by various events. The same is true for command line based backups, PC to PC data transfer and Outlook backup; they are all nice to have, but their absence is unlikely to be a break.
Some features are exclusive to the premium version, but EasusUS Todo Backup Free is more than enough for almost any need.
You will be offered a free browser download Chromium it's a Bing search plugin during installation. If you'd rather skip these, uncheck both boxes before clicking "NEXT"
3. Cobian Backup (Windows)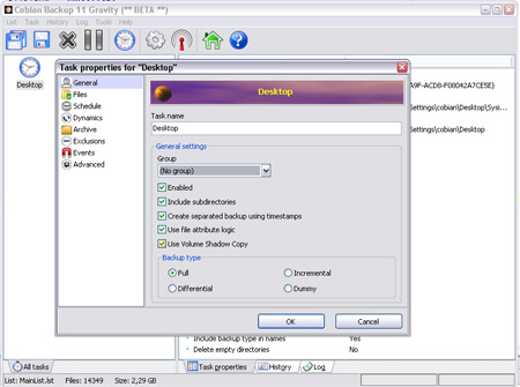 Advanced backup software for experienced and secure users.
For
Highly customizable
Optional encryption
Cons
Cobian backup is the most advanced free backup tool out there and may be overkill for new users, but if you know exactly how to set up your backups, this program will give you the flexibility you are looking for.
Cobian Backup can be used to create and schedule multiple backup jobs and files can be stored on another local hard drive, located on the network or on an FTP server. It can back up to multiple locations at the same time, so you can run multiple backup jobs simultaneously.
Backups can be compressed to save space and there is optional encryption to protect your data.
Unfortunately when it comes to restoring data Cobian Backup has some gaps: there is no simple wizard to automate the process, so you are left on your own to copy the files into place, decrypt and decompress it before starting.
However, for backing up your most valuable data, this is one of the best backup software In circulation.
4. Paragon Backup & Recovery (Windows)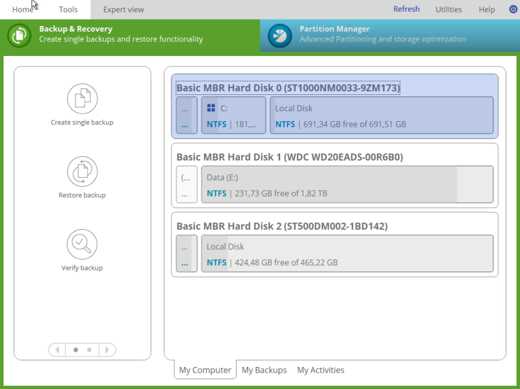 The easiest way to back up your system - just set everything up.
For
Wizard-based installation
Highly customizable
Advanced data recovery
Paragon Backup & Recovery does a great job of making the backup process as easy as possible, holding your hand with a highly guided interface. You can choose to back up your entire computer, partitions, select files and folders by location or by file type.
Once done, just set up a schedule and choose the type of backup you want to create and then let the software take care of everything itself.
That's not all - as the last part of its name suggests, this isn't just a backup tool. Paragon Backup & Recovery is a whole data management toolkit and also includes an impressive one CD or USB based recovery system which can be used to recover data even if you are unable to restart Windows.
It is all very impressive. After signing up for a free account, this free backup software is truly a surprise.
5. FBackup (Windows)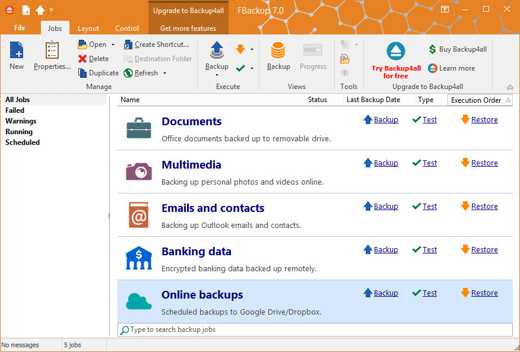 FBackup offers advanced and intuitive modes, with simple programming.
For
Automatic programming
Wizard-based installation
Cons
No encryption
No incremental backups
FBackup it has an unattractive interface (entirely Office inspired), but don't let that put you off. Underneath the ugly design is a capable backup utility, although it is not supported by features like those of Paragon Backup & Recovery.
It still offers the choice of a wizard and advanced modes. Whatever your choice, it's easy to create backup jobs that include files and folders, which can be saved to local or network drives, removable disks, or Google Drive. Schedule is available to keep backups up-to-date.
There are ads within the program that suggest you switch to Backupxnumxall for a fee, but thankfully they're relatively discreet, so you can easily ignore them if you're not interested.
The free version of the program lacks some features, but these may not matter at all, depending on your needs. If you can live without encryption, FTP backup, email notifications, and incremental backups, Fbackup is worth checking out.
6. Google Backup and Sync (Windows, macOS, Android, iOS)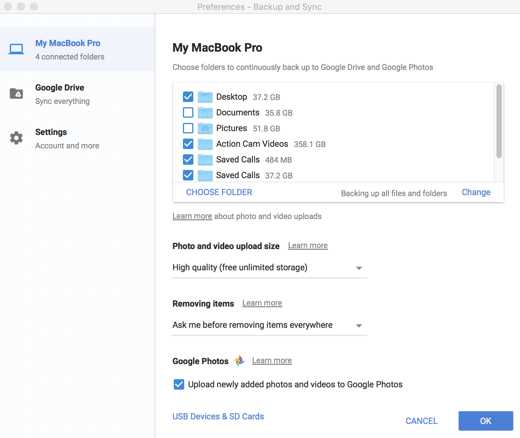 A new backup tool that uses Google Drive to store your files.
For
Cons
Not suitable for full system backups
Limited customization options
Google Backup and Sync it is by no means a traditional backup tool, it is cloud based and the backup will depend on the amount of Google online storage available.
You are offered limited space for free, and there are various ways to increase it without having to split the money, although in reality Google Backup and Sync is useful for backing up individual directories and not the entire system.
For backing up key files and folders, however, it's great. You can easily specify any number of folders to monitor with instant edit, add or delete capabilities.
As the name suggests, the software can be used to sync files between computers and are accessible from any device via the Google Drive web app. An excellent, if slightly limited, backup tool.
7. iBackup (macOS)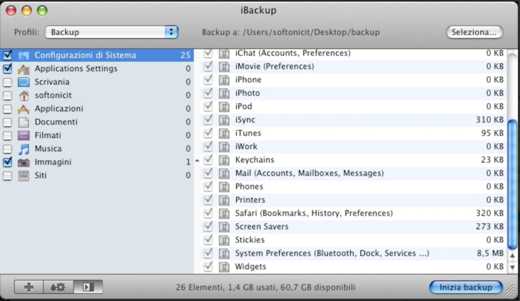 If you have a Mac the best backup program is iBackup. It is a free software where you can define backup profiles and save application preferences, schedule automatic saves and much more. You can also make backups to any network resource.
To use it you must first connect to the official website of the program and download it to your Mac. At the end, open the package .dmg and trascina l'icona di iBackup on the folder Applications, through the window of the Finder. Then go to the folder Applications and right-click on the app icon to click on apri (for 2 times) to start iBackup.
Choose the items you want to back up by selecting them and press the Start Backup button. To restore, select the appropriate wording at the top and choose the files to restore. To go to the Settings, press on the menu bar and choose Pref Renze to adjust all backup settings.
Best programs to clone hard drive
Other PC backup programs
Other software to consider when it comes to PC backup are i backup your cloud software.
By installing these programs on your PC or other device, your files will be backed up to the cloud. This means that not only will you have an easy way to recover them if your PC goes down, but you can also make sure your backup is continuous, as well as accessible from any device through synchronization.
Microsoft OneDrive is the backup storage and synchronization option bundled with Microsoft Office 365. There is a free version that offers up to 10GB of storage, and there are some paid options to upgrade, but this can prove costly in the long run if you want to back up and sync a sizable hard drive.
dropbox is another cloud server that allows you to save important documents online but with the same limitations as above. It can only be valuable if you intend to save a limited number of essential files, such as work, study, creative projects and the like.