Recover iPhone data without backup or recover broken iPhone data with iMyFone D-Back iPhone Data Recovery is the ideal solution to restore messages, photos and videos, contacts, call history, notes, reminders and attachments. The software is compatible with both Windows and Mac and works on any iOS device.
Have you accidentally deleted an important file and never made any backups? Is your iPhone damaged or has a broken screen and you don't know how to do it? Then I recommend you to read this tutorial because, even if you are not a computer expert, you will be able to recover lost or deleted iPhone data even if it is WhatsApp, Skype or other data.

Index
What is iMyFone D-Back
How iMyFone D-Back works

Restore from iOS device (recover iPhone data without backup)
Recover data from iTunes Backup
Recover data from iCloud Backup
Fix the iOS system

Conclusions
What is iMyFone D-Back
iMyFone D-Back easily and securely recover all those files that have been deleted or lost from your device (iPhone, iPad and iPod touch). This tool supports all iOS 7 and later mobile devices through three simple steps: connect the iOS device to the PC, scan and view, select and retrieve data.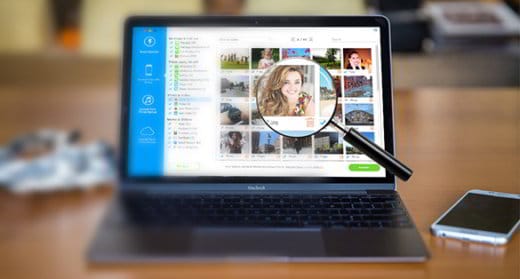 Recovering iPhone data with iMyFone D-Back is easy and usually performed for several reasons: screen break, accidental file deletion, Jailbreak, system crash, forgotten password, lost or stolen device, virus attack, reset of Factory Default Settings.
With iMyFone D-Back you can recover broken iPhone data, if it is still in a condition to turn on, through four recovery modes with high chances of success:
Restore from iOS device
Restore from iTunes Backup
Restore from iCloud Backup
Fix the iOS system
Fully compatible with iOS 11, iPhone 8/8 Plus and iPhone X, iMyFone D-Back also works on Windows 7/8/10 and Mac OS X 10.7 or later. The ideal configuration includes a 1 GHz processor, 1 GB of RAM and at least 200 MB of hard disk space.
How iMyFone D-Back works
To recover iPhone data without backup with iMyFone D-Back the first step is to download the program on your computer. To do this, go to the official page of the tool and click on the button Competition to enjoy a free trial period of iMyFone D-Back.
Click on the button Save with name and download the file iMyfone-data-recovery-for-iphone_setup.exe. Once the download is complete, start the program installation package, check the item Accept the terms of the license agreement and press pulsating NEXT. Then press NEXT twice in a row and then on Install. At the end press on end and start the program.
When iMyFone D-Back starts it will remind you that you are using a trial version of the tool and that you will not be able to restore files and take advantage of the required updates unless you purchase it. By pressing the button Buy Now immediately you will have the possibility to choose between one:
Basic license for use on a single device with lifetime updates, priced at € 45,99 instead of € 65,99.
Family license to be used by 2 to 5 devices with lifetime updates, priced at 65,99 euros instead of 95,99 euros.
Multi-User License to be used from 6 to 10 devices up to even 20 devices. The updates are for life and the price is 85,99 euros, instead of 125,99 euros.
Business license for unlimited use on any device with lifetime updates priced at € 265,99 instead of € 495,99.
The iMyFone D-Back Home, as already mentioned, is divided into several sections: Smart Recovery, Restore from iOS device, Restore from iTunes backup, Restore from iCloud backup e Fix the iOS system (a fix for Apple operating system anomalies).
Restore from iOS device (recover iPhone data without backup)

It is the ideal solution to recover deleted iPhone or iPad data without making any iTunes or iCloud backup. From the first option Smart Recovery you can choose the way you lost the data.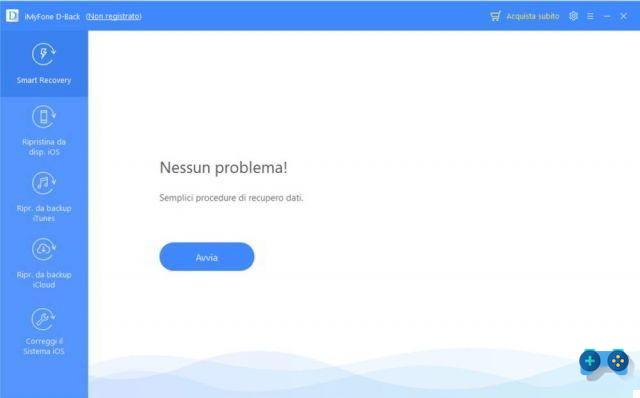 Press the button starts to start the recovery process and indicate how you lost your data by selecting, from the five options on the screen, Lost or deleted data by accident and immediately after press starts to go to the section Restore data from iOS device.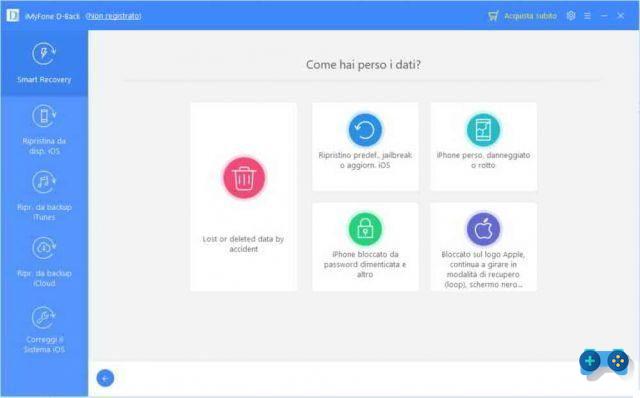 Connect your iOS mobile device to PC or Mac to recover locked iPhone data, and after identification press on Next.
Check the box Select all I awarded her Scan.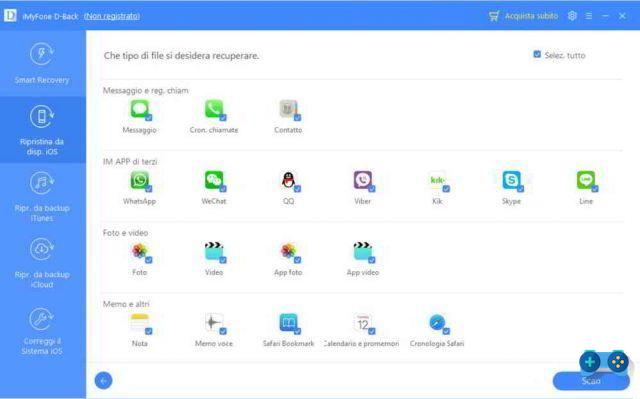 iMyFone D-Back it will start scanning your iDevice to try to recover deleted iphone contacts, photos, notes, videos and so on.

The analysis of the iOS mobile device may take several minutes, the speed of recovery times will depend on the number of files on the device itself and how many files you are trying to restore.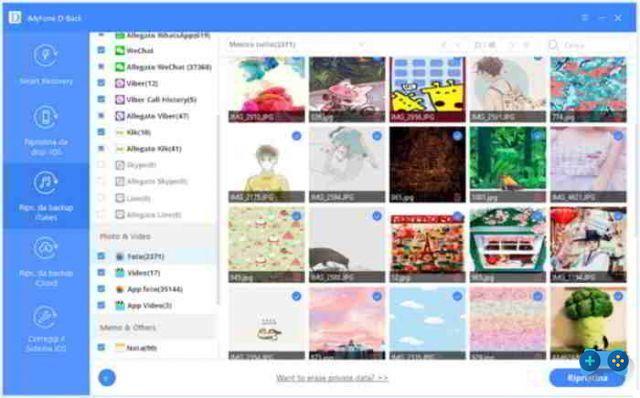 At the end, all you have to do is select the files found and press the button Restore to get them back on your iPhone, iPad or iPad Touch.
Recover data from iTunes Backup
The ways to restore your iTunes backups are almost similar to the steps described above. To recover iPhone data from iTunes backup, after pressing on the option Restore da iTunes backup, award-winning starts and select which backup you want to recover and then click on Search.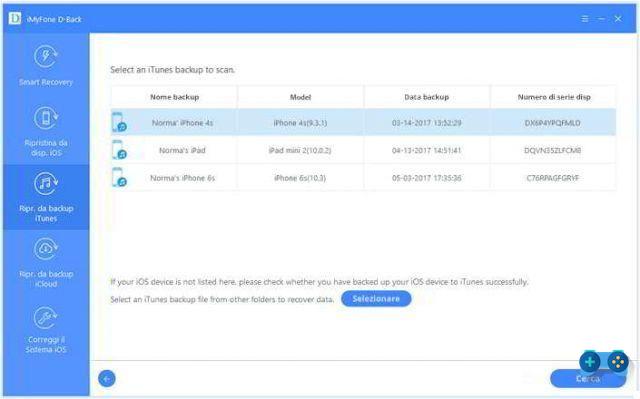 Once found, the files will be shown on the interface to be recovered. Choose the folder where you want to save the restored data and click the button Restore.
Recover data from iCloud Backup
To recover iPhone data from iCloud backup, tap on the option Restore from iCloud Backup and press pulsating starts. On the following screen type yours Apple ID e Password to access the iCloud and select the backup to be recovered by pressing the button Search.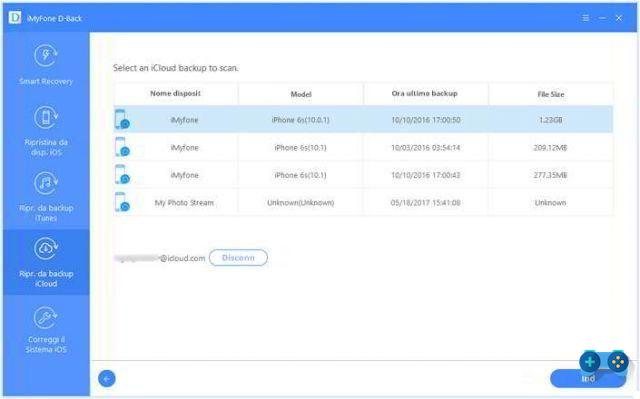 When finished to recover the data, select it and press the button Restore.
Fix the iOS system
The latest option of iMyFone D-Back is Fix the iOS system. This is a useful fix to resolve any anomalies found in the use of the iOS operating system. It is divided into three sections: Standard Mode, Exit Recovery fashion, Advanced Mode.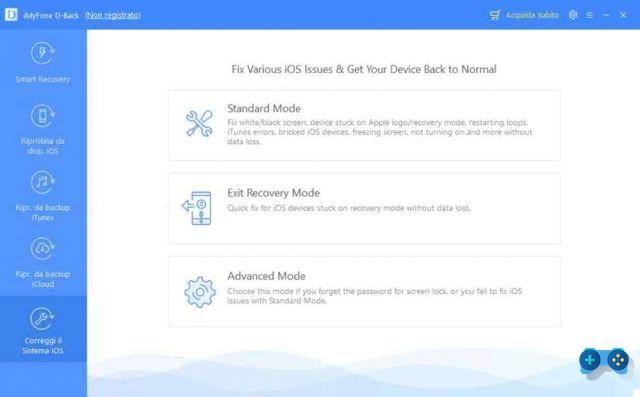 La Standard mode it is used to solve those problems related to the blocking of the device with black / white screen, fixed screen, boot loop, device not turning on, screen flickering and so on. These problems are solved through the option Recovery fashion while the Advanced Mode it is nothing but the alternative to the Starndard one.
Using the option Fix the iOS system, you can take advantage of updating your mobile device to the latest iOS version, unlocking the device in case of blocking and restoring to default mode in case of jailbreak of the Apple device.
Conclusions
iMyFone D-Back iPhone Data Recovery is one of the best deleted or lost iPhone data recovery software. Simple to use and with a user-friendly graphic interface, this tool will help you easily solve all problems with iOS without having to go to the Apple Store and without necessarily having to contact an authorized staff.
In addition to showing you the recovery data, iMyFone D-Back does not overwrite the data and, most importantly, it offers a simple and intuitive process to restore deleted data from your iOS device.