Il online trading it is an activity that allows you to potentially obtain profits by speculating on the financial markets. In simple terms, it consists of buying and selling financial assets with the aim of generating profits.
Today, thanks to the modern applications made available by brokers, it is possible to invest in the financial markets even from smartphones. The advantages are manifold. First of all, it is no longer necessary to be in the office in front of a PC but, on the contrary, you can invest from any place where you have an internet connection.
Modern apps, in fact, allow you to check the graphs in real time of the various assets and to enter purchase and / or sale orders. In short, a small revolution that has led to a historic transition by transforming financial investments from the exclusive prerogative of large banking groups to something potentially accessible to all.
This, of course, does not mean that trading is simple and safe. On the contrary, it is something extremely complex that requires adequate preparation in order to be managed effectively. So let's forget about easy earnings, in the world of finance everything is complex and a strong preparation is needed. Having said that, let's try to understand something more on the subject.
Online trading for beginners: opinions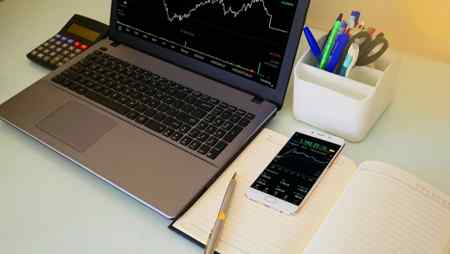 Is online trading therefore an activity suitable for beginners or not? Opinions on this matter are many and conflicting.
The big misinformation which revolves around the topic leads many people to start with online trading in a superficial and hasty way. The consequence is that most of these inevitably end up losing their money in a short time, pointing to trading as a fraud.
A principle that must be clear before starting to invest is that there are no ways to make easy money, so online trading will not make users become millionaires overnight but, at the same time, it is not a scam activity either.
Everything is in the hands of the trader and it depends on him.
Undoubtedly, it is good to adopt some precautions to avoid running into scams or carrying out operations that involve an inevitable loss of money.
Among these, we mention the most important:
Relying on authorized and regulated platforms
Choose free platforms or platforms with minimal commission costs
Be wary of those who promise stellar earnings without the slightest effort
Study, train and invest consciously and responsibly.
The simplest way to trade the markets with trading is to rely on CFD online trading platforms, especially for those who are just starting out and want to start invest a small amount of capital. CFD stands for contract for difference, which is a contract entered into with a broker in which the purchase and sale price of a specific asset is exchanged.
The gain is given by the change in prices: i CFD they are derivative instruments and their value is determined by the performance of the underlying asset (a security, an index, commodities, etc.).
As a result, it is possible to earn even if its value is downward.
For those approaching trading for the first time, it is advisable to choose a platform that provides the user with a free demo account. Starting to invest in demo mode, in fact, is the best way to test trading techniques and strategies without running the risk of losing real money.
The online trading platforms
When you are a beginner, you need to carefully choose the platform on which to operate. One of the fundamental requirements that it must have is to be strictly authorized and regulated, in order to protect the customer from every point of view.
Investing with unregulated brokers can carry the risk of scams and therefore of losing your money. Consequently, it is essential to move towards trading platforms that have the necessary licenses issued by control bodies such as CONSOB or CySEC.
We see below the three platforms most loved by users for their reliability and for the services they offer.
eToro
eToro is considered to be one of the best social trading platforms in the world. The social trading is a support service that the broker offers to users, to help them take their first steps in trading.
As in a sort of social network, users have the opportunity to create communities, to interact with each other to exchange advice and, for the benefit of beginners, to copy automatically the moves of the most experienced traders.
This technique not only allows you to guarantee certain earnings but helps novice traders to understand which are the best strategies to adopt. In addition, the platform can also be used in demo mode free and unlimited.
Investous
Investous is one of the preferred platforms by users, especially beginners, for two reasons: it is complete, simple and intuitive and offers its users free trading courses and effective, downloadable on your PC in ebook format. Furthermore, after registration, all users are entitled to an initial telephone consultation with industry experts.
The flagship of this broker is the trading notification service: users regularly receive notifications about the market situation to guide them in choosing the investments to make.
Iq Option
Like the previous two, Iq Option is also an authorized and regulated platform, completely free, without commissions and with the possibility of using an unlimited demo account.
An additional advantage is that the minimum deposit required to start trading is only 10 euros, so even the most fearful can trade without the risk of losing a lot of money.