How to recover stolen Gmail account. If you don't remember your Gmail password or someone has changed it, you should read this article as I will help you restore a hacked Gmail account.
The first step in recovering the hacked Gmail password, and then restoring your stolen account, is by filling out this form from a location where you have already logged into your Gmail account in the past.
You will be guided through the process of recovering your Google account in Gmail, Google Drive, Google Play. All you have to do is report the problem and follow the instructions to receive assistance and log back into your account.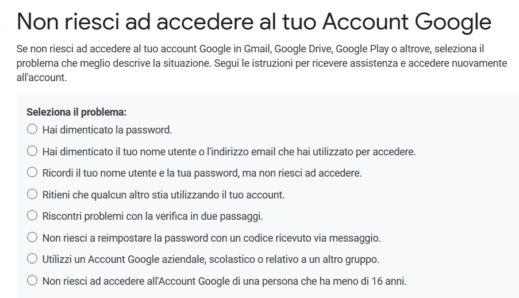 But let's see in the next lines how to perform the Gmail account recovery.
Index
How to recover Gmail account
To access the support page e recover stolen Gmail account you must log in to this page and enter the email address that was hacked. If you don't remember it, you can also type in the telephone number connected to it and indicated when registering your account.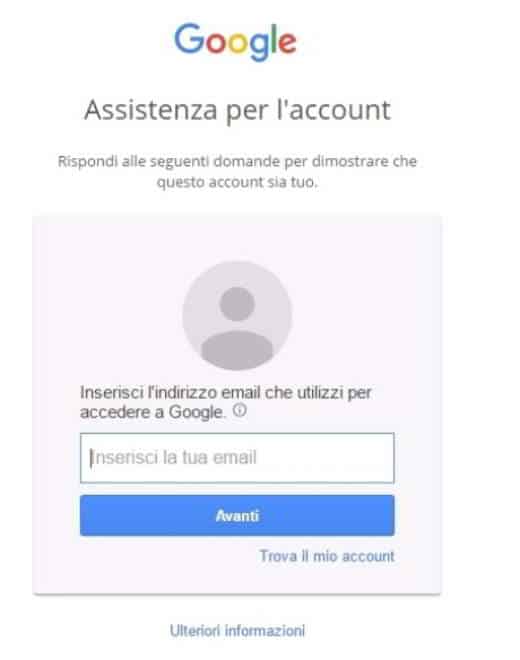 The option is also visible on the same screen Find my account, where you can enter a alternative email address o alternative phone number. In the first case you can recover stolen Gmail account and restore access. If, on the other hand, you have chosen the option Enter your recovery phone number to recover stolen Gmail account, Google will send you the verification code via text message or a phone call.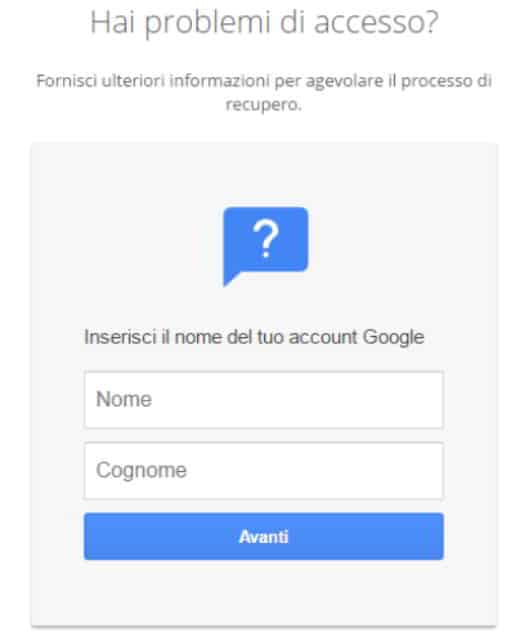 Continue typing name e last name of your Google account and press on NEXT to continue. If the data entered is correct you will receive a code at the alternative email address you indicated. Press the button Send and enter the code that was sent to you.
By doing this you will be able to reset Gmail account.
Read also: How to find a person's email address
Forgotten or stolen Gmail password
In case you remember your email address, after typing it in the appropriate field and pressing on NEXT you will be asked to enter the last password you remember in order to continue with the procedure. Press the button again NEXT.
If you don't remember your password or you have received your Gmail password stolen, press the link Try another question, you will need to enter the month and year of creation of the Google account.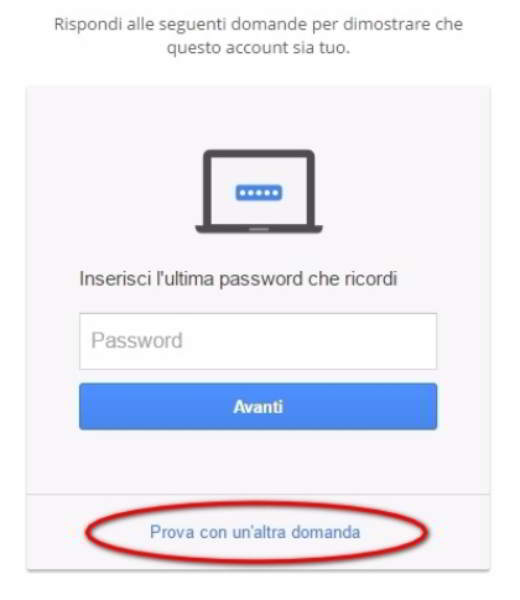 In case you don't remember, you can press the button for the last time Try another question and enter an alternate email address where Google will send you a verification code to recover Gmail account.
The completion of the Gmail password recovery process will take place via this verification code that will be sent to you via SMS or to a valid email address.
Press on NEXT for Gmail account recovery. You may have to wait 3 to 5 business days to get the link that will allow you to start the password reset process for your Google account.
How to recover Gmail passwords with Chrome
If you use Chrome and the Gmail password is stored at each access, you can retrieve it by typing this address: chrome :/ / settings / passwords. To show the password of each service you have to press on the eye symbol and type the password to access the PC.
For other browsers such as Mozilla Firefox and Internet Explorer, I recommend that you read these articles:
How to recover passwords saved on Chrome, Firefox and Internet Explorer
How to read a password with asterisks
Warning: if the information given is not sufficient to recover your Gmail account you will be forced to create a new account. You will not be able to use the old Gmail username but you will need to create a new username.
To conclude, I invite you to read this Google guide on how to protect a compromised account.
Other useful articles