Have you mistakenly deleted important files that you had on your computer? Do not despair it can happen, following the instructions in this guide I am sure that at the end you will know like recover deleted partition data simply by resorting to Stellar Phoenix Windows Data Recovery a special data recovery program available for Windows 10, 8.1, 7, Vista and XP.
Stellar Phoenix Windows Data Recovery, in the Home v7 version, offers advanced recovery of a deleted or damaged partition, recovery of inaccessible data with file recovery on any media, photo recovery, email recovery (PST, DB, EDB, NSF, etc. ), compression of recovered files to save disk space and support for more than 200 file types.
Index
How to recover deleted partition data with Stellar Phoenix Windows Data Recovery

Come funziona Stellar Phoenix Windows Data Recovery
How to recover deleted data
How to recover deleted partition data

Conclusions
How to recover deleted partition data with Stellar Phoenix Windows Data Recovery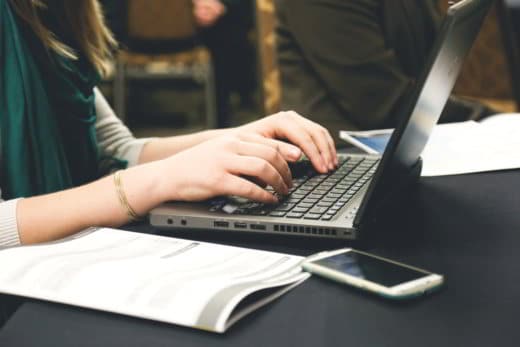 Its characteristics are different:
Disk recovery: the software works on all Windows platforms and recovers lost files, images, and documents. Recovery occurs on NTFS, FAT and ExFAT disks and volumes.
Deleted Partition Data Recovery: if you have suffered a virus attack or anything else that has damaged your hard drive, the software allows you to search for lost partitions on your hard drive and recover data in no time.
Recovery from optical media: Recovering data from damaged CD-ROMs, CD-RWs, DVDs, and DVD-RWs is a breeze. You can restore any data from damaged tracks and sectors without causing damage to the media.
Recovery of photos, videos and other multimedia files- Supports a wide range of image, audio and video file types and recovers them even if they have been lost or damaged on any internal or external storage tool.
Raw recovery: the data search is based on the file signatures and the software offers the Raw Recovery feature to give you a second chance of recovery after a first failed attempt.
Email client data file recovery: if you use Outlook, with this tool you can scan your hard disk and recover data files without changing their format. You can then restore and import the recovered files into the respective email clients.
Come funziona Stellar Phoenix Windows Data Recovery

recover deleted files you can download the trial version of Stellar Phoenix Windows Data Recovery by connecting to the official website and clicking on the green button Free Download.
Save the file StellarPhoenixWindowsDataRecovery-Home.exe on your PC and when the download is complete, start the program installation package. Follow the instructions provided by the software to complete the installation.
La versione Home v7 di Stellar Phoenix Data Recovery, compared to the previous one, has significant advantages: a completely new easy and intuitive interface, the automatic passage from quick to deep scanning with the possibility of recovering many types of files, a faster scanning engine, support for improved preview, recovery of deleted files in a special section, recovery of specific multimedia files, recovery from devices of any type (external HD, Micro SD, SD cards, etc.), recovery from CD, DVD, Blu-Ray, recovery of E- mail (PST files), recovery of partitions lost due to corruption or accidental formatting, adding new file types and creating disk image files.
How to recover deleted data

Before explaining how to recover deleted data with Stellar Phoenix Data Recovery remember that to get better results, you don't have to use your PC. If you continue to use it, it is possible that lost files will be overwritten by new files.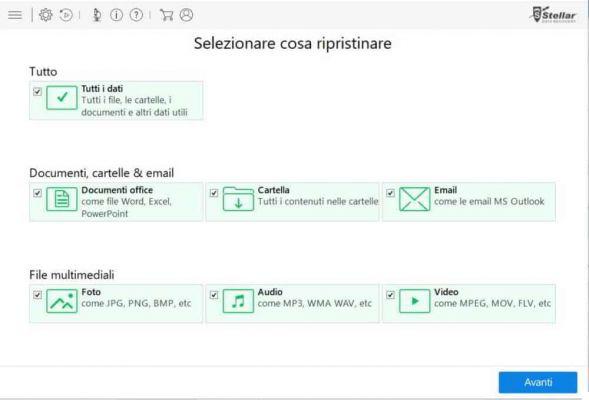 starts Stellar Phoenix Windows Data Recovery and from the home screen choose what you want to restore by ticking one or more items:
All data (files, folders, documents, etc.)
Documents, Folders & Emails (Office Documents, Folder, Email)
Multimedia files (Photo, Audio, Video)
After making your choice, click on the button NEXT and, in the following screen, specify what you want to scan (C drive, partition, external memory, and so on). At the bottom left you can immediately decide whether to carry out a thorough scan by activating the option Scan profondo (Deep Scan). Press the button Scan to start the file recovery process.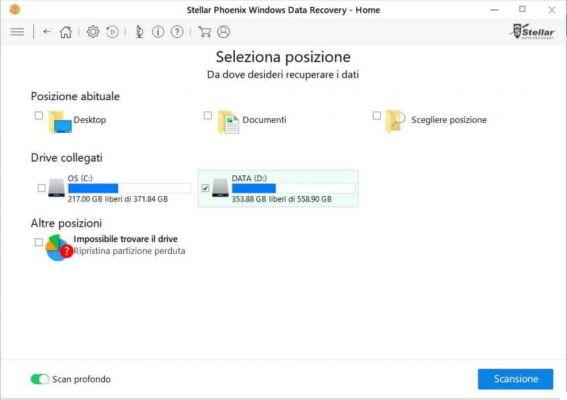 The software will immediately highlight: it state scan, the files found, time passed and remaining time. Keep in mind that the duration will depend on the number of files that the program will have to recover, so arm yourself with patience.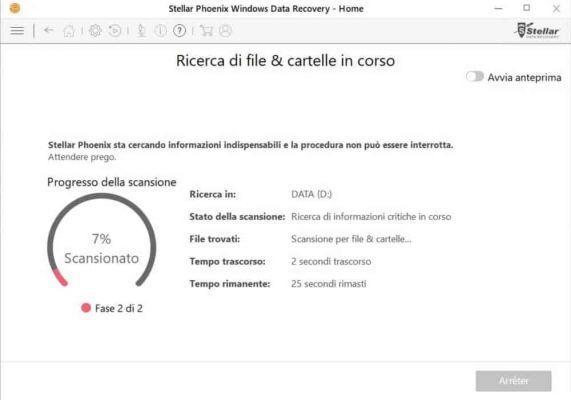 While scanning, you can also press up on the option starts preview to see in real time what Stellar Phoenix Windows Data Recovery is recovering.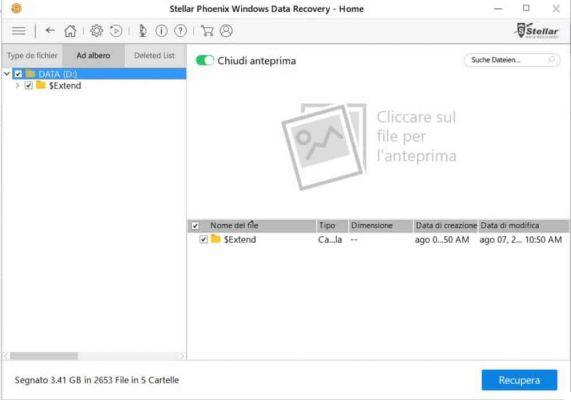 The preview is available in three view types: File type, viewing tree ed Erasable file list.
La File Type view lists files and folders by file type: video, audio, document, and so on.
La Tree view lists files and folders in hierarchical order.
La deleted file list view list all deleted files and folders. You can turn it on or off during the scan. Activating it may slow down scan times.
You can stop the process at any time by pressing the button Stop and resume scanning how and when you want, by pressing the button Resume recovery (Play icon), at the top of the toolbar.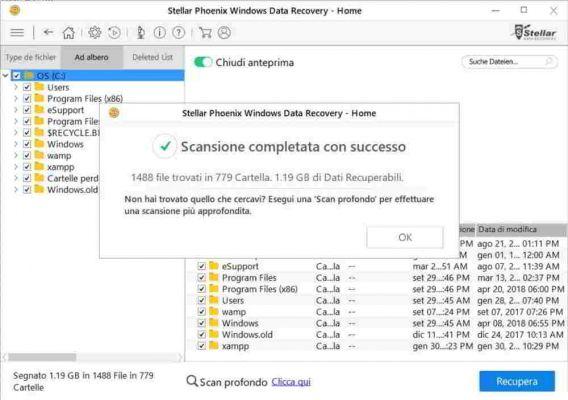 At the end you can not only preview the files to be recovered, but decide, by selecting them, which ones you want to recover. Press the button Recover and the game is done.
How to recover deleted partition data
To recover hard drive partition data with Stellar Phoenix Windows Data Recovery you must first start the program. On the home screen Select what to restore choose what you want to recover, for example All data, and press on NEXT.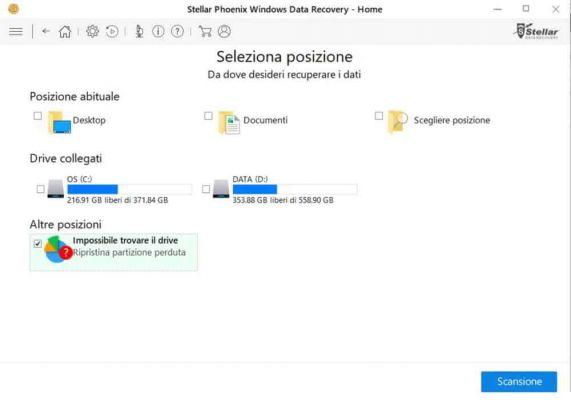 On the screen of Position selection check the item The drive cannot be foundIn section Other locations. Click on the button Scan.
On the screen Select hard drive to search for a lost partition, choose the hard drive you want to scan for deleted partitions and click on Research.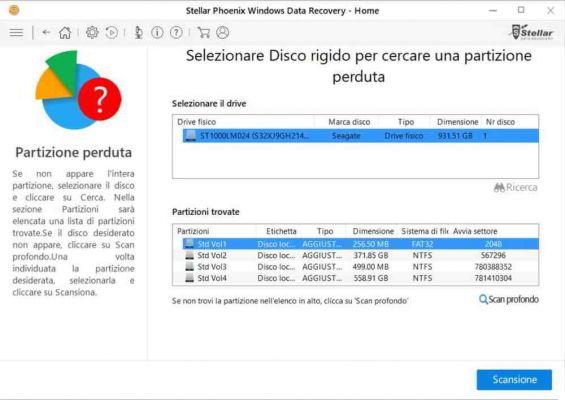 In the Partitions found a list of previously lost identified partitions will be listed. In case the disc does not appear, press on Deep Scan and wait for the recovery to complete.
Conclusions

Stellar Phoenix Windows Data Recovery it is an easy to use software and does not require great computer skills. Its use allows full recovery of files and folders with full scanning of selected files and disks. You can scan multiple file systems such as NTFS, FAT16, FAT32 and ExFAT simultaneously and create an image of the hard drive or its partitions to preserve Windows data.
I recommend to try Stellar Phoenix Windows Data Recovery both for its high performance and for its user friendly interface. The price of 59,99 € of the software guarantees immediate delivery via email with link to download the product and activation key.