How to recover deleted files on PC or Mac with iSkysoft Data Recovery, an All-in-one software with different options for restoring data from PC or external devices.
Are you looking for a PC or Mac software capable of recovering damaged or lost files? iSkysoft Data Recovery it will help you recover everything you need regardless of accidental or intentional deletion, formatting of the device, system error or virus infection.
Index
Cos'è iSkysoft Data Recovery
How to recover deleted files on PC or Mac with iSkysoft Data Recovery

Deleted File Recovery
Recycle Bin Recovery
Formatted Disk Recovery
Lost Partition Recovery
External Device Recovery
Data Recovery Attacked by Viruses
System Crash Data Recovery
All-round recovery

Conclusions
Cos'è iSkysoft Data Recovery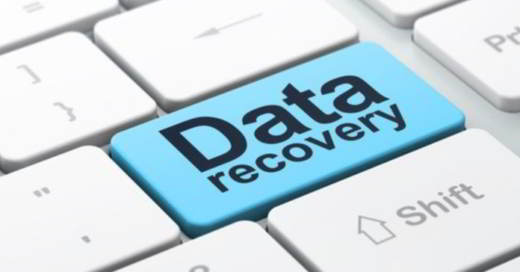 iSkysoft Data Recovery is a Data Recovery software, capable of recovering all types of data from any storage device with NTFS, FAT16, FAT32 or exFAT file system. Supports full recovery of 100 types of documents, such as Office documents, Adobe PDFs, web pages, InDesign documents and so on; but it also acts on images, (PNG, JPG, GIF, RAW, etc.), videos (AVI, MOV, MP4, etc.), emails (Outlook, Gmail, Foxmail or Thunderbird, etc.), audio and compressed files (Zip , RAR, etc.).
Warning: when looking for your lost files, do not try to repair the partition, or write new data to the partition / disk. All these actions could overwrite the lost files you need and make them unrecoverable.
How to recover deleted files on PC or Mac with iSkysoft Data Recovery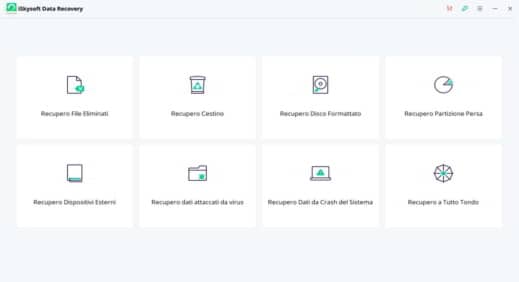 After downloading and running the trial version of iSkysoft Data Recovery on the official website, you will immediately notice how easy, intuitive and immediate it is.
The home screen comes with several features that offer a whole host of file recovery possibilities. The options available are:
Deleted File Recovery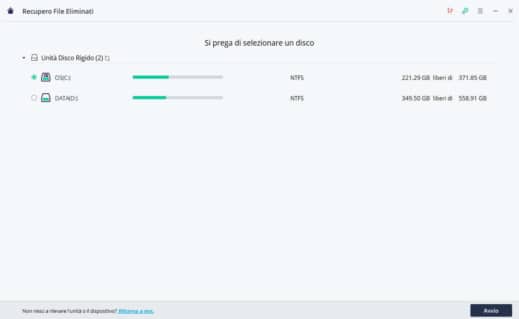 It is the first option that allows the recovery of files accidentally deleted, due to power problems or sudden power cuts. Recovery can take place on a wide variety of devices. Select the Hard Disk Drive and press the button Start and wait for the scan to complete to view and retrieve the data.
Recycle Bin Recovery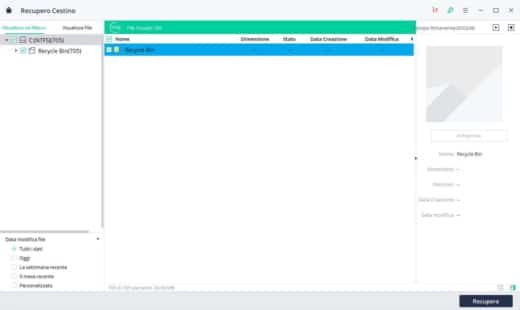 Recover all those files that were present in the recycle bin before it was emptied. This option requires some patience. Once iSkysoft Data Recover has completed scanning for deleted files (wait for the program to complete finding all files), select the files you want to restore and press the button Recover.
Formatted Disk Recovery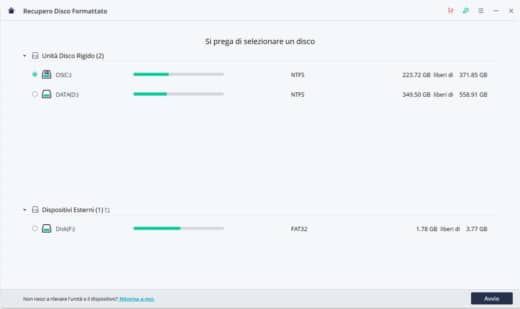 Recover all files that have been deleted from a previous hard drive format. If you have lost important files on your hard drive, iSkysoft Data Recovery will recover them. Supported disks are HDD, SSD, RAID, SAN, DAS, USB Drive, Micro SD Card with NTFS, FAT16, FAT32 or exFAT file system. Select the unit of interest and press the button Start.
Lost Partition Recovery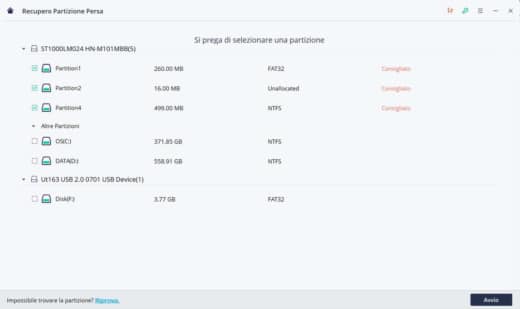 Recover data on a deleted, hidden, lost or resized partition. Select the desired and recommended partition, and press the button Start to complete the recovery operation. Be aware that no data will be lost due to malware, data corruption, or hard drive management errors.
External Device Recovery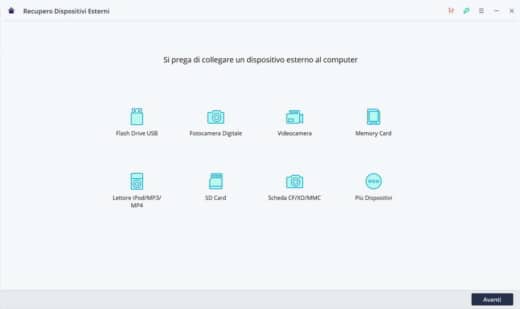 This option recovers data from external hard drives, USB flash drives, memory cards and other removable devices, such as camcorders, digital cameras, MP3 players, iPods and memory cards. All you have to do is connect the removable device to your PC or Mac via USB and wait for it to be detected. Then click on the button NEXT and soon after on Start and wait for the recovery phase. This feature also facilitates the recovery of the MicroSD card useful for saving videos, images and installing applications. Unfortunately, these are electronic devices that are easily damaged, endangering the reading of the files inside. With iSkysoft Data Recovery you can get them back in no time.
Data Recovery Attacked by Viruses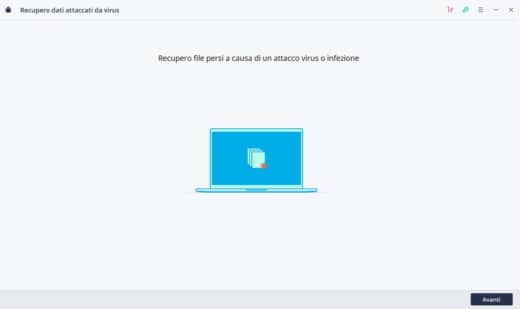 If you have suffered a hacker attack and a virus has deleted a large part of the data on your PC, with this option you can restore it. Press the button NEXT, select a fixed or removable drive and press the button Start.
System Crash Data Recovery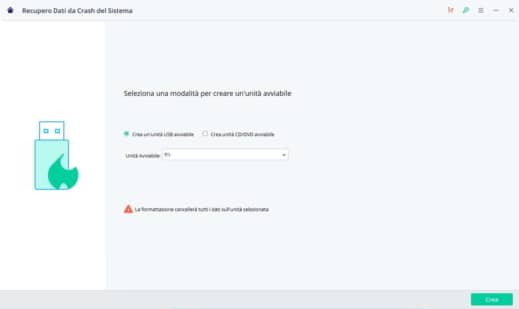 Recovers data from system crash and data from startup errors. iSkysoft Data Recovery creates a startup disk WinPE to make it easier for you to access your computer when Windows is unable to boot, and to recover all those vital files. You no longer need to go through the complicated Windows reinstallation process to recover your data. Just select System recovery, follow the instructions and recover data from the crashed system. Press the button Start, select a mode to create a bootable drive between USB stick and CD / DVD drive and press the button Created.
Caution: Formatting will erase all data from the selected drive.
All-round recovery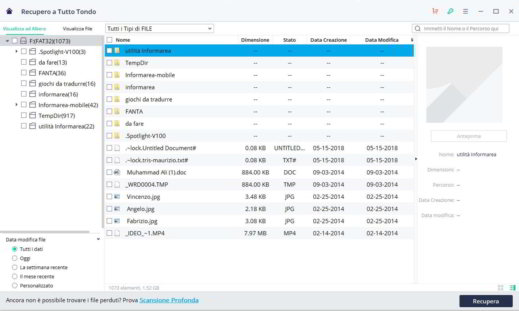 It works for all data loss scenarios. You can choose to recover data from a hard drive, removable drive, partition and so on. The search is much broader and deeper than the previous options and is used to recover files and data that have been lost for any reason.
Consider that, for all the options described above, once the scanning and recovery activity has been completed, you will be able to preview the documents found. In this way the user can decide what to recover, whether all or just some files.
Conclusions
iSkysoft Data Recovery it's definitely the best Data Recovery Software to restore data from any type of disk. If the trial version has convinced you you can buy 1 year license for one PC only at the price of 39,99 € instead of € 59,99 for Windows PC owners. If you have a Mac the price is 79,99 € instead of 99,99 euros. After the purchase you will have free lifetime update, free customer support and the keycode delivered instantly.
These are just some of the software purchase combinations, you will find more information on the official website of iSkysoft Data Recovery.